nyc

BigCityL

i

t

.com

the rivers of it, abridged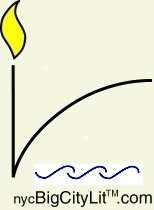 Poetry


Fall 2007
Donald Lev
The Sightings
The sighting of a small bird believed to have vanished into extinction,
or a dark room filled with strangers in strange bright costumes of
some bygone era
flashing briefly in one's brain with a hint of familiarity—
do these denote a quest through the forest of life?
Or like the solitary tulip remaining at the end of a course of
perennial springtimes,
do they portend
nothing?
I'm usually in another room doing something,
so I rarely get to pay the rapt attention it deserves—
if only for the glorious, deeply American music.
But here I was at Rhinebeck's Upstate Theater
attending a performance at St. Paul's Fitzgerald Theater
(no doubt Gatsby would be delighted and maybe host
a cast party is his digs in East Egg or West Egg or whichever Egg)
and what a cast—Meryl Streep and Woody Harrelson and Lily Tomlin
and the entire Shoe Band and Garrison Keillor himself, who
has been to post-internet radio what Jean Shepherd was to
Post-television radio: pure revelation.
I've often pictured Prairie Home Companion
as a full-page panel in Mad magazine.
Now I shall picture it as a big busy Robert Altman film.
Back to Poetry