nyc

BigCityL

i

t

.com

the rivers of it, abridged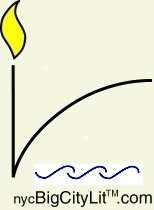 Poetry


Fall 2007
Stephen Massimilla
Northern Anniversary
Willow banks of Scotland are phantom fountains
thinned in wind; coal-white spires of Glasgow
still whispering near stacks, hills and mountains
mooned in green haloes, the last sky now
behind us. Blue mist fills our quiet terrace
as we stare down toward a blooded maze of walls
under bells that cloak the orange sun in blackness.
Friend to itself, but otherwise odd, what appalls
is her whisper: it is sober, and the gas lamps
float in schools—no hopes, no flagrant dead.
I wish I could tell her that what stamps
out the fire was wine that had gone ...to her head
and so remind us: don't survive. Relax,
as winter closes in behind our backs.
"Maiden and flower were different, and yet the same."
—Hawthorne
I (Nightfall)
She stood aloof enough to clip the rein
that linked an astral spider to her neck
and let it drop.
Her vein-blue nape would bring me to her knees.
Instead, she folded like an antelope beside me
on the bed, the night beside us both.
With breathtaking obscurity,
the antlered landscape
slouched toward our window, hackled with snow.
II (Cold, Cold, Jaffa)
Blue Andromeda hangs with ticking wrists
off in the Lapland of shame, begging a lantern to drop
off its branch, to drop
its flaps
and wing her skyward from her inmost mine?
No hope of tracing the creek in the woods
of my wide insomnia
to even the meagerest Pegasus:
I thought, better for me to champion
her negligible old star
since I cannot find my path
since I want and need to want what is
witchy as a spark,
a chariot that went down so long ago
with an indifference the skeptics considered worthy of the gods.
III (Briar Rose)
Why can't I leave her
to her blue-branched cathedral of thorns?
Because she knows I'm afraid to lie secure enough
to cry. She knows that her pit holds the tinder
of thought and light.
How profound these hopeless thoughts can be:
Eidolons too are saviors;
brush of her summer burns in its frozen garden,
a firefly implicit in the bristles of her lids.
Nothing that I know died, but what is dead
stays dead. Cloud-flown girders don't turn
into gulfs of air. Only an ironized
bone of daymare breaks out
to batter him, to bar
the unwaking worm that caves beneath.
Foil moths passing for rain
in his orchard
whirl as the world in its travels wills,
and nothing much to show for
crowns his care.
Rust and thirst of these words, tinsel tear
in stitched sleep: These mean nothing. Everything
makes him reflect on metal,
even this thread of saliva lit
like a needle's scratch.
Back to Poetry