nyc

BigCityL

i

t

.com

the rivers of it, abridged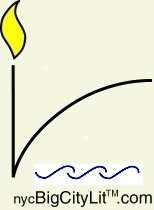 Poetry
Marilyn Johnson
Wild Dogs
I chose the one
the wild dog chose.
I chose the man with the wild dog.
He took my picture in the park
while the dog marked a big green turf
for us, her pack.
At night we ate in a corner of the kitchen,
the dog between us, panting.
She watched us
eat ribs and corn with our hands,
tear bread with our teeth.
Hunger charged everything.
Back to Poetry