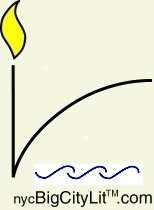 Reviews
POPPIN' JOHNNY
Poems by George Wallace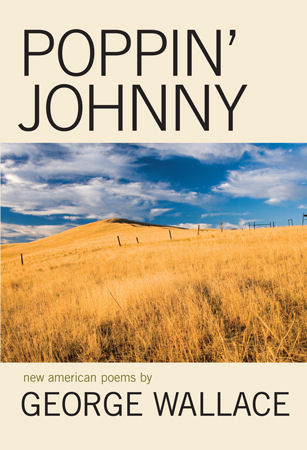 Three Rooms Press, 2010; 104 pages; $15.00
ISBN 978 0 9840700 2 2, paper
http://www.threeroomspress.blogspot.com
Reviewed by Angelo Verga
Influenced by a number of aesthetics, the poetry of George Wallace constitutes a departure from conventional academic poetry of the late 20th century; following paths suggested by French Surrealism and American Beat Prosody; his poems lean in the direction of invention and the imagination as much or more than to conventional narrative. Or to say it plainly, dear reader, he navigates between high and low diction with generosity, elegance and power.
Listen to THAT GIRL'S A CHEVROLET
she's got celebrity
she's got greed
she's got ammunition
& she's got natural selection
i tell you she's got erudition
palimony free & easy patricide
she's got manifest destiny she's got
motorized magic she's got the tar & feather
thing going on she's the usa she's
easy erection she's got nascar
amputation just look at her
boy she's cocky as a concubine
........................
i tell you what boy that girl's a chevrolet
she's so helpless she's so vulnerable
she's cute as a button & she's
amenable—what you waiting
for boy! take her for a ride!
Listen some more, this time to OH HOW HEAVENLY
i know a nice set
of tits when
i see them &
portia's got em.
how beautiful to sit
& drink coffee
with a good woman
like that & listen to her
do that college talk with
her perfectly pretty mouth
like a city drowned in louisiana.
poverty, she says, is killing hope.
we have to end some war somewhere.
then there's this foreign boy she sits next to in
chem class & he snores. politics!
i don't know shit about it
but i do know this,
there are no wrong words
when you're in love
Wallace is widely published in such print & online journals as Istanbul Literary Review, BigCityLit, Gutter Eloquence, North Sea Poetry Scene, poetz.com and elsewhere and is much admired as a stage presence when he delivers his work at various poetry venues in the greater NYC area, around the US of A, and in Europe as well.
In the interests of full disclosure, George Wallace and I share a publisher, Three Rooms Press, and George is a good and dear friend and an ally in the poetry wars of which we are both grizzled veterans.
Having stipulated a positive bias, even if I disliked George or never met him but only read his poems, I'd be compelled to recognize Wallace as a true American poet. His poems speak the American vernacular, and he treats common workaday people as the pantheon of gods that inhabit his particular Olympus, which happens to be part Long Island, part myth, and part any place his keen eye and big welcoming heart may land.
And he touches upon many themes, and with quite a bit of subtlety for a guy who cultivates a rough "I'm just talking to you over a beer" sort of aesthetic. And he plays off of American poetry's optimism in delightful ways.
Here's a poem no one ever wrote before:
I MADE A WISH LIST AND
YOU WEREN'T ON IT
i made a wish list and you weren't on it i wished for all
the good things money can buy and an island of my own
to enjoy them on and i was glad you weren't there to
ruin things for me with your poormouth poetry
i loved that little island of mine i loved yoga class and
backyard barbecues i loved art openings and the best
bargains in town i loved hundreds of delicatessens and
foreign film miracle miles ballroom dancing and neighbors
my little island in the lukewarm sun a billion houses on it
but the people i shared it with didn't bother me like you
bother me and when i walked along the asphalt roads in
spring i could still find nature on it, real nature—
the lawns grew great happy moptops of wild onion grass
and when the pear cactus bloomed yellow blossoms on
the beach in summer i didn't touch the spines and in the
fall when an ocean of oak leaves rustled under my feet
i kicked the leaves mightily
like a kid on the way to reluctant school and especially in
winter when snow spirits swirled across the highway and
followed me home and beautiful rich women in
cashmere sweaters drinking apple martinis wearing big
hats followed me with their eyes and even
the cops smiling and never mind when some of the
furniture in the parlor began to move (spirits being
disturbed) i didn't mind that or mourning doves on the
frozen solid telephone lines you see i loved my island
without you on it until one day at a small intimate dinner
party for five eating goat cheese drinking inexpensive
chilean wine and discussing the price of octopus in spain
i threw up.
George has a true poet's attention to examining every detail, and he won't shy away from the big questions so much of contemporary poetry runs away from. Apparently he has no careerist ambitions.
LIFE IS NOT ENOUGH
bite on the neck
of life wrestle it to the ground make war
on it you see some folks have to put a spin
on life spit on life or watch life die they have to
tear it up and start all over again you see some people
just can't take life as it is they build churches to life
they tell fortunes with it they peer through it like
a telescope at distant galaxies they roll it up
with cigarette paper and get high on it
some people pick it plant it steal it
hand it over to the authorities
study it like a holy secret or
worship the hell out of it
like the body and blood of
the sons and daughters
who have left them
for lives of their own
Consider the brilliant IT IS THANKSGIVING WHERE ARE THE INDIANS?
it is thanksgiving i ought to thank someone but where
are the indians? i put my coat on i walk out into the frost
i put my feet to the ground like an indian i step out into
the cold as if i have deerskin moccasins on. i walk down
to a place in the woods with a stream in it that you
and i dammed up like a couple of beaver one year for fun.
listen! that's the sound of nobody getting into their cars.
that's the sound of nobody hurting anyone this time.
that's the sound of people who are asleep in their beds,
a people who for one moment are not busy trying to
own the land. it is the sound of women who were
patient with their men and men who were patient with
their women right back.
and horses that did not bridle and men who bought each
other beer and women who loved each other gracefully
and parents who died knowing their children loved
them. it is the sound of a child who will discover love as
if it is the first love and the voice of god in her ear as if
it is the only god. it is the sound of a beaver dam
holding the water back. it is thanksgiving and morning is
quiet as an Indian trail. i would like to thank people who were wise
people who were foolish people who were innocent in
their hearts and lived to tell it and people who were loud
and with big fists but they used their big voices to speak
truth and their fists to reach out against power gone
wrong.
Poet Wallace is a 21st century beat, sure enough, but he is also an inheritor of the New York School. Poem after poem shows he is aware of his transitional position. For instance,
BITTEN BY PANDAS
i used to be happy
in my three piece suit
and my petroleum smile
and my four wheel
drive-by all american
cheese machine.
my gas guzzling
whiz-bang she-bop
mommy machine
my spit and shoeshine
pride of ownership
rape of earth machine.
my post modern
job satisfaction
toys for boys
what-a-life, happy!
snuggled down
metrosexual. driving
my time bomb sports
club condominium girl
machine! man alive,
those were the days!
but then i was bitten
by pandas and the greed
went away. and the tyranny
of wishes and the imperiousness of
desire. the pandas stole it all
away and now here's me,
living in trees eating
mollusks on the shore
smoking new bamboo.
here's me, wondering
what's a good american
boy to do after he's been
bitten by pandas?
Being a Long Islander, he is perfectly aware of Whitman and the shadow Good Gray Walt still casts over the landscape all American poets inhabit.
From the book's title poem, POPPIN' JOHNNY:
if you want to see me
go look where the birds go
and the sweet angels migrating
i have got no schoolbooks
no home by seven
and no particular woman
who calls herself mine
heaven is not my enemy
stars do not undo my eyes
as for this blasted earth of yours
it will never drag me down
Some other poems in this huge outpouring of poetic generosity that I found especially worthy are IT'S RAINING AGAIN IN TINSEL TOWN, I'M JUST AN ORDINARY GUY I'M FEELING LIKE PITTSBURGH TONIGHT, THIS IS FOR THE NIGHTSHIFT GUY, OUR LADIES OF THE LAUNDROMAT, HOW MEN DRINK, I AM LOOKING FOR A HERO, and SHOPGIRLS.
And two more I need to quote simply because I love them.
The sensational I AM A NATION AT WAR WITH ITSELF
i am a nation at war with itself. i am a veteran with a
beret and a bad heart and war memorial eyes and life is
a kind of death and peace is a kind of war. peace is a
kind of hunger. desire is a kind of hatred. and i am a cut
flower in a blue vase on a tabletop in a country kitchen.
and i admire your hands.
the way you move your hands on the table top. the way
you handle a butcher's knife. with your tongue like a
roasted red pepper. with your eyes like garlic cloves.
with your voice in the deepest candlelight making love to
the night. like a power plant makes love to the dead
ukraine.
light is a kind of darkness and i am a black bird in the
night… .
And currently my favorite Wallace poem, THERE'S A SHOT FOR THAT
the day after christmas is like any brutal morning in
winter only worse. it's like waking up on the floor of your
apartment blind or next to a blonde you hate or an
empty bottle of peppermint schnapps.
it's like two teams you don't care about playing football.
or a woman with big hair on television reporting the
news. or soggy unexplained underwear or a seventeen
hour kung fu movie marathon.
it's like sawdust in a man's mouth.
it's like deliberately shoving a wood splinter into your left
eye.
but there's a shot for all that.
i used to feel like a toy dog with white fluffy hair shaved
legs and a rhinestone collar sitting in a rich woman's lap
who daydreams about getting in touch with his inner
rottweiler.
there's not a shot for that but i hear they're working on
one.
I don't know precisely where George wants to take himself (and us) next, not to mention his inner rottweiler, and that woman with big hair on television reporting the news, but wherever it is, I'm packed and ready to go.
The MFA writing programs that have sprung up like Bernie Madoff pyramids all across America might want to consider disbanding, or at least finding some honest work.
Angelo Verga is a poet, teacher, and editor, who curates the most influential series of readings in New York City, the 325 or more a year literary events at the Cornelia Street Cafe. He has published 6 collections of poetry to date, including 33 NYC Poems (Booklyn, 2005). He lives at the southern tip of Manhattan where he keeps one eye on Wall Street and the other on The Statue of Liberty.
Also from Three Rooms Press, Praise for What Remains by Angelo Verga