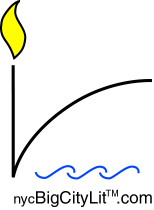 Series/Event Reviews

Sonnets: With Marilyn Hacker et al. (92 St Y, 12/10)
by Terry Stokes

Many Thousand Gone: African Diaspora Poets Read For Peace (Columbia, 12/12)

Jerome Rothenberg at 70 (Poetry Project, 12/12)

Poets House Book Sale (12/14-15) (photos)

Israeli Artists Day (Makor, 12/16)
by Alyssa A. Lappen

Sarah Rothenberg's Shadows and Fragments, Time and Memory: Piano and Poetry (92 St Y, 12/17)
by Paul Winston

Something Understood: Sonnets with Phillis Levin, Billy Collins et al. (14 St Y, 12/20)

New Year's Day Marathon at Poetry Project (01/02)
by George Wallace et al.

~ . ~ . ~

An Evening of Sonnets (92nd St Y, 12/10)
With Marilyn Hacker, Richard Howard, J. D. McClatchy, Rosanna Warren. Hosted by John Hollander.
by Terry Stokes

Er, well, I don't have enough to say about the reading at the Y to write it up. It was solid. What I missed was hearing the readers read their own work. & now I remember how difficult it can be to find the men's room there.

~ . ~

Many Thousand Gone: African Diaspora Poets Read For Peace (12/12)
Columbia University, Schapiro Center, Davis Auditorium
Featuring Malaika Adero, Elizabeth Alexander, Ruth-Miriam Garnett, Gary Johnston, Sylvie Kande, Dawad Philip, Peggy Tartt, Mervyn Taylor

On a mild Wednesday evening, eight poets of African, African American and Caribbean descent--each with a traditional and individual talent--read from their work. Comfortably seated in Davis Auditorium at the Schapiro Center (Columbia University), it was the kind of reading you want to attend, the kind you remember.

All with impressive credentials, these 'Poets for Peace' offered strong work in the mainstream literary tradition. So it was interesting to hear that this group had originally formed at the Graduate School of the Arts because they were not fairly represented in Columbia's MFA writing program.

Some of their work, like Adero's "1968" and "White, Red, Black, Green", focused on protest and reform before and during the Sixties, and on black migration. It was Elizabeth Alexander, I believe, who joked by telling the truth that the authorities did not consider protesters peaceful, rather, more like troublemakers, however passive. She called freedom 'a dipperful of cold water' ("Nat Turner Dreams of Insurrection").

Ruth-Miriam Garnett read Donald Hall's "The Body Politic," crediting that poem for making her a pacifist and for making her a poet. Her belief in organic form ("Gripes After Victory") is evident in "Concerning Violence": "We are survivors who have slept / in God's palm . . . I have grown two minds in my skull / One is the other's warden."

Sylvie Kande stood out with her French accent, her haiku, and excerpts from "I Love Harlem" and "Silent Barter." Like Elizabeth Alexander's themes of race warriors--and non-violent ways to be one--she is another 'woman at war.' Pacifists, her work suggests, are necessary and dangerous.

Among the WTC poems read that night, Gary Johnston, a sonorous specialist in satire and political condemnation ("All The News From The Front", "Cowboys and Colored People") asks the question: "Will we slaughter the stars?" I guess we will because we can. According to him, "For every killing God has provided a witness... It's a snapshot of what we've made of this world."

Taking political matters to another level (because they did), Dawad Philip in his WTC poem said, with exaggeration in his voice, "Someone's caught in broad daylight walking off with an election," getting a few laughs.

In the tradition of cemetery poems, (Donne, Gray, Valéry), the voice in Peggy Ann Tartt's "Stone Flowers" reads 'the skeletal facts' at the grave of Flannery O'Connor, only to wonder, "How can I explain why I am at this grave and not at my mother's?" A memorable phrase that recurs in her work is "a congregation of crows." In poems such as "Final Draft" and " Underneath It All," she tries to make sense of matters sometimes metaphysical: "I am waiting for my soul to come back to my body" ("Taking Her In").

The last scheduled reader, Mervyn Taylor demonstrated a range of voice and tone, from the more than charming "Poets Have Big Ears" (who can doubt that refrain or resist the title?) to "Picture of A Man At Peace" in which his mother drags his father's corpse into an armchair so she can take his photograph, then on to two about his experience serving on a grand jury, and concluding with the more upbeat, romantic "Fanfare."

A reception followed the reading which was presented by The Columbia Institute for African American Studies and Writers and Artists of Color. I'm sorry to say another editor grabbed the unpublished "Fanfare" for his own magazine before I could speak to Mr. Taylor about it.

--NJ

Titles to look for:


Malaika Adero, Up South (W. W. Norton/The New Press)
Elizabeth Alexander, Antebellum Dreambook (Graywolf, 2001)
Ruth-Miriam Garnett, A Move Further South (Third World Press, Chicago)
Gary Johnston, Making Eyes Through Morning and Two
Sylvie Kande, Anansi and Anthology of the New African Poets (forthcoming)
Dawad Philip, Invocations
Peggy Tartt, Among Bones (forthcoming from Lotus Press)
Mervyn Taylor, An lsland of His Own and The Goat (Junction Press)


~ . ~



Jerome Rothenberg at 70 Celebrated
at the Poetry Project at St. Mark's (12/12)

About 150 people turned out to pay tribute in verse and music to the poet-essayist-anthologist who has singlehandedly written quite nearly as many books. As Charles Bernstein pointed out, Rothenberg gave his first reading here in the mid-Sixties and was well known on the scene before the founding of Poetry Project--in which he, Ed Sanders, and others had a significant hand. Director Ed Friedman welcomed the crowd.

Charles Morrow met Rothenberg while a music student. HIs first piece, an 'instant montage' drawn from the first and last lines of Rothenberg poems, played out under Rothenberg's taped recitation with quite appealing primitive rhythms, reeds, bird sounds and wind. Allison Knowles produced with a large, gently clutched wind sack a series of slow rustlings that are surely what the French poets mean when they speak of the "rumeur du monde".

Another long-time friend, Pierre Joris, offered a multipart poem which mixed words from Rothenberg's first and last books: fish, mountains, lilies, bronze flowers hidden in stone. The textures produced a mental image of a peninsula surrounded by a geologic poetry crust or shelf (no accounting for the color: lavender). The textural became even more crisply palpable with the presentation by Jackson Mac Low and Anne Tardos of dual voice fragments ("What color that leaves a number less than one?") and rejoinders of hiss and ping which were refreshing, certainly. The two were introduced as "beacons of American poetry" who had opened to us "avenues and spaces between language that we didn't know were there." Of course, we know them. Galway Kinnell rendered effectively the flap of shoe leather on his overlooked Avenue ["Bearing the Initial of Christ Into the New World"]. It is rather that the vast majority of the "them" among the "us" write 32 understated lines about the mystical insights won from ordinary countertop items we stare at daily because they believe the space between toaster and blender is unmarketable.

Nicole Peyrafitte rendered her setting of one of Rothenberg's pieces in a deliberately tarnished soprano whose non-Western tonalities hung over the next few presenters like a call to prayer. Steve Clay followed aptly with a summation of Rothenberg's will to challenge the notion of Western man as the epitome of evolution. Others attested in their verse selections to Rothenberg's response to a specifically Jewish-humanist call to embrace of the large world, some of them rendering his texts in a manner so overawed as to make him sound like a better traveled Rod McKuen.

Surprise guest Robert Kelly was a welcome mischief-maker, with a lively ten-part piece. Ed Friedman too found a light tone with a sestina complete with gander honking, a reminder perhaps that one who has produced a book or anthology every year for many many will eventually cover just about everything the "rumeur du monde" finds it worth making noise about.

And do so with good humor and a handshake for all.

-- MH

~ . ~

Israeli Artists' Day at Makor (12/16)
by Alyssa A. Lappen

On December 16, I shared the last night of Chanukah with Israeli performing artists at Makor. The traditional candle-lighting ceremony and blessings ended with a solo rendition of "Ma'oz Tzur" (Rock of Ages), which celebrates God's help in a time of desperate need.

The Jewish people sing this poem of faith every year at Chanukah. But the brief classic was especially uplifting this time, coming exactly two weeks after Arab suicide bombers killed twenty-eight Israelis and wounded more than forty in three attacks on civilians in Jerusalem and Haifa. The poem of faith closes with this line: "And Thy Word broke their sword when our own strength failed us."

Yet more uplifting than the evening's opening was its middle and end. Each of the two Israeli groups I was fortunate to hear sang of beauty and peace, reflecting the desire of the Jewish people for an end to strife in their tiny land of Israel.

Daphna Dove, a young Israeli woman, led her eponymous band with a few numbers that brought the audience mood into the heart of New York. An accomplished lyricist in her own right, Dove offered one hot rock-folk number called "Stop Philosophy ' for those who think too much and a second, "Lucy for Love," which she explains as the Devil's love song to God. The artist also gave a rousing performance of Janis Joplin's "Turtle Blues," in a voice smoky and gravely enough to match the original.

The highlight of Dove's performance, however, were her two duets with her mother, Aliza Gabbai, an Israeli singer famous for recorded Hebrew hits like, "Say it With Flowers." Without understanding a word, one could love the names of blossoms that adorn each of the four Middle Eastern seasons in Israel. Their harmonized à capella performance so moved the audience that Aliza was not permitted leave the stage. They closed with "Nadi Lam," a lullaby about the wind blowing through the trees.

Next came the Israeli singer Bat Sheva, appearing as a guest with Abu Gara--a percussion and string group whose Arab name means 'man of baldness' because its four members are all bald. Together these artists exposed the Chanukah revelers to a dustier, more desert-like set of Mediterranean tunes. In four percussion and song numbers which faded one into the other without much introduction, listeners could imagine themselves in a Jerusalem nightclub on the Saturday evening after Shabbat.

Guitarist Jeff Peretz and bass player Shanir Blumenkranz provided Moroccan-flavored melodies while percussionists Adam Isadore and Mal Stein gripped Egyptian darbukas--hard-headed hour-glass-shaped drums--between their knees, rolling their hands across the tops of their instruments so fast that at times their fingers blurred. They spiced their tunes liberally with Egyptian riqs, tambourines with skin heads, adding their occasional South American conga drum, bells, shells and castanets.

Abu Gara's most moving performance, though, was a song by Sheva, an Israeli singer from the Galilee, praying for peace in the entire world.

Located at 35 West 67th Street near Lincoln Center, Makor is a center of the 92nd St Y. www.makor.org.

(Alyssa A. Lappen is a prize-winning New York poet who often writes on Jewish themes and traditional stories.)

~ . ~

Shadows and Fragments, Time and Memory: A Piano Recital with Poetic Interludes by Sarah Rothenberg at the 92nd Street Y (12/17)
by Paul Winston

This recital was part of Ms. Rothenberg's "Music and the Literary Imagination" series. On this particular evening the concept played out in the following fashion: Ms. Rothenberg performed a selection or two. The hall would grow dark. A negative slide of text appeared on the screen and a voice would recite it. The process repeated.

I discovered a poet I liked (Adam Zagajewski), appreciated Joseph Brodsky's virtual incantation of Akhmatova's "Requiem" and was utterly transfixed by Louis Jourdan's reading of Baudelaire's "L'Horloge". I was also gratified to hear Ms. Rothenberg's rendering of Schoenberg's Three Piano Pieces, Opus 11, which was well done indeed. And it was a pleasure, too, to hear the same composer's early (and unfinished) Scherzo. I have always marveled at the youthful works of this composer. (My own experience up to this point only went as far back as the String Quartet, Opus "0", a Dvorakian work he later suppressed.) The growth of the composer of the Scherzo into the man who could write both Moses and Aaron and the Variations for Wind Band is possibly the most extraordinary example of artistic development in the history of music.

This periodic act of casting the room into shadow, however, may serve as a metaphor for Ms. Rothenberg's understanding of how (or why) people bother to write music or poetry in the first place. In art, unlike science, theory follows practice. The modern composers selected by Ms. Rothenberg will never discover this fact. It takes the kind of pain that one would never inflict on oneself.

And "tenuous at best" was how the gentleman sitting behind me described the connections between the Zagajewski poem and the Bach Chromatic Fantasy and Fugue which followed it, or Peter Schat's fantasy Anathema which followed that.

The problem lies deeper than the mere selection of pieces, although it is foolhardy to compare Bach and Schat at any level, or even the Akhmatova poem and the Ustvolskaya Sonata which followed it. Akhmatova is a very good poet, but the Ustvolskaya may stand as an example of what happens when one ignores Schoenberg's warning against "the tyranny of sixteenth notes". Schoenberg was talking about their tendency to multiply beyond the control of the composer, and Ustvolskaya substituted quarter notes instead, but there were two movements of them. Their accumulation produced such a tiresome effect that I am tempted to paraphrase yet another master: "Sincerity [read "seriousness"] is a sine qua non which by itself guarantees nothing." If the composer did it on purpose, I warn her heirs, it is almost always a mistake. A gesture like this, even for one movement, is practically beyond the capability of a Tchaikovsky or a Bartok. I fear, however, that it was not a mistake. A quote from the program:
We hear in Galina Ustvolskaya's Second Piano Sonata a musical asceticism in which spirituality replaces sensuality, where instead of extroverted virtuosity we find a private soliloquy. Written in the period immediately following World War II, what begins with calm introspection grows subtly, yet relentlessly, into the musical equivalent of a scream, and then gradually disappears into silence.
Oh, heirs of Ustvolskaya, look directly! Do not be misled! You cannot write a piece of music that "begins with calm introspection", "grows relentlessly into a scream and then gradually disappears into silence". You may be introspective, you may scream, you may lapse into silence.

But don't do it all in quarter notes.

Peter Schat also likes quarter notes, but he puts them all at the end. His Anathema ends with a minimalist statement intended to be a contrast to the "watch me play eighteenth century in my left hand and twentieth century in my right hand" exercise which preceded it.

A bad dessert is not a contrast to a bad dinner. And if Signor Alberti knew that people were going to take his mechanical accompaniments to be the forest, he would have chosen to live with Mozart in Purgatory rather than accept Heaven as his reward.

The compunction to compare music and poetry is a natural one. The compunction to compare any art with any other is a natural one. After all, the Greeks, whom most of us consider our artistic forebears (and that possibly because they left the most complete record), had no word for music unaccompanied by words. We have thus labored for 26 centuries believing that the relationship between the two disciplines is familial. But the Greeks probably knew that they may not be effectively placed together (or next to each other, for that matter) without effecting a sea-change in both.

A + B = C.

(A classical composer ("Beauty and the Beast") and jazz performer, Paul Winston is a regular contributor to the magazine. He lives in Manhattan.)

~ . ~

Something Understood: Sonnets with Phillis Levin,
Billy Collins et al. (14 St Y, 12/20)

The reading in the Y's 100-seat theatre was preceded by a leisurely two-hour reception.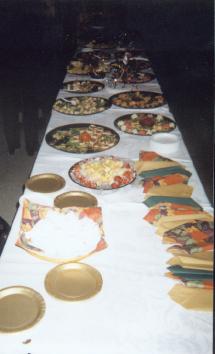 Sumptuous, but delicate.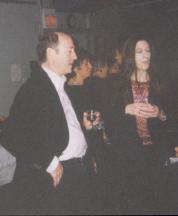 Billy Collins and Phillis Levin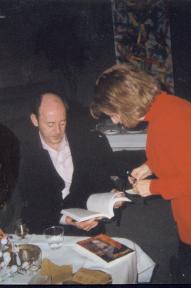 ~ . ~ . ~