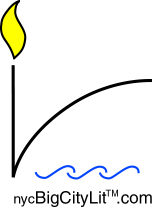 Series on Series
"Prose in General" at Art in General (Tribeca)
Founded by artists in 1981, Art in General at 79 Walker Street in Tribeca provides a laboratory environment for new work which is underrepresented in museums and commercial galleries. Exhibitions are drawn from artist submissions and artist projects created on site. With a full calendar of public programs, the organization acts as magnet and resource for artistic innovators and non-artists who want to see and think about art in new ways.
Each year, Art in General presents four thematic group exhibitions, five artists residencies, six window projects, and five sound installations, all accompanied by publications and public programs, including artist talks, video screenings, and panel discussions with renowned critics and curators. For the past twenty years, Art in General has afforded the public direct access to artists and their works-in-progress, while also providing education programs to promote understanding of contemporary art. Those programs reach an audience of 25,000 annually.
The gallery also serves as a venue for literary readings and film screenings. "Prose in General," a reading series curated by Robert Marshall, recently presented Patrick McGrath, co-editor of The New Gothic and author of Spider, Colm Toibin, author of The Blackwater Lightship and Bad Blood, a non-fiction work about Northern Ireland, and Charlotte Carter, author of two collections of prose and poetry and three crime novels, Rhode Island Red, Coq au Vin, and Drumsticks.
Artist-in-residence Allan deSouza has published fiction in Bazaar, The Amerasia Journal, and The Asian Pacific American Journal. Co-editor of Crossing Black Waters (1992) and author of The Sikhs in Britain (1986), he lives in Los Angeles. His show, Terrains, has just concluded a 3-week run in the 4th floor gallery on Walker Street. Carving city blocks out of discarded computer chips and building forests from lampshades, the Kenya-born Indian created a photographic landscape series out of debris and detritus collected in the surrounding neighborhood.
The result was a microcosmic representation of the city itself, "the structured chaos of the city's armature—the grids, tunnels, the corridored avenues, the rat-run of side streets, the aural and visual cacophony of an arterial system both congested and in full-flow." The artist used assemblage photography to play upon and reinterpret themes invoked by 19th Century landscapists to stir national pride: patriotism, masculinity, identity, and the sublime. His technique illuminated the associations inscribed upon a locale: the understated anxiety of lives in flux on the platform of an empty train station, the misty hue of nostalgia and yearning that shapes a landscape out of ideals and bodily experiences.
Allan deSouza studied at the Bath Academy of Art (BFA 1983) and UCLA (MFA 1997), and has shown in solo and group exhibitions in England, Germany, the U.S., Canada, the Philippines, and Portugal.
Art in General has hosted artists-in-residence from all over the U.S., from Mexico, Poland, France, Algeria, Canada, Cuba, India, The Philippines, Romania, Russia, and Vietnam. In Spring 2002, Art in General will launch an Artist-in-Residence exchange program involving artists and curators from Poland, the Czech Republic, and Hungary.
Art in General receives funding from the Institute of Museum and Library Services, National Endowment for the Arts, New York State Council on the Arts, Department of Cultural Affairs of the City of New York, and many other sources.
Gallery Hours: Tues-Sat 12-6 p.m.
Contacts:
Prose in General, Robert Marshall (212) 254-2924.
Art, Jennifer Gootman (212) 219-0473 ext. 39
artingen@interport.net
www.artingeneral.org