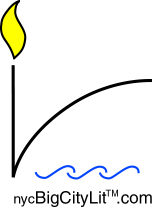 12


Souvenirs
Paul Espel

East of the Hudson
Charles Fishman

Cicero's Tropical Depression
Vicki Hudspith

anchor/age
Susan Scutti

A Building of Voice
Edwin Torres

Virginia's Shoes
Rob Wright

~ . ~ . ~

Souvenirs
Paul Espel

We are strangers here--tourists.
On the dark canals of Venice
gondoliers are crooning as

we glide by damp cathedrals
and the Bridge of Sighs--
taking snapshots of the past.

Then in Florence--ah those
Michelangelos! Humanity in marble,
caught in stone.

On Athens's stark Acropolis--
the great and haunted Parthenon.
Impressed, I tip our smiling guide.

Now at Delphi, I can almost see
the oracles saying what would be.
But vaguely and it cost a lot.

Near Cairo, our tired caravan
looks on a Pharaoh's ruined tomb
and trundles back to town.

A day-boat down the Nile--
I can't find my own reflection
in the sacred waters.

Lounging at the hotel bar, I make
a drunken toast: To history!
Then the night.

No afterthoughts to interrupt
our dreams. Just faint Egyptian
music from the bar.


East of the Hudson
Charles Fishman
After a theme by Ibaragi Noriko

These are the days that glisten like diamonds
when your pulse quickens but your heart

stays quiet: each second of your life,
something is smoldering

In the field that rises outside your window
a few small flakes flicker - pale white sparkles
that drift skyward before they are extinguished
or shear sideways

against the dark grain of the season
The wind races southeast by east

scattering the dust before it: a glimmering stream
of invisible photons

This light has the brightness of dream - bending stalks
of dead winter grass that shimmer with each breeze

This is what you love: this filled emptiness
in which each tassel and branch crackles into flame.


Cicero's Tropical Depression
Vicki Hudspith

What might be relentless
Traffic, bad relationships, heat, debt
Inspiration, lack thereof
White people running
Panting dogs
I am not concerned in the least
That my strings glow in the dark
Hips sway, river pulls the moon
The tide, that restless rebel
Is darkness craved by light
Hips pull ankles
Skirts wave the air
Moving upriver in one, two
Enough muscle to see the shore
That's why
In times of peace
This metronome
This pulse
My heart
Your breath
This sleazy life
Hard hats and cranes keep time
Bike messengers with their skinny butts
Vanish over the Brooklyn Bridge
Dreads swaying
The wooden slats, this wonder
This heat full of Fulton fishy air
Surrounds the statue
When no one's looking
Is anyone ever not looking?
She waves her torch with the tides
Burning off the morning haze
I will lay back in this tropical depression
It has been this far North before
How will we meet the brilliant expectation of morning
In the shadow of Cicero
And those other cats
When the time comes to put Cicero
And other favorite ancients
In their splendid pouches of note taking travelogues
And postcards of things past
The sweetness of flesh will no longer annoy your intellect
As you will dwell in the sublime humidity
And the exhaustion of fine weather
Fundamentally one water bottle
In either the left or right hand
Is a lopsided experience
Carry two and drink evenly
Worry about something else
The left hand doesn't give a shit
The right is full of complaints anyway
I've seen the same homeless guy three days in a row
In three different neighborhoods
He reminds me of you
He seems almost real
His problems don't affect me
Anymore than that butterfly
That flaps its wings in China and changes the weather
Of my great metropolis
Spare me some change
I'm not making art
I'm just writing a letter
I write it every day
To get in time with the currents
Throwing wishes overboard like pirate's gold
Doubloons engraved with my little secret
Scattered lightly on the undulating Hudson River
Carry me out
Carry my dreams home
Place them in Cicero's hope chest
Open the oceans
And let fish kiss the
Passing coins of madness
Dropping them in the depths
To let them stay and drown


anchor/age
susan scutti


1/
...even after indifferent intimacy, i wake beside you...

A congregation of mountains surrounds the city.

i watch you sleep and i remember our love from many nights before;; i
remember flashing on my father when you entered me

...sketchy daylight follows the glacial night...

From the bathroom I hear you leave the bed.

(briefly, we feel a brief desire and dismiss it after a brief pause) :)

i decide on a different posture // i decide on different clothes

ANY dialogue about our union unNERVES me at this moment

like unknown ancestors, the mountains haunt the cross-hatched highway --- we
pass the mountains while riding the bus

//: unaware of the karmic interplay between us

riding the bus --- your friend ((a sentimental idealist))

smiles & stares: the other passengers sense us

release::: significance:::

what does my temperament require: ?

2/
list of things you are not
my mirror
my father
my guru
my destruction
my son

3/
i have waited to write this, it feels improbable that we met and now only my
memory of you is what's left from that place, the mountains and you, and you
shaped me and i need to accept the ways in which you shaped me and now it is
over and we have made other lives, each separately, and i can't say i love
you or anything grand like that, but i was attracted to you the same way
that mountains at night can be felt even when it's too dark to see them, you
can feel them, they have a gravitational pull, silent and inescapable, and
that's what you had but that is past and there is nothing to looking back,
it is as thin as watching a movie, it is as satisfying as a dream, it is not
the direction of my gaze


A Building of Voice
Edwin Torres

the Bldg is calm
a host of voice
is outside...we are
unvoiced in an unBldg
of people...
inside,
purses, coats & unthings
gather...waiting for their
people...people's things
waiting for people to return...
empty people full of empty
full of sound unpeopled
of ground, full of center...
walk around & find your
person's people, your finding's
voice, walk around &
empty out your Bldg...
un, all over again, if you want

the Bldg is calm
it is the voice
that is peopled


Virginia's Shoes
Rob Wright

I remember hearing from a teacher
that Virginia Woolf took off her shoes
and pointed them, neatly
before walking into the river.

The teacher was amused by that
thinking it an act of vanity
like writing script in copperplate
or dotting i's with circles.

Maybe he was only covering
the icy horror of the act
with condescension. At the time
I thought it stuffy, English, old-maidenly.

This morning I awoke imagining
my feet in silt, the way it cools
as the toes sink in. The mud whirling in eddies,
mixing around the bone-white

shins. The prickle of new growth. She/I
must have shaved them — last week?
She/I thinking that if we had known
we might have troubled with a razor.

Then turning for an instant to notice
the shoes left haphazardly
on the grassy bank, and pausing to tidy.
Pattering mud into the lime-green lining.

But knowing not to hesitate
over-long. Loading her/my pockets with stones
as wool gathered water-weight
warm with piss now. And noticing

that the skirt was sinking not spreading—
as in the Shakespearean convention—
but wicking water to the waist
making it difficult, but not impossible, to walk.


Notes on New 12 Contributors

Charles Fishman served as director of the SUNY Farmingdale Visiting Writers Program for eighteen years and created the Paumanok Poetry Award in 1990. His books include Mortal Companions, The Firewalkers, Blood to Remember: American Poets on the Holocaust, and The Death Mazurka, which was selected by the American Library Association as one of the outstanding books of the year (1989) and nominated for the 1990 Pulitzer Prize in Poetry. He has received the Ann Stanford Poetry Prize from Southern California Anthology, the Eve of St. Agnes Poetry Prize from Negative Capability, a fellowship in poetry from the New York Foundation for the Arts, and numerous other awards and honors. He was final judge for the 1998 Capricorn Book Award and has recently served as Poetry Editor for the Journal of Genocide Studies and Associate Editor of The Drunken Boat. His new collection of poetry, Country of Memory, will be published by Rattapallax Press in March 2002.

Vicki Hudspith is the author of White and Nervous (Bench Press Editions, 1982) and Limousine Dreams, published with drawings by the painter James DeWoody (1986). She is President of the Board of Directors of The Poetry Project at St. Mark's Church in New York City's East Village. She has directed plays by John Ashbery and James Schuyler with sets by Jane Freilicher and Alex Katz respectively, for Eye and Ear Theater. With Madeleine Keller, she co-edited KNOCK-KNOCK A Funny Anthology by Serious Writers featuring work from 100 writers and ten visual artists. Her work has appeared in the Crown Publishers anthology, Out Of This World, edited by Anne Waldman, with foreword by Allen Ginsberg, as well as in numerous small press magazines. In 1976-1978 she edited The Poetry Project Newsletter, conducting a nationwide interview series with writers and artists. She has written criticism for Exquisite Corpse, Cover and The Poetry Project Newsletter. She plays the electric bass guitar with other poets and painters in a group called The Culture Vultures. Her latest manuscript is called, Urban Voodoo.