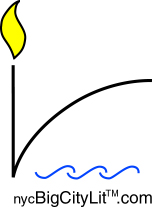 Series on Series
Kerouac: The Second Annual Festival Reading of Big Sur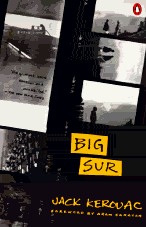 On Sunday, July 22, Jack Kerouac's novel, Big Sur, will be read aloud by distinguished poets and others at day-long festivals in San Francisco, Huntington on Long Island, Lowell, Massachusetts, and Orlando, Florida. All were key places in the author's life.
Conceived by poet and historian George Wallace (ed. Poetry Bay), the coordinated four-city festival grew out of last summer's exhibition, "Kerouac in Northport," an unprecedented exploration of the author's life and times in the community from 1958 to 1964 which Wallace organized for the Northport Historical Society and Museum. "Jack Kerouac is increasingly recognized as a major figure in 20th century American literature, and it's exciting to see communities across America celebrate him as one of their own," he said. [Another which does is Greenwich Village of course. On July 8, Big City Lit™ sponsors 'The Subterraneans: Kerouac and Kees" downstairs at Cornelia Street Café. George Wallace will appear, along with other poets, as well as musicians. Ed.]
Led by honorary co-chairs David Amram and Carolyn Cassady, the Long Island event will feature nearly 150 readers, musical performances by Amram, plus appearances by Cassady, actor Keir Dullea (2001: A Space Odyssey) and other Beat contemporaries of Kerouac. Philip Lamantia will appear in San Francisco. Lamanthia read with Allen Ginsberg at the historic reading at the Six Gallery there in 1956 that helped launch the Beat phenomenon.
The Northport Historical Society is acting as chief organizer. The Huntington Arts Council is sponsoring an open air concert by David Amram at Heckscher Park. The San Francisco event is being organized by Dariana Hayward of Poetrybaywest and Marsha Garland of the North Beach Chamber of Commerce. Lawrence Carradini, president of the "Lowell Celebrates Kerouac Festival," is heading up the effort in Kerouac's birthplace. The Orlando programmer is Marty Cummins of The Kerouac Project, a writer-in-residence program at the author's former house there.
"I am delighted to have David and Carolyn as honorary co-chairs of this event, and pleased with the enthusiastic response shown by people in San Francisco, New York, Lowell and Orlando to the idea of celebrating Jack Kerouac's classic book, Big Sur," said George Wallace, editor of Poetrybay and curator of the Northport Historical Society. "Kerouac is known best for On The Road, the classic Beat novel of 1950's America. Less well known are his other accomplishments as an author, in particular this insightful novel. We hope to change that a little with this year's four-city celebration."
"On the Road was a phenomenal success, but Jack was no one-shot, no flash-in-the-pan. He was first and foremost a great writer," said Amram, an internationally known musician and author who was Kerouac's chief musical collaborator. "These historic four-city readings of Big Sur, presented by George Wallace and a distinguished group of readers, puts into perspective four of the cities, as well as many of the people who were significant in Jack's life."
On July 22, 1960, Kerouac took the train from Northport, New York to San Francisco, and stayed for several weeks at Lawrence Ferlinghetti's cabin in Big Sur. The book was written in two weeks--in Florida, after his return from the California trip.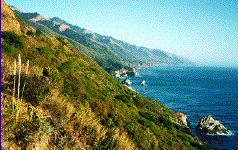 The look of always. Nature smiling at herself
in the mirror of eternity.

-- Henry Miller
http://www.pelicannetwork.net/bigsur.html

As do many, the organizers regard Big Sur as an important literary work in its own right and an apt counterpoint and companion piece to Kerouac's world-famous novel, On The Road, the book, written ten years earlier and published in 1957, which won Kerouac his first critical acclaim and made an impact -- deep, widespread, and lasting -- on American society.

"In contrast to the youthful exuberance of On The Road, Kerouac's Big Sur is a searingly honest and mature look at issues of mortality and the challenges facing an individual in the face of middle age and impending personal decline," said Wallace. "There is much that is disturbing in the novel, in terms of its message about the terrifying challenges to the human spirit. But it also contains the uplifting message that there can be transcendence from the psychic pain of existence, through visionary insight -- a message inherent in much Beat literature. Moreover, in terms of literary style, Big Sur is a continuation of Kerouac's signature linguistic pyrotechnics and acute psycho-social insight, attributes that mark the career of this major figure in 20th century American Literature."

"In Big Sur, I found a change in his writing," said Carolyn Cassady, the artist and author who, like her husband Neal, was the model for a central figure in Kerouac's fictionalized works. "I don't know if it was a turning point, but in this book he was much more honest, more objective (and subjective), far less self-conscious. I felt it was a step forward in his writing, but a sad prediction of what was to become of him."

Professor James T. Jones, author of Jack Kerouac's Duluoz Legend:
The Mythical Form of Autobiographical Fiction, calls Big Sur 'the penultimate chapter' in the Legend, the overriding structure of Kerouac's literary oeuvre.* Critic Richard Meltzer calls it Kerouac's masterpiece, and "one of the great, great works of the English language, a . . . great first-person, now-I-begin-to-die novel [that] documents a few weeks of horror as Jack was pushing 40 at Ferlinghetti's cabin overlooking the Pacific."

"Big Sur is a riveting account of what unwanted notoriety does to a true artist," concluded Amram. "The book takes us on his roller coaster journey as he deals with all of the triumphs and trauma of this period of his life. Jack was and remains his own best spokesman and biographer. He also was a reporter for our era, and a poet speaking for an underground army of people who had no voice that could ever surface to be heard."

Thanks to Wallace, the voice will be heard aloud. [Ed.]

Festival venues:
San Francisco: Washington Square Park
Huntington: Northport Historical Society, Heckscher Park
Lowell: Kerouac Monument and Park
Orlando, Florida: Chapters Books.

Further information is being posted regularly on www.poembeat.com, www.poetrybay.com, as well as in other media outlets.

July 8th ("Subterraneans") venue:
Cornelia Street Café, 29 Cornelia Street (Bleecker/W 4th)
[See Series on Series, February 2001 issue. Ed.]
(212) 989-9319 (www.corneliastreetcafe.com)

--

[*The Duluoz Legend, familial, oedipal in Jones's view, takes its name from Gerard Duluoz, a sickly child who died a child.
Gerard the very diamond kindness and patient humility of the Brotherhood Ideal propounded from afar down the eternal corridors of Buddhahood and Compassionate Sanctity, in Nirmana (appearance) Kaya (form) - My own brother, a spot of sainthood in the endless globular Universes and Chillicosm - His heart under the little shirt as big as the sacred heart of thorns and blood depicted in all the humble homes of French-Canadian Lowell.
(From Visions of Gerard (1963).) Ed.]
~ . ~
Series on Series
The 7th Annual Poetry Conference
Exploring Form & Narrative, June 6 - 9
West Chester University of Pennsylvania
(610) 436-3235 / poetry@wcupa.edu
Campus located 45 minutes from
Philadelphia, near I-95 or I-76.
Special Events
Keynote Speaker: Marilyn Nelson
Richard Wilbur Celebration with Appearance by Richard Wilbur
Robert Fitzgerald Prosody Award: Edward Weismuller
Performance of Nosferatu (Music by Alva Henderson, Libretto by Dana Gioia), based on the silent vampire film directed by F.W. Murnau.
Workshops and Faculty
Experimental Forms: Kim Addonizio
Writing and Revising in Form: Judith Baumel
Master Class: Rafael Campo
Sonnet: Dick Davis
Poetic Line: Michael Donaghy
Forms of Repetition: Rhina P. Espaillat
Rhyme: Emily Grosholz
Dramatic Monologue: R.S. Gwynn
Blank Verse: Rachel Hadas
Master Class: Andrew Hudgins
Narrative: David Mason
Narrative: Robert McDowell
Meter: Timothy Steele
Teaching Poetry: Kymberly Taylor, Diane Thiel, Kathryn Varnes and Dana Gioia
Practical Workshops
Introduction to Prosody: T.V.F. Brogan
Putting Together Your First Book: Robert McDowell
One-Day Workshops
Lyric Verse (Thursday, June 7): Anthony Hecht
Writing Poetry for Music (Friday, June 8): Dana Gioia
Translation (Saturday, June 9): Charles Martin
Fees
The fee for full workshop registration is $450, which includes three days of workshops, an individual conference with your workshop leader, lodging and meals, all events and the scholarly conference. Optional registration with meals, but with no lodging is $450. Commuters may register for the conference only, without meals or lodging, for $325.
Registration for the scholarly conference is $90 for all four days or $40 daily, with additional daily fees of $75 for meals and lodging, or $40 with meals only.