.
.
.
Since 1992, Bright Hill Press has presented more than 350 writers through its Word Thursdays readings and Speaking the Words Festivals and Tours, taught writing and visual arts to more than 600 children in its popular Word Thursdays Literary Workshops for Kids, published fine poetry and literary prose from U.S. and international writers, including the ground-breaking Iroquois Voices, Iroquois Visions anthology, sponsored the Share the Words high school poetry competitions for hundreds of regional youth, produced audio and video programs of established and emerging poets and writers, and developed and presented, in partnershjp with the New York State Council on the Arts, the New York State Littree Curators Web Site, nyslittree.org, and the forthcoming NYS Literary Map.
In 2002, the organization moved into the Bright Hill Center in Treadwell near Delhi (Delaware Co.), a late 1800's structure which houses its offices, program and gallery spaces, and provides guest rooms for visiting writers. Now the Northern Catskills literary organization plans another innovation—a library and Internet wing. The library will house literary prose and poetry and a very special children's section, with a loft for reading and playing quiet games; and there will be Internet access for all.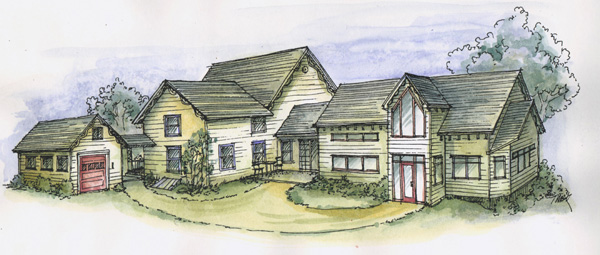 Rendering by Marjorie B. Kellogg
The New York State Council on the Arts has recognized Bright Hill's contributions, past and future, by awarding it a challenge grant of $50,000. Bright Hill Press is a 501(c)(3) corporation, donations to which are tax-deductible. It must raise the same amount in matching funds by August 1, 2003 or the grant will be lost.
Checks should be made payable to Bright Hill Press and sent to 94 Church Street, POB 193, Treadwell, NY 13846-0193. Phone (607) 829-5055 for schedule or funding information or email at wordthur@ frontier.net.