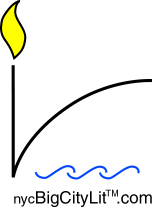 June '02 [Home]

Poetry
Distance from the Tree
Contributor Notes



Carla E. Anderton, 25, is a poet and playwright currently earning a B.A. in professional writing. She edits Peer Amid.

Born in Brooklyn, Madeline Artenberg was a photojournalist and street theatre performer for many years. Recognized by multiple Lyric Recovery awards, her poetry has appeared in Caprice, Medicinal Purposes, Big City Lit, and elsewhere. She has also published a chapbook collection, To the Surface.

Margo Berdeshevsky (photography) often combines images and poetry. Originally from New York, she recently returned to collect the PSA's 2002 Robert H. Winner Award (judged by Marie Ponsot), but otherwise lives in Maui and Paris. She is a Big City Lit Contributing Editor.

Luis Cabalquinto divides his writing time between New York City and his birthplace in Magarao, Philippines, where he still helps manage a family rice and orchid farm. His fourth poetry book, Bridgeable Shores, was released in the U.S. in 2001 by Kaya Press.

Thomas M. Catterson's latest book is My Father's Paradox (Founders' Hill Press 2002, Alexandria, VA), preceded by This Pot Has Pepper(Cross-Cultural Communications 1998, Merrick, NY). He is Managing Editor of Medicinal Purposes Literary Review and the host of the Orange Bear Poetry Series near the World Trade Center.

George Dickerson has been an editor for Time, Story, and Rattapallax.(founding Editor-in-Chief). His poetry has won a number of awards, including first prize at Lyric Recovery (NY, Fall '99). His fiction has twice appeared in The Best American Short Stories (1963 and 1966). His story, ("The Cause," appeared in two parts in the Feb/Mar '01 issues of Big City Lit.) He joined the magazine's original masthead as Contributing Editor and became Senior Consulting Editor before stepping down in June 2002. Dickerson is also a veteran of stage and screen, with roles in more than twenty feature films (Blue Velvet, etc.). He is a member of the Academy of Motion Picture Arts and Sciences.

Robert Klein Engler lives in Chicago, and has received Illinois Arts Council Literary Awards for his poetry. A graduate of the University of Illinois at Urbana and The University of Chicago Divinity School, he was a department chair at the City Colleges of Chicago until he was banned by the Chancellor in May, 1997. He now teaches at Roosevelt University.

Dana Gioia is a poet, critic, anthologist, and translator. His 1991 Atlantic Monthly essay, "Can Poetry Matter?" ignited an international debate on the role of poetry in contemporary society, becoming the lead piece in a collection which will soon appear in its tenth anniversary edition (Graywolf). His third book, Interrogations at Noon, just won an American Book Award. A frequent commentator on American culture for the BBC, he lives in northern California.

Malcolm M. Gordon is originally from Providence. After graduating from the Rhode Island School of Design as a textile engineer, he moved to New York, where he has lived since except during WWII and between trips to Europe (to stay abreast of design trends). Once an amateur painter and devoted horseman, he now focuses on poetry.

Michael Graves is the author of the collection, Outside St. Jude's (R.E.M. Press, 1990). His poems and essays have appeared widely, including in The James Joyce Quarterly (13 pieces), The Hollins Critic, The Journal of Irish Literature, European Judaism, Writer's Forum, and Modern Poems on Classical Myth (Oxford Univ. Press). He teaches in New York, City, where he founded and co-directs the Phoenix Reading Series. (BCLit Interview)

Writer-translator-arts lawyer Maureen Holm is a principal in the multilingual multiarts consortium,

p h i l o p h o n e m a™, and Senior Essayist and Articles Editor for its affiliate, Big City Lit. Recent publications/awards: The Drunken Boat (Spr '02 'Poetry'); Ann Stanford Prize (hon. mention—Judge: Robert Mezey).

Vicki Hudspith's books are White and Nervous (1982), Limousine Dreams (1986), and Urban Voodoo. She has directed Ashbery and Schuyler plays and co-edited KNOCK-KNOCK A Funny Anthology by Serious Writers with Madeleine Keller. Her work has appeared in Out Of This World, edited by Anne Waldman, and in numerous small magazines. Hudspith is President of the Board of Directors of The Poetry Project at St. Mark's Church in the East Village.

Luisa Igloria has published five books under the name, Maria Luisa A. Cariño. Her sixth is Songs for the Beginning of the Millennium, published under her maiden name, Maria Luisa B. Aguilar. Originally from Baguio, she has received eleven Palanca Awards (the Philippine equivalent of the Pulitzer Prize) since 1984, including its Hall of Fame distinction. She was a finalist for the Rilke Award in 1999, and has won numerous other American prizes. Dr. Igloria teaches at Old Dominion University in Norfolk, Virginia.

Nicholas Johnson is the Senior Poetry Editor for Big City Lit (MFA Brooklyn Coll., 1980, ABD Catholic Univ., 1974). The first prize winner at Lyric Recovery Festival at Carnegie Hall 2000 (judge: Dana Gioia), his work has appeared in Poetry London, Pivot, Shenandoah, American Poetry Review, and elsewhere. He teaches at the Payne Whitney Clinic and at The Lighthouse.

Dave King was awarded an MFA from the Columbia Writing Division in 2000, where he was editor-in-chief of Columbia (1998-1999). His poems have appeared or are forthcoming in Western Humanities Review, Drunken Boat, The Paris Review, and Pierogi Press, and "Crocus" was nominated for a Pushcart. His review of the "In Pursuit of Beauty" exhibition at the Metropolitan Museum of Art appeared in The Village Voice. He teaches at Baruch College.

Mark Larsen, the New York circuit's falling-down-funny stand-up comedian, is usually pretty serious about poetry and sports. [Eds.]

Richard Levine's long poem, "Snapshots from a Battle," was published as a special edition chapbook by Headwaters Press, NY last year, and another selected as a semi-finalist for the 2002 Lyric Recovery Award. He teaches at a junior high school that was closed by NY State, yet, students and teachers still come in daily to put the fun back in dysfunction.

Diana Manister's poem, "Elegy for a Bird House" was a finalist for the 2000 Lyric Recovery Award. A former radio show host, she is an essayist and Big City Lit Contributing Editor.

Philip Miller has published in Confrontation, Pivot, Rattapallax, and Poetry. His latest chapbook is Lillian's Mask (TL Press, 2001). He lives in Kansas City, where he directs the Riverfront Readings. In January '02, he joined the Big City Lit masthead as a Contributing Editor.

Mark Nickels's first book, Cicada (Rattapallax Press 2001), with its 588-line title poem, announced a "nearly new species of poetry" and the "arrival of a poet who has a good shot at being major" (—Jim Harrison). Nickels won the Milton Dorfman Competition in 1997, and was a finalist at the Lyric Recovery Festival at Carnegie Hall in 2000 and again in 2002. Originally from western Michigan, he lives in Brooklyn. [Eds.] (Review)

Alice Notley's latest of twenty-plus books is Disobedience (Penguin 2001), preceded by Mysteries of Small Houses (1998) which won the Los Angles Times Book Award and a Pulitzer nomination. Last year, Notley received the PSA's Shelley Memorial Award and an Academy Award in Literature from the Academy of Arts and Letters. Originally from Needles, California, she lives in Paris. (Interview)

D. Nurkse's fourth book, The Fall, is forthcoming from Knopf. The former Poet Laureate of Brooklyn, his poems have appeared in the Paris Review, The New Yorker, the Kenyon Review, and as a special section in Big City Lit's Feb '02 feature on 'confinement.'

Charles Pierre is the author of the 1981 poetry collection, Green Vistas. Recent poems have appeared in Rattapallax, Outerbridge, Voices International, The Lyric, Waterways, Aethlon, The Parnassus Literary Journal, and The Aurorean.. He lives in New York.

Ron Price grew up in Memphis, Tennessee, and currently lives in New York City, where he is Poet in Residence at the Juilliard School. He is the author of Surviving Brothers, a chapbook, "A Crucible for the Left Hand," a recording, and the collection, A Small Song Called Ash from the Fire (Rattapallax Press 2000). (BCLit Interview) Recent honors include a Pushcart nomination and an invitation to read in India.

James Ragan (Lusions; The Hunger Wall; Womb-Weary (Pulitzer nom.); In the Talking Hours) is the Director of the Professional Writing Program at USC and Summer Poet-in-Residence at Charles University in Prague. He is a Big City Lit Contributing Editor and two-time feature at Lyric Recovery Festival at Carnegie Hall. (BCLit Essay Profile)

Jessy Randall is Curator of Special Collections at Colorado College. The 2River View has published an online, illustrated collection of her work, "Dorothy Surrenders," at 2riverview.org. Her poems have appeared in Antietam Review, Mudfish, and Painted Bride Quarterly, and she guest-edited a fathers and fatherhood issue for Snakeskin (snakeskin.org.uk) in February.

Earl W. Roberts, III is a retired Methodist pastor in upstate New York. His non-fiction story, 'Top Button," aired on NPR in an episode of Paul Auster's National Story Project and is included in the related anthology, I Thought My Father Was God and Other True Tales, published in 2001.

Laura Sherwood Rudish's poems have appeared in journals in Great Britain and in the U.S. She is a founding partner of Poetry OtherWise, a week-long annual festival in East Sussex, England. A student in the Sarah Lawrence MFA poetry program, her work was profiled in the 12 Section of the Mar '02 issue of Big City Lit.

Mervyn Taylor, a native of Trinidad, West Indies, is the author of An Island of His Own (Junction Press, 1992) and The Goat (Junction Press, 1999). He teaches writing at the New School in Manhattan. A former New York Foundation for the Arts award winner, Mr. Taylor recently read his poetry on the air for Pacifica Radio. His new manuscript is tentatively titled The Careening Poui.(BCLit Collection)

Angelo Verga is a writing teacher, the curator for the nearly nightly poetry programming at the Cornelia Street Café in the Village, and author of the prize-winning collection, The Six O'Clock News (Wind Publications). His work on Cuba will be featured in the Aug '02 issue.

William Wadsworth is the former executive director of The Academy of American Poets (1989-2001). His poems have appeared in The Paris Review, The New Republic, The Yale Review, Big City Lit, Grand Street, and The Best American Poetry 1994, among other publications.

Philadelphian Rob Wright's ecphrastic "Cantus for the Horses" won the Outstanding Semifinalist Award (reach) at Lyric Recovery 2000, and drew front page commentary in the Small Press Review. His "Krishna Waits in the Car" was nominated for a Pushcart. In 2002, he joined the masthead as a Big City Lit Regular Contributor.