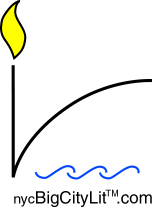 Essay
A Potamic Tale
Gretl Claggett
In late May, the Mighty Mississippi, Old Man River himself, overflowed Hannibal, MO—the mosquito-infested waters rising a steep incline past Front, Main, Broadway, on up toward 3rd Street. While others canoed to salvage paintings, papers and pets from abandoned buildings, our home remained safe—the Watergate trials just starting to seep through the seventeen-inch black and white screen our eyes dived into each night at suppertime.
That year, Winter raged through Haldeman's and Ehrlichman's resignations and through my seventh birthday—arctic winds freezing snow and rain so that the river became like one huge cube of ice contained in a short shot glass and, as it melted, levees along the entire valley burst. Though tall for my age, I felt small, insignificant—as if I could be washed away. I studied the facts, traced and retraced my steps. Dubbed "The Great Flood of '73", and our plight was broadcast nationally.
Days before the flood, there was a drowning—Lloyd Riggs, the town drunk, disappeared, leaving an empty of Wild Turkey, one black leather wing tip with its sole nearly worn away and a single thread-barren sock on the shore. The police suspected that Lloyd, who slept on a wooden bench at the landing, had slipped on the cobblestones into the black water, carried away in moments—a shoeless, sockless sack of potatoes. Teams dragged the river's muddy bed day and night, but when the icy deluge gushed into downtown, Lloyd's lanky body had not been found.
Tales of the Mississippi claiming lives were common, but Lloyd was the first I knew to dissolve into its depths. See, Lloyd Riggs and I shared a secret—Lloyd often followed me home from school. He looked like a large lobster, glassy-eyed, his limbs jerking as he stumbled down sidewalks into the streets. Though he never touched me, the way he stared scared, yet strangely excited me—so I never told a soul.
As days passed, I fantasized that Lloyd had purposely taken a plunge to escape this stifling place. Mornings, I walked to the corner—half-terrified, half-hoping his body would wash up in front of me. Waves shattered second-storey windows in landmark buildings; rooftops and chimneys floated in the distance like barges on a surreal sea. Evenings, we watched the news. Somehow, President Nixon had started a flood in Washington called Watergate—a flood greater than "The Great Flood."
In my dreams, Watergate and "The Great Flood" intertwined until Lloyd (who now had Nixon's face) shopped under twelve feet of water in Kresgee's Five & Dime for a fishing rod—dog-paddling through murky aisles where oversized white-whiskered catfish swam and the bodies of others swallowed (looking like G. Gordon Liddy and James McCord, Jr.) stole cans of tuna fish, Pringles Potato Chips, Silly Putty eggs, and glow-in-the-dark yo yo's from the swamped shelves.
When the river receded, Lloyd's body was found tangled in a roller gate at the Saverton Damn. Though money mysteriously donated to the town insured a proper burial at Riverside Cemetery, no one ever came forward to identify or claim him.
The summer air grew thick as a Ted Drew's custard shake. Watergate's waterline continued to rise. And down streets of sewage, fish and rotten wood, I walked to the river's bank. Perching on Lloyd's bench, flirting with unsettling undercurrents—wondering what I would carry with me and what would remain submerged.
(Gretl Claggett, originally from Hannibal, Missouri—where she was forced to memorize Mark Twain while dressed like Becky Thatcher—escaped to New York City twelve years ago with a BA in Language and Literature, an MFA in Acting, two suitcases, a mere two hundred dollars and a place to crash for two weeks in Hell's Kitchen. She no longer has the suitcases, the two hundred dollars (or the Becky Thatcher costume). After a stage career On- and Off-Broadway and a stint as a video producer, Claggett now works as an account executive at a marketing agency by day, a poet by night. In Fall, 2001, she started her MFA in Poetry at Sarah Lawrence College.)