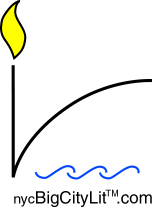 Event Review
No Long Shot:
Bowery Poetry Club Hosts Corso Tribute (02/03)
by George Wallace
Leading luminaries of the alternative bohemian scene gathered in force on Superbowl Sunday, February 3rd, to help preview poetry impresario Bob Holman's new performance space on Bowery, half a block from Houston, across from cbgb's, and a stone's throw or two from the historic site where half a century ago the beatnik jazz/poetry scene emerged: the Five Spot.
The event was billed as a tribute to Gregory Corso, the latest recently deceased member of the Beat pantheon (whose ranks are rapidly depleting), and was held courtesy of Long Shot magazine (www.longshot.org), which for years has dedicated itself substantially to elaborating on the bohemian beat American scene. Long Shot has published a very nice product, with writing and commentary about Corso, entitled, Long Live Man: Celebrating the Life and Work of Gregory Corso, and this was a kind of well-deserved book party for that product.
Billed were such established figures on the scene—and contributors to the special issue of Long Shot—as Ira Cohen, Janine Pomy-Vega, Herschel Silverman, Michail Horowitz, Andy Klausen and Maggie Estep. And a lot of them showed up at Holman's new space on February 3rd, though it was admittedly still very much a work in progress.
Now, this was hardly a subterranean gathering. To find something like that, it would have been necessary to travel a few blocks to the shadowy bar-basement of Alyss' (222 Thompson)—where in fact a number of people turned out after the Long Shot gig to hear Deb Ruhl perform on guitar. (Was that Levi Asher in a dark corner on the bongos? Or Brian Hassett at the mike, delivering a thrashing jazz-happy monologue as the amazed bartender stared, mouth open and uncomprehending?)
But while there was more of the established than the experimental in Long Shot's 'gathering of the tribe,' Holman's ability to simply infuse a scene with playful, ragged liveliness won the day at the Bowery Poetry Club.
For decades, Holman has proved over and over that he has a magic touch when it comes to creating scenes and venues. Perhaps other souls in America are able to go up against the Superbowl and draw a standing room only crowd for an event, but few can say they did so on this particular Sunday, in a half-finished warehouse on the Bowery in February—especially after announcing that there was no heat and electricity and that overcoats and candles were highly advised. What sweat equity and mad preparations went into getting the rough warehouse space into the condition it has already achieved remain a mystery. Days before the event, Holman was sending out emails encouraging people to show up on Saturday to "get to know the space intimately," and bring mops, buckets, brooms and rags. And he was busy much of Sunday hosting poetry performances that were set to feature the likes of Cleopatra Mathes (2 p.m.) and the ubiquitous Tuli Kupferberg (4 p.m.).
But, of course, the main attraction on February 3rd was Long Shot's 8 p.m. gathering for Corso, who passed away about a year ago on January 19, 2001. With Casey Cyr shooting photographs around the room and Danny Shot of Long Shotdeclaring that the evening was one for people to share memories of, read, sing, dance, bang on pots and pans, and most importantly have fun in the name of Gregory Corso, the scene was hot.
The most touching moment of the evening, perhaps, was when Laura Boss read a quite tender personal account of her relationship with the tempestuous Corso, offering a more personal glimpse of the man whose "bad boy" public image was but one facet of a complex personality.
One among the many standout performances of the long evening was an ingratiating appearance by Shiv Mirabito from Woodstock, another, a pacing performance of superior work by Steve Dalachinsky, [Gathering of the Tribes], who was accompanied by the gracious David Amram.
Amram's appearance offered a kind of benediction and blessing to the gathering. Although his busy schedule has him appearing in everything from symphony and university lecture halls to celebrity-studded musical gatherings (Willie Nelson's Farm Aid, just one recent example), he has continued to fill the role as ambassador of the Fifties generation to the 21st century.
A man who collaborated with Jack Kerouac to produce Pull My Daisy and one of the first jazz/poetry events in New York, Amram is an original member of the alternative Fifties art scene, and a person who, like Holman, has always managed to raise the tone of otherwise routine events, through his authenticity and generosity of spirit.
Thus, while there was much to applaud at the February 3rd Bowery event, Amram's contribution was the key to the night being fairly thought of as an historically important one.
(Bob Holman's Bowery Poetry Club is located at 308 Bowery, between Houston and Bleecker) Web site: )
(A journalist, novelist and poet, George Wallace is edits The Long Island Quarterly and poetrybay.com. His latest book is Down Dream Road, a novel begun when 9/11 found him in San Francisco and written at a pace--and with a skill--which Kerouac might have admired. It is excerpted in the Feb'02 Bookshelf section.)