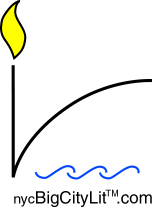 Aug '02 Home

Fiction

The Lion's Head
Brian P. Katz

William sleeps, dreamless and lonely, only to resurface on a vinyl seat at 6:30 a.m., Newark Airport. Some sign or figure or number or voice of numbers repeats in the boredom awaiting Cleveland to Chicago to L.A. to the troubled plane causing the delay. Delayed two more hours — two more on two more six hours ago. This is not a trip, a vacation, or journey. This is a chore: A dirty airport, a duffel bag between the legs, a half-read Natural History open to "porpoises" that he misinterprets as "purposes" — but he's just coming to to the voice. Should've just gone back home, but they never gave a definite announcement — no reason, bad rhyme, nasal voice: "Flight 507 will be further delayed. Scheduled departure time at 8:37 a.m." The bad hissing sevens suggest a gay man's voice, affected that way, announcing the delay.
He looks down at his arms, the bruises. How did they get there? When he came home from the bar the other night he felt a swollen lump on the underside of his left forearm — it was just beginning to turn purple, the heart of the contusion was bright red, bee-stung. The one on his right forearm started to appear a few hours later — smaller, but still painful. All his fears surfaced — anemia, leukemia, cancer — but he fought them off, wrapped his arms and spent the night sleeplessly reading old issues of Marvel Two-in-One comic books. Funny how he forgets the plots over the years and something once read could be new again. The next morning he had a black eye. Signs? He was scared. The doctor took them for normal bruises, but still, blood was drawn and tests were run. That afternoon, yesterday afternoon, the phone rang. Somewhere between exhaustion and consciousness, a battle waged — demons pounded his body at night — and the news came.
He was a colicky infant with terrible allergies to dairy; by six he had developed hay fever and various other food allergies — once he ended up in the hospital having rubbed his infected, itchy eyes to a pulp; he suffered earaches (probably because he wasn't breast fed (rejected by his own mother)) and ended up losing the hearing in his right ear for two years; by fourteen he was anemic (or always was, they just discovered it) and doubled over by the burning ulcers in his stomach; by twenty he came down with a case of bronchitis that became a chronic, yearly infection; and by twenty-five he suffered terrible lower abdominal cramps due to Irritable Bowel Syndrome. And these are his ailments. As an infant he had a botched circumcision that eventually caused severe scarring and burning urination throughout his life.
From this point to the bruises, sickness. Not enough to kill him, but did keep him weak and bloated until about two weeks ago when he started out constipated and ended up with an awful case of diarrhea. Spastic colon.
Now about ten pounds lighter, still turning crackers into water, William hears his boarding call and lifts up and migrates and pulls an apple from his bag.



* * *



"Fuck if I give a damn, but it's like recovering from something uncovered." That's what he says when referring to alcoholism. But Jimmy is drinking and William begins to wonder whether he knows what he's talking about and starts to break down the word 'recover' as if to 'cover up' again. Then again, he really doesn't care because this overweight man, ulcerated inside and out, refers to four drinks as his limit but must be on his sixth, seventh and eighth. William doesn't really give a shit, prefers his Jameson's on the rocks and searches the room for Guy "Bloomin'" Shiffren, the flaming merchant mariner of the City University English department who told him the only type of poetry is lyric poetry. He didn't agree but couldn't disagree. Guy arrives in full stormy weather regalia — it is fifty-five degrees and sunny out — and says to the bartender, "Need to kill some rats, Tele," fills the open slot next to William and after five, six, and seven, they recite Emily, Walt and pull the demons out of whiskey bottles.
The clock chimes the half hour. How many half hours has it been? The new lottery game installed in the bar catches the corner of William's eye — a TV monitor, one to eighty on a calendar grid, small red digitalized balls trail to their predestined numbers: 33, 32, 19, 74, 8… Nobody wins but the next game is in three minutes and forty-four, forty-three… seconds and nobody will win again.
Where ships of purple gently toss
on seas of daffodil
fantastic sailors mingle
and then the wharf is still.

"I can't read a thing by Ashbery," Guy states through his brush of white beard, slightly yellowed from Lucky Strikes. "I'm referring to the man, not the poet."
"I think his work is awesome. Completely understandable. Very sensory. Very expressionistic."
"Ah, you're full of shit."
William, 31, and Guy, 56, are both Irish Jews — their fathers, Jews, their mothers, Irish Catholic. William refers to himself as a McJew, "I love to drink but hate to pay for it," a pun he shares with Guy for the seven hundred and sixty-second time. Guy smirks, "Okay, clever. Find a new one, you flaming shit."



* * *



Before all of this, before the Lion's Head closed its mouth, William had a feeling that he was dying. He wasn't self-prophesizing, just rather comfortably accepting the inevitable. Was it going to be tomorrow? Two days from tomorrow? Or is he already dead but just doesn't know it? Six years before, a prophet had predicted the death of humanity in the spring, and who is he to think that we still exist? Sure, he is talking poetry. Hell, he does poetry — insufferably separated from the verse he proclaims in awkward fashions, not rhyme, not reason, but words abstract and reclaimed and lost. They order more whiskey and the day/night becomes day and they foreclose on closure and find themselves in a different bar, from Whitman to Williams and again Ashbery's post post modernity and William swearing by it…
He thinks that he is more important than he is, but then again, he doesn't really think he is that important. He could give you a Lucy or a Beatrice or a Maria, but he would like to just give you the truth.
Sons of Xavier
Keep marching
On to victory.
Maroon and blue
Will see you through
We'll fight for you.

The high school chant never meant a thing. An all-boys, Jesuit, ROTC school sent him on the path as opposed to the alley. Sure, he is not doing much with his life now, but by even writing this, this about the monotonous life; even if he hardly leaves his apartment, by writing this, he slays some demons.



* * *



One day, a man, who read what he wrote, sits next to him and says, "In order to validate yourself as a writer, firstly you need to write a book and secondly you need to publish it. It is not possible to be a writer without a story, or a storyless writer. Feel like your protagonist and sit down to type these words. Where do you begin? What makes your story, or your character's story, so interesting that it needs to be written and read? Only you have the answers. In fact, one of the cardinal rules on writing ought to be to avoid asking questions in essays that one cannot answer. Granted, this is, at the very least, an expressive piece of fiction. If you can get away from this rule and allow the previous two questions, you will justify them as thus: The reader is supposed to be in the writer's head and the writer asked himself these questions. But another rule may have been broken: If you need to justify it, it ought not be written."



* * *



And for some reason he began thinking about a photograph of Betty Page he had downloaded that morning. The distance between her bondage and her seclusion holds up — "There was just too much of me," she is saying, nude in high heels, captured by the pointy spike forever in debt to her sucked-in gut and dial tone.



* * *



iBook. Oh, he is stylin'. But he has to finish his book and instill in this scrolling list, all the loose strands, caked-in conditioner, coffee-stained keys, and the lone photo of Betty Page on the phone.



* * *



When he walks home, nothing that remains of the dark follows him and so he takes it as a sign that the remains of light will surely coincide with the remnants of the need to express the pantomime of the bar. Why, when everything so perfect collides, does he destroy the need to express himself as some murderer?



* * *



What is that lanky inequity between time and space? And why is there no way to know? Classic clichés of undertow laced with undertones of the absent mind, swilling and drubbed. But to find the space for only forty-seven words and a lot of words remaining.



* * *



One cannot appreciate drinking too much until he smells it coming from his pores.



* * *



Sandy in the paisley shirt and baggy army pants with all those pockets, her awkward, masculine body, so often exposed to his psychological frankness, brought about by time and mere glimpses of what that time was times two. It was a time all about hair, street cowboys with neckties, and that weird high from being called a "lush" or a "drunk"; all the words come back, all those fleeting moments hiding in the girls' room with all those precious girls, some of whom were older and seemed like women but now seem like girls, and those smooth bowed legs from under the stall door; he looks, part voyeur, part drunk… now voyeur, now drunkard… now gay.



* * *



He records a scene, stained, as if a photograph bleared by water damage. It occurs on the shoulders of a man about six feet, two inches tall, with long blond hair. He sits with his legs crossed at the knee, slightly effeminate; one hand cupped loosely on his thigh, the other pinching the bridge of a pair of pink sunglasses. To his left, opposite, the boy, wearing a tux, sans jacket, legs crossed similarly. The stain is the time, because it occurs in the past and the past can be blurry when not actually recorded or lived in video fashion.
He really remembers every detail, and if he couldn't step outside of himself if only for a brief time to expose himself to the mercy of youth, a youth that needs to be recaptured on this beautiful spring day, he wouldn't get anywhere with this story and he does not believe that somewhere inside of all this is a story. A coming-of-age fit about this kid from Staten Island, his mother and the man who saved them both from what is the world's largest dump. So if the stain occurs — and it does — it is probably a bit of cancer healing itself by eating itself, a cancer that stopped growing four years before.



* * *



"Hold your breath," this new father said. But William was pretty nervous. There was a box with brown paper bag wrapping, poinsettias in the background, Christ's mess on the windows, a unicorn carved in wood and none of it made sense. It was recently a long time ago, and only one in his early thirties could say that.



* * *



The advertisement read: Tall, buxom, blonde; salutatorian of her graduating high school class at Sacred Heart Academy — book smart, love-weary and lacking basic common impulses to shut shitheads out of her life. He was one of those shitheads.
After a long night of drinking at Donegal's that actually began in the afternoon, but that is how a drunk teenage adult remembers a drunk teenager, or as drunk as his premetabolized body allowed, and that Sandy had to go home, which was not so unusual considering the beast that awaited to check her sheets, to check that her virginity was still intact, even though it had been lost a year and a half before.
They kissed on a stoop on 73rd St., with intentions and gestures building up towards that one goal. They had that power — had… from that step to a bed to a blur to naked to inspired to her bits of teenage fat. She, at eighteen, told him about her needs. She rubbed her clitoris and they fucked. It was carnal and best.
What about Sandy? Isn't this everyone's story?
What about Guy? Isn't he gay?



* * *



His gut is in burning, cancerous pieces.



* * *



It was the coldest day he could remember and it was getting very hard to remember. It was not a feeling he considered lightly: his bones panicked underneath several layers of flesh and flannel. Four years going to college in Vermont offered no excuse — this was a wet, hard wind. The dead body in the box was in its element and he imagined a smug smile on its sown lips. Tears were freezing on everyone's cheeks. Fur-lined gloves were stuffed into fur pockets. Scarves concealed those awkward, quivering lips and running noses. That wind that blew over the filthy harbor, over the toxic island, burned the mourning ceremony. The ice froze harder as a death crystalized.
At that moment, Staten Island was the coldest place on earth and not for dramatic effect — he was feeling this as an actual sensation.
What a terrible place to be buried, he thinks. Staten Island. Now.This death is full to capacity with its own and Brooklyn's dead expatriates. It is as if a confused mass of tumbling bodies piled in a dump, unable to commit to the Atlantic. These bodies float unhappily between New Jersey and Long Island, feel only the building pressure of more bodies — the foundation for more buildings of bodies.
"Figures he would die in weather like this," someone said behind him.
William almost nods in agreement.
There wasn't an exposed finger to place on this occasion. Death existed everywhere and because it was everywhere it was nowhere, just like the bitter cold air. This death, this passing from here to nothing, is contained in the biodegradable coffin slowly lowered into the frozen earth on green canvas straps. In a few months, when the earth begins to defrost, the rotting will begin.
"How did they dig that hole?" a dim, grieving uncle asked.
"Back home," William mutters under his breath, meaning to say "backhoe"; he was becoming familiar with the ways of burying the dead. He imagined the machine's first few swipes at the hard earth and how the hydraulics pounded the ground until it splintered. After four feet, the earth softens. At six to eight feet, it is as cold as a refrigerator — perfect for a body.
This is the kind of weather that creates ghosts. The souls, too cold to move to heaven, stay in the body. Then you bury the coat and the aura within the coat and when that April thaw begins and the ground moans with worms, the soul escapes through the cracks, riding the roots to the sun.
At some point, everyone thinks about the cadaver unevenly lowered into its hole — the little engine struggles. Some pick up a rock of dirt and bounce it off the enamel. Others moan.



* * *



Behind the building in which he grew up was a abandoned lot. At that time the island was littered strewn with such lots. Garter snakes, red-bellied decay snakes, toads, praying mantis and salamanders in their own failing biodiversity. The sumac, stinging nettle, chicory, Queen Anne's lace, goldenrod, milkweed and occasional rolling stoner remnant of a pot plant thrived and fought for space in the lots. Piles of sandstone, here and there, crumbled as a reminder of the failed attempts to build on the property. There was a gray, weather-beaten barn in the middle of the tract — once the barn to a thriving, small flower farm before the cookie cutter houses and two for a dollar buildings.
It was here, one summer afternoon, when the fabric of youth, already weakened from laundering, ripped that violent rip that caught the wearer off guard. A violent jerk from innocence to maladjusted to tortured. His hands opened the weeds like a curtain and shot to his hips and yanked his small pants from his body.



* * *



He must be okay in order to write about himself, but he doesn't want to make a habit of this. He keeps a journal, this journal, in order to keep the facts from the stories. Thus, he is supposed to be avoiding himself, but has settled on the idea that he needs a break from the routine. He is not going to shave or wash his hair or deodorize his arm pits. He will be pre-civilized in body and pre-psychiatric in mind. He is exiled from self and from the world in a room with toy figures and comic books and hardware and field guides and a pile of baseball cards — all Yankees; he has a fragrant candle and a light and a computer screen to offer some illuminating insight. He is a modern antique.
There are four plants in the room to convert the carbon dioxide: two dragon trees, a ficus and some English ivy. There is a small aquarium on the small window ledge. There is a pump, a heater, two goldfish, three African water frogs, one algae eater and one eel in the tank. There is electricity. There is a box of recipes to his right; a bunch of books (including the compact OED — with magnifying glass), a bunch of stones, a fan, and an Exacto knife. There are several calendars and there is a door. What is not included, is not included.



* * *



It seems to begin at his feet, along with a grinding of steel, abrasive and frightening. William is paralyzed. The attempt to move fails as he falls.



* * *



"This looking at a blank page thing is getting me uptight," William says to Guy without looking up from the black notebook.
"So, stop lookin' at it," Guy responds, but William keeps on staring, wishing that between the minute craters of paper that little ounce of human print will expose itself and therefore the killer will be revealed.
"Are you sure this is the only thing he touched?" Guy asks.
"Yeah. I saw him come in. He started over there by the jukebox. Didn't touch a thing. Then he came over to this corner and started feeling the paper of the Post, flipping the pages. Then he closed the newspaper with his gloved hand. I'm just not sure which page he read." He continues to search the blank page. Nothing.
Guy moves away from William, bored by his silliness, and walks over to the bathroom. Tubes of watercolor and acrylic and oils; Guy loves art supplies even though he has no use for them.
"Never produced nothin'," William says. "Just kept writing and collecting words."



* * *



There was a time when all the major events in his life revolved around his genitalia — even when not directly associated with sex. He wondered whether this was natural. "Do all men view their lives the same way?" And a voice, not directly attached to his conscience would answer, "No, William. No, only you." "But why me?" he would ask. "Because what happens to you does not happen to everyone." And he is reminded about perhaps the earliest point of departure, the event that he remembers without help, without analysis or hypnosis…
He remembers a list of objects before reeling in the submissive tug that dragged him from a pool to youth, over stones and rocks and mountains and obviously bruised he rolls over and sees: the animal alphabet, the chalkboard — one panel green, a larger black panel — the white chalk block letters spelling "Mrs. Kahn's first grade class," the chairs unreasonably welded to desks, the draped American flag on an eagle staff, and all those first grade boys and girls focused on his face, his tears. Every face visible with expression. The world zips, the teacher laughs and the torturous day-dream flushes, a very real sequence of events and pain marked by the tension of a once insignificant act, something done and undone, now a whirl. His hands open and tense with his heartbeat. The teacher moves from a momentary stroke of bewilderment to one side of a painted face laughing, the other side drooping in shock. He rocks, slightly, quickly, nervously. The embarrassment isn't what is relevant, although it is felt. The teacher turns him around by his shoulders, ushering him out the door — both seem afraid to leave the room. His steps are rigid and small, each on the balls of his feet. The hallway is a mix of sterility and paint chips. He makes his way carefully, alone, wailing, stiff. The other classroom doors open. Mrs. Nielson, Mrs. Castella, Mrs. Lund, Mr. O'Brien — the trumpet stops, instructions stop, adding and subtracting pauses. The principal's aide meets him, hurriedly. She seems serious, her pants unwrinkled. She nods at the teachers, raising a hand of "everything is okay." Her hand ushers him softly, resolutely, forward. She contemplates picking him up. He shifts to his heels, gasping subtle acceptance. The shock is the pain and she starts to crack a smile. He hurts but his fingers start to move and he is placed on a high wooden chair in the center of the principal's office. The principal comes in in his gray suit and strings of hair across his head. He smiles seriously. A phone call is made. An acknowledgment is made and a subtle shift in the dense confusion is carried out the door and into a car. On the back seat everything is corduroy and buttoned and the velvet of the car ceiling seems to quiver with the engine. His book bag and coat on the floor of the car. He has lice, he has the cooties, he is exposed. When the car door is opened, he is coaxed out by two nurses, carried, then lifted onto an emergency bed. His first fear developed into the loss of his voice, the tension seemed to invert and he curls up into a tight ball, pulling harder, pulling away. One nurse tries to unroll him. The other tries to explain the presence of the scissors. Two strong hands settle over his waist, under his waist, and with fingertips on each side of the remaining fabric, one impressive yank and it all seems like seeming…
The unapproachable mass of children in the school yard — the following few days never existed; the continuation of that hidden era of sorts.



* * *



He is now entering his sixth month of waiting — waiting for the mail to come, the phone to ring, to hear someone tell him he made it, that something good is going to happen, but nothing does, nothing comes. He is in an awful place: 31, just now trying to find his voice, his "raison d'être." Still nothing. It seems useless to pile up ideas when he is so busy contemplating his mere existence, the all-too-true fact that he will die and he has yet to embrace a belief that could save him from this desperate fear of nothingness that awaits. He so much wants to live, but he seems to do so little of it.



* * *



The doors closed and the bar became a comedy club and then another bar; but luckily, he was too far away to really care.