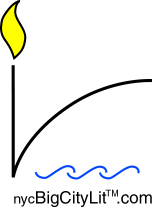 Off-Page Listings
Housing Works
Thursday, April 11 at 7 p.m. Free
Jimmy Breslin
The Short Sweet Dream of Eduardo Gutiérrez
Eduardo Gutiérrez had a dream. Raised in the povertyicken town of San Matías, Mexico, he dreamed of a better life-one in which opportunity and a steady income in America could ease the suffering of his family back home. But like many dreamers, Gutiérrez was naïve. After risking his life in an illegal border crossing, the young immigrant struggled to make ends meet as a low-paid day laborer for a construction company in Brooklyn. Uneducated, alone and in constant fear of deportation, Guitiérrez spent his short time in America fleeing back and forth between his cramped group apartment and a building site he knew was dangerously unstable.
In November of 1999, Gutiérrez lost his life on-the-job when the shaky floor beneath him collapsed and sent him plummeting into a vat of liquid concrete below. The obvious negligence of the real-estate developer brought to light a long history of shoddy building standards, delayed city inspections and government favors. When news leaked that the company in question had major fund-raising ties to the administration of then-mayor Rudolph Giulianni, the media wasted no time turning the municipal scandal into a national headline. The name Eduardo Gutiérrez was lost in the fireworks.
In The Short Sweet Dream of Eduardo Gutiérrez, renowned journalist Jimmy Breslin brings the 21-year-old's true, tragic story to life. Pairing biography with political exposé, Breslin traces the young man's journey from birth in Mexico to death in America and reveals the deep-seated corruption of a system that failed him each step of the way. Book magazine lauds Breslin as a "masterful muckracker" who, in the tradition of Theodore Dreiser and Upton Sinclair, "lays bare a political tragedy-here, the heedless U.S. immigration policy and its human cost." From reckless immigrant smugglers and border patrollers to bribed city clerks and bureaucrats, Breslin leaves no stone unturned in his quest to give voice to millions of men and women whose lives are perceived not to count.
Housing Works Inc. is a minority-controlled, community-based, not-for-profit organization that provides housing, health care, advocacy and support services to homeless men, women and children living with HIV and AIDS. Founded in 1990, Housing Works' mission is to help people living with AIDS and HIV who are homeless or at risk of homelessness to gain stability, security and independence so that they can live their lives with hope and dignity. All proceeds from the Used Book Café go towards support of these programs.
[Reproduced unedited. Eds.]