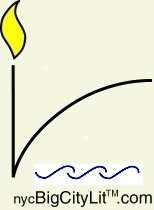 Reviews
Several Hearts: Margo Berdeshevsky's
But a Passage in Wilderness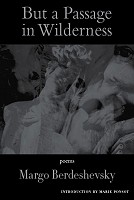 But a Passage in Wilderness
by Margo Berdeshevsky
The Sheep Meadow Press, 2007; 109 pages; $12.95
ISBN: 1-931357-50-1, Paper

by Larissa Shmailo
Margo Berdeshevsky achieves an unusual trinity in her first book of poems, But a Passage in Wilderness. The collection is wonderfully experimental, exceptionally lyrical, and marvelously passionate. Unlike most modern poets, Berdeshevsky's inventive language does not shirk the responsibility of addressing love and death and our lives together in society. Exciting poetics abound, but their songs return, like migrating birds, to the flora and fauna of a vivid daily world
To encompass the range of the subject matter sung by Berdeshevsky requires the several hearts invoked by the poet in "Pele's Dark Landing." The poet also needs several hearts since the one, living as it does in the world, is destined for inevitable heartbreak:
...made to be
cracked like the sculpt of a woman's inner lips
on the floorwall of a cave we visit—-inner, silverlong,
more giant than our life and red with tarnish;
cracked again by the night's quake, feared of the dark
earth, famed,
now veined and a little broken....
But the poet sings loss not in a whimpering whine, but forcefully, as "a sixty-three mile lava tube that skews from the moon." God himself is called into account for his creations, as when the poet's Cain ("Cain—After") tells God from whom, after all, he learned of blood sacrifice. The poem ends in appropriate coda: "God damn."
Where Berdeshevsky reigns is in the music of her work. Throughout the diverse forms of the poems, sometimes referred to as "collages," there is not a false note to the ear. Best of all are the idea-laden rhythms of the elegant line breaks and word spacings. A special tension is created by the use of pregnant incomplete clauses brimming with meaning beyond their grammar, a frequent device of the poet, as in the following anaphora in "Born By Knife":
"When I never knew lava, its pulse, waiting. When I never knew
forsythia. When I never knew any changes as golden, as carriage."
The poet skillfully uses her punctuation, her white space, and her syntax to modulate and amplify her words. "Whom Beggars Call," exemplifies how the poet uses a fusion of literary forms in her verse, remaining true to her lyricism in each variant:
The man who cannot love me whom I
chews his say I cannot correct, or love.
Like blue foxes, or birds,
graciously, the holy night
folds.
Or
[...]
Oh obviously I see the concentrated man beside the church wall, so near if he were animal,/ he'd bite. He's drowning in plastic, and bottles, and bread, and blood. He's carefully/ daubing at his forearms with white paper, seining scabs in the thin noon, this rain is/ straight pins, he's a serious kid inspecting his skinned knees in it, his arms bleed so near/ if he was animal—
Berdeshevsky is never neutral, and her figurative language is imbued with color, passion, and life. Sometimes, the lyrical poet adjures her reader, a guide and conscience, as in "Door":
Before another blatant hour, do not love a country;
it will turn you into a killer, defending your tree, your road,
your stars. Try not to protect the wren, its furred
babies. Say prove to yourself to me again, I of doubt's
despair born deep in winter. Prove we are not born
in the cauls of killing.
Berdeshevsky's literate work shines with well-chosen epigrams, quotations, and allusions from Shakespeare to Tennessee Williams, from Keats to Cocteau. In "Un-titled", the language of King Lear is deftly integrated in one of Berdeshevsky's poems about homelessness:
The bus named want—that Blanche called Desire
now water-ghost tired in wet that keeps on washing up,
how small our hands that never may come clean, (only)
little ghost Cordelia comes: babbling like another lost
chile' to her homeless Lear:
All blest secrets, All you unpublished virtues of the earth,
Spring with my tears! be aidant and remediate
In the good man's distress! Seek, seek for him
Lest his ungoverned rage dissolve the life
That wants the means to lead it.
Berdeshevsky's dry wit accompanies insight on her inter- and multitextual canvases, as may be seen in one of the seminal works in the book, the collage "Best Love and Goodbye":
...but an infection of the common sky.
—Robert Graves
Before and After visiting the 400 Doomed Youth
soldier poets of that other century
A man who want our response to the new Holocaust
wing: is it an attraction, he needs to know
Berdeshevsky's vivid and living perception, the sine qua non of the poet, and her unique and dazzling language, equal to expressing the rich contents of a a generous heart, make But a Passage in Wilderness a collection to read carefully and often.
Larissa Shmailo is a poet and a translator. Her new chapbook is A Cure for Suicide (Cervena Barva Press 2008) and her new CD is Exorcism (SongCrew 2008). Visit her on the web at larissashmailo.blogspot.com and http://www.myspace.com/thenonetworld.