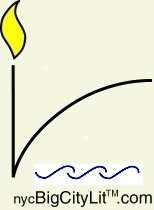 Fiction
Room

by Margo Berdeshevsky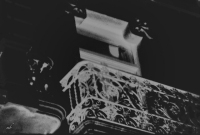 It was locked, they had a locked room, that no one else knew or would. Not her husband, not his wife, not his little girl with her costly, hand-stitched Rapunzel green velvet gown, sausage curls, rhinestone crown. Not the woman's medicinal smelling son with his thin black beard, who liked to hurt his own hands. All their stories stayed out of the room.
No tragedies. They had no friends. Only each other and a room and a bed and their love.
In the locked room no one had children, no one had ever lived except on a clean sheet on a different floor of a different two star hotel, every week except on holidays. They did not wear glasses or watches or rings or underwear. They kissed and loved as though both of those words, kiss, love, had only been invented in their mouths to be spoken between their own winter chapped lips. They loved their invention, in the face of the seven surrounding hills.
His skin in her teeth — like a white wolf bringing in her blood-drained kill, he said I love you and meant it. On this week's rented sheet, they whispered a discovery. And next week, another.
If I had never known you I would be dead, he said, and it was the truth. We never had any signal or eventful day when we first met, we were always as we are now. Always. I've always.
And she repeated that. Always.
Neither one has ever traveled, never learned by rote, never wept. Now is the only now.
It was a kind of freedom in the absolute. They could cry as though no one ever had cried before. Sobbing into each other's hair, stopping, licking at each other's stained faces and slaking their thirst. They could laugh until it ached to laugh. Stop. Hold hands. They told one another no stories, no half-truths, no truths, in fact, except as what mattered to the bed, to their bodies, to the rooms, to the hour, now.
I am born, right now, forty-one winters and fully formed, as I enter and lock this door. Every time. Hello my dear one.
As a bedspread is pulled down to a fresh sheet beneath it, and skin begins to brighten, curtains closed, light veiled. As shape plays against shape and pleasure is the creation of compassion. As dimmed light warms, holds.
We have never hit anyone. Never walked around the block alone and void, or with any one other, and void. Never wept with a midnight Fado. Or run alone or with any disciple. Never studied. Never have written an alphabet. A thesis. A love letter. A philosophy. Never learned a new language. Never tasted salt or sweet. Never milked. Never killed.
And none of it was true.
No one had ever lied as well as they did. Hated their lives or their city or their country as they did. None had ever wanted the room to be true, as recklessly. Everything was at stake.
In an hour it had never happened.
They had met in an ugly bar beside a train station, drinking vodka until hell grew lavender roses, blood and water were equal, as substances.
Tomorrow—the little daughter in the green velvet princess gown had a question for her father. Who never had a daughter. Who never came home. Who lived in a locked room writing one word, again and again in water, on blank walls. Love, he wrote. Love.
Margo Berdeshevsky's poetry collection "But a Passage in Wilderness," was published by Sheep Meadow Press in December 2007. Her "Beautiful Soon Enough," a collection of illustrated tales, received the Ronald Sukenick/American Book Review Innovative Fiction Prize, and is forthcoming from Fiction Collective 2, in September 2009. It contains her black and white montages of her own photographs. Other honors include the Robert H. Winner Award from the Poetry Society of America, The Chelsea Poetry Award, Kalliope's Sue Saniel Elkind, places in the Pablo Neruda and Ann Stanford Awards, 5 Pushcart Prize nominations and "special mention citations" in 2008 & 2009, for works in leading literary journals including Agni, New Letters, Pleiades, The Southern Review, The Kenyon Review, Poetry Daily, Poetry International, Pool, Nimrod, Women's Studies Quarterly. Her Tsunami Notebook of poems and photographs was made during and following a journey to Sumatra in Spring 2005—to work in a survivors' clinic in Aceh. A "visual poem" series, The Ghosts of Versailles was seen at the Parisian Galerie Benchaieb. A poetic novel, Vagrant, is also forthcoming, from Red Hen Press. Berdeshevsky currently lives in Paris, and is often on the road in the US, reading for her new books.