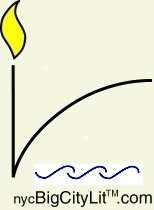 Poetry


Spring 2009
Barry Wallenstein
Llosa's Bad Girl
He sees her face circled
in a smoke ring of curls
sending out wisps — spun gold
destined for no merchant's shop.
He implores "please reach your arms
behind your waist please and
with your palms and fingers
treat slowly what you handle that way
and I'll kiss your eyelids open should they shut.
Shut might suggest sleep — a state
neither you nor I desire now or for a while."
And the next day everything's different;
he's lost in an office at work and Bad Girl
is far off in another office
in a different time zone
playing with friends or alone.
Good Boy picks up the phone
and calls the voice he needs to hear.
She asks him how he's dressed. He says.
She describes how she's dressed. He smiles
and asks where her left hand lies
and she tells him clearly through the phone.
Sally my dear, hold tight to my side
as we walk, as we go step by step
in a direction you've chosen
passing under an urban arbor,
passing by the popular locksmith,
the pizza joint, the dirty minded druggist
who already makes us smile; and
we smile again at what we purchase.
Hold my hand in a grip of safety;
we've time to learn, time to spend,
time to know each other within the wind,
against the wind, better and better.
Last night we hardly knew the other's name
and it was I who insisted we stay on
after that inconceivable frolic
behind the shrinking twins at the wax museum.
Talk to my face kindly as we make our way
the day after a start that had us both finishing,
first you then me — eyes on fire
and all that understanding.
Still early, today, the brainy ones coalesce.
They sense the value of terra firma
and soon they crouch, then crawl on all fours —
becoming beasts with ideas coming up short.
These are the disheveled ones
thrashing about in the underbrush
caught amidst the brambles and burrs —
scrambling away from their time.
These are the brambles, the burrs
hiding the thorns. These are the stumbles,
the struggles to emerge — delayed in the underbrush;
the crumpling effort to arrange escape — denied.
If one gets through, a shambles, bristled and standing,
is the retribution worth seeking?
Back to Poetry