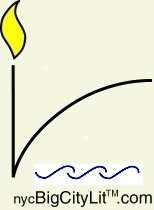 Reviews
Causeway


by Elaine Sexton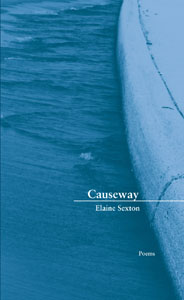 New Issues, 2008; 73 pages; $14.00
ISBN 1-930974-77-9, paper
Reviewed by Alison Woods
What I like most about Causeway, Elaine Sexton's second collection of poems, is the concession between varied extremes. Tension infused in small moments becomes radiant as Sexton confidently leads us back into the concrete middle ground. The non-epiphany becomes an entity unto itself, playful or woeful. Whether she is helping her mother navigate aging in "A Bird in the House" or waiting patiently for the man behind the counter to finish a phone call in "Village Butcher," we are engaged: "I judge my life the way/the butcher, two blocks away/gauges the weight of prime rib… he answers the phone/ … glad to be loved/by someone he clearly loves back.//… He stands, knife in hand,/and considers her voice, the chords/as they climb through her mouth,/then his, then mine."
True to its title, Causeway stretches and bends into the nooks and crannies of everyday life as Sexton surveys themes of love, relationship, and family. From the opening poem, "Turnstile" (Sexton's point of entry into the causeway), to "Lower Manhattan Pantoum," a poem that celebrates city neighbors, to "Masonry," which cobbles memory to language, each poem is clearly situated within a framework of urban-based motifs and nature landscapes, a stream of water running throughout. In fact, I find the poems in Causeway to be much like perfect storms; a slice of ordinary life where, with absolutely no warning, in the blink of an eye, all is transformed.
In the sonnet "After You," the final poem in this collection, Sexton writes: "At the time I thought I was dying/I finished what I started./I accomplished a lot. … Now that I know I will live,/mail goes unanswered… What's the hurry, now that time/stretches and bends?" I relish Sexton's ease with the colloquial, and the latitude she exacts where image and metaphor themselves stretch and bend. In "First Person," a relationship poem, written in "unbroken" couplets, heartbreak is considered from many angles:
…the way a playwright
might feature your gestures
in the act of the heart breaking
over and over so the sound of the heart
breaking is sharper and more
beautiful than the original heartbreak,
so nearly unbearable you'd never
wish to feel it, directly, again.
In "Office Sonnet," Sexton's message is "[t]o Ted on the other side of my cube…I'm sorry your mother does not/ remember you called her ten minutes ago,/ and I'm sorry you have to move her/from her home, the one you grew up in.// And even though we have never spoken/about anything but the weather and/spikes in the news…, I'm sorry you have to listen/to me schmooze with my lover, long distance,// and honk business on the phone/everyday." The fourteen-line memo to Ted concludes: "I hope your retirement plans/work out, though no one is supposed/to know. Your secrets are safe with me." Sexton's relationship to Ted reminds me of every Ted I've ever encountered; humor meets tenderness, candor, imagination as I recall that Ted has also encountered me. Connections in Causeway are paramount, and I get the sense that Ted and I are not so different as I might like to believe.
In "Estuary English" we are aloft from the unusual vantage point of being held above water, bird's eye, grasped as a clam in claws: "A sea-mark exposed my limits./This is where loss first/opened its mouth, where/ my alongshore navigation/began." I appreciate the way water and body are blurred as she inhabits a sea-creature: "I hung/ in the firm grip of two claws, fear/and desire. I did nothing but let them/hold me…"
The title poem, pivotal in the theme of relationship, begins simply: "Outside your idea of me/I stray. I keep to myself/as much as anyone can/keep to herself/beside you…" Sexton's tone is searing, confessional, and unapologetic:
Below, scratching the sand
even the tiniest crustacean
finds a place other than her skin
to retreat to. The hermit crab,
squeezed in a shell,
contorts her own body
to carry the weight
of a hard won
scholarship on her back.
Sexton is fearless — no overreaching, no unnecessary flourish — and seems to trust the poem implicitly. Causeway is the kind of second collection that inspires, and I am eager to continue this journey with Sexton, thankful for her gift of observation and her non-conforming spirit. In "Class" she describes a summer job: "I lasted three days minding a child /at the beach club… //I watched this girl/as if reading would be stealing/the attention they paid for…" A teen torn between servitude and self, a well-known dilemma rendered in perfect pitch as Sexton contemplates "this was //my lesson. Back and forth she swam,/back and forth I weighed belonging/and not belonging, the salt water/always free, the steps to it already mine."
Alison Woods is a poet and lyricist who has published poems in BigCityLit.com, Poetry East, Rattallapax, Rattle, The Kean Review, The National Poetry Review, The Paris Review, and The Western Humanities Review. Nominated twice for a Pushcart Prize, she co-wrote several songs on God's House, a 2008 CD by singer/songwriter Marion LoGuidice featuring a duet with Cyndi Lauper and is currently collaborating on a new CD with Steve Addabbo (Suzanne Vega, Shawn Colvin). She received her MFA from Columbia University and has taught writing at Montclair State University, Kean University and Fashion Institute of Technology.