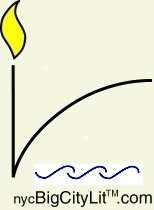 Contributor Notes


Spring 2007
Joel Allegretti has published two collections of poems, The Plague Psalms (2000, now in its third edition), and Father Silicon (2006), both from The Poet's Press. His work has appeared or is forthcoming in Art/Life, Rattapallax, Big City Lit, Anglican Theological Review, Porcupine, Manhattan Literary Review, The Wandering Hermit Review, Confrontation, and in the anthology Chance of a Ghost, from which his poem in that collection won honorable mention in the 2006 edition of The Year's Best Fantasy and Horror (St. Martin's Press). Allegretti has also been nominated for a Pushcart Prize, and placed as a quarter-finalist in the 2002 Lyric Recovery Festival.
Jeanne Marie Beaumont is the author of Curious Conduct and Placebo Effects and coeditor of The Poets' Grimm: 20th Century Poems from Grimm Fairy Tales. She teaches at the Unterberg Poetry Center of the 92nd Street Y and is the Director of the Frost Place Seminar.
Margo Berdeshevsky's new poetry manuscript, But A Passage In Wilderness, will be published by The Sheep Meadow Press in November 2007. She has received four Pushcart nominations, the Robert H. Winner Award from the Poetry Society of America, The Chelsea Poetry Award, Kalliope's Sue Saniel Elkind Award, places in the Ann Stanford & the Pablo Neruda awards, Border's Books/ Honolulu Magazine Grand Prize for Fiction. She lives in Paris. Her works are published and forthcoming in The Southern Review, The Kenyon Review, New Letters, Pool, Runes, Poetry International, Women's Studies Quarterly, Nimrod International, Chelsea, ACM, Traffic East, Kalliope, Southern California Anthology, The Literary Review, Many Mountains Moving, Van Gogh's Ear, Rattapallax, & more. Her Tsunami Notebook - was made following a journey to Sumatra in Spring 2005, to work in a survivors' clinic in Aceh. A collection of short stories, Beautiful Soon Enough, waits at the gate. A "visual poem" series, Les Ombres de Versailles (The Ghosts of Versailles), may be seen on the Parisian gallery site http://www.galeriebenchaieb.com/
flash_fr.html. She is a contributing editor of the magazine.
Marion Brown writes stories and poems. Born on Long Island, she has lived with her husband and children in New York City and Brussels, Belgium. Now she divides her time between the Adirondack Mountains and Westchester County, New York, where she volunteers as a Master Gardener. She studied English literature at Mount Holyoke College and Columbia University and has taught composition and worked on Wall Street.
Claudia Carlson, born in Bloomington, Indiana and raised elsewhere, has worked as a quilt designer, cartographer, calligrapher, illustrator, salad chef, book designer and website designer. Her first book of poetry, The Elephant House, was published in Spring 2007 by Marsh Hawk Press. Divide, The Cream City Review and Gargoyle Magazine have published her photographs and she paints watercolors (see http://www.claudiagraphics.com). She lives in New York City with her family.
Ann Cefola's chapbook, Sugaring (Dancing Girl Press) and translation of Hélène Sanguinetti's Hence this cradle (Seismicity Editions) will be published in April. She has won a 2007 Witter Bynner Poetry Translation Residency and the 2001 Robert Penn Warren Award judged by John Ashbery. Ann (anncefola.com) also holds an MFA in Poetry from Sarah Lawrence College and works as a creative strategist (jumpstartnow.net).
Jay Chollick lives in New York.
Lori Desrosiers was born and raised in New York but now lives in Westfield, Massachusetts. She hosts a regular poetry open mic at Jester's Café in Westfield on Monday nights. She teaches English Composition at Westfield State College. She is currently studying for her MFA in Poetry at New England College in Henniker, NH. She also publishes the Poetry News, an online newsletter chronicling poetry events in the Pioneer Valley and beyond. Her work has been published in the Ballard Street Poetry Journal, The Equinox Magazine and the November 3rd Club online journal. She has self-published three chapbooks and a CD of original music.
Robert Klein Engler lives in Chicago and New Orleans. He is a writer and artist whose work is sometimes characterized as politically incorrect. Born on the southwest side of the city, Robert taught many years at Richard J. Daley College, until he was banned by the chancellor. Robert holds degrees from the University of Illinois at Urbana and the University of Chicago Divinity School. He has received two Illinois Arts Council awards for his poetry. Just Google his name to find his writing on the Internet.
Allen C. Fischer brings to poetry a background in business where he was director of marketing for an international corporation. His poems have appeared in The Greensboro Review, Indiana Review, The Laurel Review, Poetry, Prairie Schooner, Rattle, and River Styx. He is a regular contributor to the magazine.
Vernon Frazer has published eight books of poetry, three books of fiction and three recordings of jazz poetry. His most recent works are the long poems Holiday Idylling, Avenue Noir and IMPROVISATIONS, the now-completed work which he introduced in his 2001 reading at the Poetry Project at St. Mark's Church. His web site is http://vernonfrazer.com. Frazer is married and lives in South Florida.
Pamela Hart is a former journalist. Her chapbook, The End of the Body, was published in 2006 by Toadlily Press as part of its Quartet Series. Her work has been published in Kalliope, Rattapallax and Lumina and has been nominated for a Pushcart Prize. She lives in South Salem, NY with her family.
Janet Hamill: Poet and impresario Bob Holman has called Janet Hamill "our Baudelaire." She is the author of four books of poetry and fiction: Troublante, The Temple, Nostalgia of the Infinite, and Lost Ceilings. Her work has been anthologized in Up Late: American Poetry Since 1970, Deep Down: The New Sensual writing by Women, Living With the Animals, and Will Work for Peace. Among the numerous magazines and journals her work has appeared in are BOMB, City Lights Review, Long Shot, Exquisite Corpse, Café Review, and Gargoyle. Janet often performs her work with her backing band MOVING STAR, named after one of her poems, and conducts writing workshops that explore Surrealist techniques. Janet's website is: http://www.janethamill.com. Listen to Janet Hamill read: http://cdbaby.com/cd/hamill.
Patrick Henry: Born 1938, Yorkshire, England, Irish parentage. Customs Officer London, Royal Airforce Draftee, Cyprus, 1957-59. Wrote poetry in London, Paris, Cornwall; worked construction, farming, factory, café, bookshop jobs. Published "On the Track", Peterloo Poets 1971. Published translations of "Fruits of Winter", Prix Goncourt, 1970 and "Women of The Celts", Cremonesi, 1975. Adult student at University of Wales, University of East Anglia, Trinity College, Hartford Connecticut during 1980s. Painting exhibition Paris, 1998. Poetry Reading Tour in New York 2001 arranged by Big City Lit. Painting Exhibition, Australia, 2003. Poetry Reading and Painting Exhibition tour New York State, 2004, arranged by The Author's Watermark and Poets & Writers. Poetry and prose featured in Big City Lit and in www.thisisull.com (UK website), 2001-2007. He is a contributing editor of the magazine.
Maureen Holm, co-founder of Big City Lit and former Senior Essayist and Articles Editor for the magazine (full bio).
Kate Irving lives in New York City.
Nicholas Johnson is co-founder and editor of the magazine. His new chapbook, Degrees of Freedom, is now available from Bright Hill Press.
Dean Kostos is the author of Last Supper of the Senses (Spuyten Duyvil, 2005), which was submitted for a Pulitzer Prize; The Sentence That Ends with a Comma (Painted Leaf, 1999), which was required reading at Duke University; and the chapbook Celestial Rust (Red Dust, 1994). He co-edited the anthology Mama's Boy (Painted Leaf, 2000), a Lambda Book Award finalist. His poems have appeared in Barrow Street, Boulevard, Chelsea, Cimarron Review, Confrontation, on Oprah Winfrey's Web site Oxygen.com, Rattapallax, Southwest Review, Western Humanities Review, and many other leading journals. Box-Triptych, his choreo-poem, was staged at La Mama. He has taught poetry writing at the Gallatin School of NYU, The Columbia Scholastic Press Association, Gotham Writers' Workshop, The Great Lakes Colleges Association, Pratt University, and Teachers & Writers Collaborative. Recipient of a Yaddo fellowship, he has served as literary judge for Columbia University's Gold Crown and Gold Circle Awards. His artwork has been shown in galleries and at the Brooklyn Museum. He has recently edited the anthology Pomegranate Seeds: An Anthology of Greek-American Poetry, forthcoming later in 2007.
Marc Levy was an infantry medic with the First Cavalry Division in Vietnam/Cambodia in1970. He was decorated once for gallantry, twice for valor, court martialed twice and given a General Discharge. He is widely published online and in print. His story Bluefields (edited by George Dickerson) appears in the Spring 2007 issue of Cutthroat.
Brant Lyon: It's falsely rumored that Brant Lyon ever uttered the words, "A rose without thorns isn't worth sniffing, so don't stick your nose where it doesn't belong!", though he's often thought of doing so. He writes poetry and music and often conflates the two as when hosting "Hydrogen Jukebox", a NYC 'jazzoetry' reading series. His poems have appeared in Rattle, Lullwater Review, Big City Lit, The Long Islander, and elsewhere. His chapbook, Your Infidel Eyes (Poets Wear Prada Press, 2006), and novel-in-progress, a bi-cultural romance set in contemporary rural Egypt, declare his allegiance to Truth, Beauty, Justice and the not-necessarily-American Way.
Diana Manister is a member of the American Branch of the International Critics Association (AICA). A former editor of Women Artists News and Artview Magazine, her poetry reviews appear regularly in The Modern Review and at various sites online, including about.com and smallpressexchange.com. She moderates the Poetry & Criticism forum for the American Academy of Poets (poets.org). Her poems have been published in reviews and journals and anthologized in Big City Lit's Distance From the Tree and The Company We Keep. She is a contributing editor of the magazine.
Michelle McEwen has a degree in English writing from University of Pittsburgh, with a concentration in poetry. Currently, she lives and writes and dreams in a small town in central Connecticut.
Philip Miller has poems forthcoming in Iota, Home Planet News, and Poetry Wales. His new book, The Casablanca Fan, is due this year. He recently co-edited (with Gloria Vando) the anthology Chance of a Ghost. He edits The Same and is a contributing editor of the magazine.
Martin Mitchell, former editor of Rattapallax (2001-06) and of Pivot (1983-98), reviewed films for several publications, including After Dark for the length of its existence (1968-81). He is a contributing editor of the magazine.
D. Nurkse is the author of eight books of poems, including Burnt Island and The Fall (Knopf, 2005 and 2002). He received a 2007 Guggenheim fellowship. He has also written widely on human rights.
Eileen St. Lauren is a Southern writer and poet who has over 80 publications. A graduate of the University of Nebraska-Lincoln and a former Commentator on Nebraska Public Radio Network, she is an award-winning photojournalist, news, and feature reporter. In 2007 she completed two novels, The Adventures of Myra Boone: Goodlife, Mississippi, and My Neighbors: Blue Roses, of which Glory, Ananias, is an excerpt. She lives near Boston, Massachusetts with her husband. http://mysite.verizon.net/eileenstlauren.
M. A. Schaffner's poetry credits include Prairie Schooner, Shenandoah, Fine Madness, Agni Online, Imago (Australia), The Rialto (UK), Poetry Ireland, and Poetry Wales. A collection, The Good Opinion of Squirrels, won the Washington Writer's Center publication prize and the Columbia Book Award. A novel, War Boys, appeared from Welcome Rain Publishers in 2002. Schaffner works as a federal civil servant in Washington, spending lunches feeding the lineal descendants of the squirrels fed by Ambrose Bierce a century ago.
Elaine Schwager, psychologist, psychoanalyst, former regular contributor to the magazine and author of I Want Your Chair (Rattapallax Press, 2000).
Anna Soo-Hoo has studied with Barry Wallenstein and her poems have appeared in Poetry in Performance and Promethean, literary journals of the City College of New York. She lives in Corona, Queens.
Matthew J. Spireng's full-length book manuscript Out of Body won the 2004 Bluestem Poetry Award and was published in 2006 by Bluestem Press at Emporia State University. His chapbook Young Farmer is due out in 2007 from Finishing Line Press. Previous chapbooks are: Encounters, 2005, Finishing Line Press; Inspiration Point, 2002, winner of the 2000 Bright Hill Press Poetry Chapbook Competition; and Just This, signed and numbered limited-edition chapbook of his poems and photographs by Trey Price on which the poems are based, Hampden-Sydney College, 2003.
Margo Stever's first collection of poetry, Frozen Spring (2002), was the winner of the Mid-List Press First Series Award for Poetry. Her chapbook, Reading the Night Sky, won the 1996 Riverstone Poetry Chapbook Competition. Her poems have appeared in The Webster Review, the New England Review, the Connecticut Review, Poet Lore, West Branch, the Seattle Review, No More Masks (first edition), and elsewhere. She has edited Imperiled Landscapes, Endangered Legends, Rizzoli International Publications (1997) and Voices from the River, Slapering Hol Press, (1990). Her book reviews have appeared in the Minnesota Review, Rain Taxi Review, and CAYX. She is the founder and current Board Member of The Hudson Valley Writers' Center. She is also the founding editor of the Slapering Hol Press.
Raleigh Thompson is a songwriter, composer, poet, and artist. Her publications include work in Three Mile Harbor. A sample of her music can be heard on CD BABY.
Melinda Thomsen teaches Vocational ESL at LaGuardia Community College in Queens, NY. Her poetry has been published or is forthcoming in Alimentum, Poetry East, New York Quarterly, Home Planet News, Elysian Fields Quarterly, Rattle, Main Street Rag, Spitball and the anthology Blues for Bill: A Tribute to William Matthews. She was a semi-finalist in the 2004 "Discovery"/ The Nation poetry contest and a finalist for the 2006 Prague Summer Program Pavel Srut Poetry Fellowship.
Angelo Verga's poems have appeared in Rattle, Manhattan Review, Massachusetts Review, New Orleans Poetry Forum, Blue Mesa Review, Saint Ann's Review, Paterson Literary Review, New York Quarterly, The Temple, Connecticut Poetry Review, Barrow Street, Heliotrope, and numerous other journals. A Hurricane Is (Jane Street Press, 2003) is currently in a third printing. His most recent collection, 33 New York City Poems (2005) is published by Booklyn. He curates @ 325 literary readings per year at the seminal Cornelia Street Cafe, & elsewhere. Angelo Verga: poet, teacher, editor, curator of literary events, is currently engaged in "deep research" for his sixth collection, a book of love poems.
George Wallace is author of fourteen chapbooks of poetry in the US, UK and Italy. Editor of Poetrybay and the first poet laureate of Suffolk County, NY, he is a regular performer on the New York City poetry scene. In recent years he has appeared at the Woody Guthrie Festival, Lowell Celebrates Kerouac Festival, Howlfest, Dylan Thomas Centre and Lyric Recovery Festival at Carnegie Hall. In 2007 he was named as a judge of the Beowulf Prize for Poets Letter in London, and is a judge of the Beat Poet of the Year competition for the Beat Museum in San Francisco. He is a contributing editor of the magazine.
Barry Wallenstein is the author of five collections of poetry, Beast Is a Wolf With Brown Fire, (BOA Editions, 1977), Roller Coaster Kid (T.Y. Crowell, 1982), Love and Crush (Persea Books, 1991), The Short Life of the Five Minute Dancer (Ridgeway Press, 1993), A Measure of Conduct (Ridgeway Press, 1999). His poetry has appeared in over 100 journals in the U.S. and abroad, in such places as Transatlantic Review, The Nation, Centennial Review, and American Poetry Review. His 1971 book Visions & Revisions: The Poets' Practice [T.Y. Crowell] was reissued in a new and expanded edition by Broadview Press [2002] (co-editor, Bob Burr). He is a contributing editor of the magazine.
Rob Wright has been a regular contributor to Big City Lit since 2001. As well as Big City Lit, he has published in the Schullkill Valley Journal of the Arts, Siren's Silence, Headwater Press and was awarded a Pennsylvania Council on the Arts Fellowship in Literature in 2006.
Katherine E. Young's poetry appears in the current and forthcoming Poet Lore and online in Archipelago, The Innisfree Poetry Journal, and Stone Table Review. Her work has also appeared in The Iowa Review (where she is a three-time finalist for the Iowa Award), Shenandoah, Southern Poetry Review, and many others. For the last twenty-five years, Young has lived off and on in Russia and the former Soviet Union, where she has been a journalist, diplomat, business owner, and student of Russian poetry. A chapbook, Gentling the Bones, will be published in 2007 by Finishing Line Press.
Michael T. Young's collections include Transcriptions of Daylight and Because the Wind has Questions. He received a 2007 Fellowship from the New Jersey State Council on the Arts. He received the 2005 Chaffin Poetry Award and has been twice nominated for a Pushcart Prize. His poems have appeared or are forthcoming in Heliotrope, Hidden Oak, Rattle, Sow's Ear Poetry Review, and numerous other journals. His work is also included in the anthologies, Phoenix Rising and Chance of a Ghost. He lives with his wife and newborn in Jersey City, New Jersey.