nyc

BigCityL

i

t

.com

the rivers of it, abridged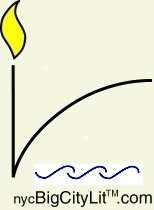 Fiction


Spring 2007
Blue Dahlia


Margo Berdeshevsky
She was humming Shakespeare's bawdy songs again. ...By Gis and by Saint Charity/ Alack n fie for shame/ Young men will do't, when they come to't, / by cock they are to blame...
She'd never had a prince. Read Story
Glory, Ananias
(an excerpt)


Eileen St. Lauren
One azure Sunday, Margie Anne Roberts and I went to visit Ananias.
"Ever drifted through the bar-like boles of Eden amid the firmament?" Ananias' words filled the room like a sculpture fills the stone. Read Story