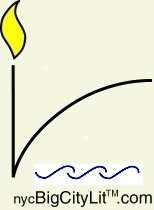 Events


Fall 2007
Wednesday, March 19, 2008 6-8 PM
BigCityLit Poets
The Cornelia Street Café
29 Cornelia Street
b/t Bleecker & West 4th)
Cover $7 (includes one house drink)

Featuring poets from the current issue:
J. Mae Barizo, Jeanne Marie Beaumont, Margo Berdeshevsky, Patricia Brody,
Marion Brown, Chelsea Bunn, Robert Dunn, Allen C. Fischer,
Nancy Haiduck, Victoria Hallerman, Elena Kondracki, Donald Lev,
Stephen Massimilla, Susan Maurer, D. H. Melhem, Philip Miller,
Lynn Patmalnee, Ron Price, Larissa Shmailo, Joanna Solfrian,
Meredith Trede, Barry Wallenstein and Alison Woods
Margo Berdeshevsky Readings
Friday, March 7th, 7:30 pm
Beyond Baroque Series
Venice, LA
(with Marilyn Hacker)
http://www.beyondbaroque.org
Sunday, March 9th, 2:00 pm
Ruskin Reading Series
Ruskin Art Club
800 South Plymouth Blvd.
Los Angeles, CA
http://www.redhen.org/ru_reading.asp
Monday, March 10, 7:30 pm
Moonday Series
Village Books
1049 Swarthmore Ave.
Pacific Palisades, CA
http://home.earthlink.net/~pero/margo-berdeshevsky.html
Wednesday, March 12, 7:00 pm
Blackoak Books
(with Sandra Gilbert)
1491 Shattuck Ave.
Berkeley, CA 94709
(510) 486-0698
http://blackoakbooks.com
Monday, March 24, 8:00pm
(with Evie Shockley)
The Poetry Project
St Mark's Church
131 E. 10th Street
New York, NY
http://www.poetryproject.com
Friday, March 28, 8:00pm
Writer's Voice Visiting Authors Series
(with Marie Ponsot)
Writer's Voice
George Washington Lounge
West Side YMCA
5 West 63rd Street
New York, NY
http://www.ymcanyc.org/index.php?id=1096
Friday, November 30 8 PM
Poetry Wales meets BigCityLit
Reading and wine reception
Writer's Voice
George Washington Lounge
West Side YMCA
5 West 63rd Street
New York, NY
http://www.ymcanyc.org/index.php?id=1096
Saturday, December 1 3pm
The Ear Inn
326 Spring Street
New York, NY

Sunday, December 2 3-4pm
The Poetry Wales editor speaks on 'Dylan Thomas and his mythical death in New York'.
Bowery Poetry Club
308 Bowery, between Houston & Bleecker
New York, NY
http://www.bowerypoetry.com/
Margo Berdeshevsky readings for "But a Passage in Wilderness" Sheep Meadow Press 11/2007
2007
Dec. 9th – Sunday 6 pm – Cornelia Street Cafe – NYC Solo– 1st reading
The Cornelia Street Café – 29 Cornelia Street, NYC 10014 – 212-989-9319
Dec 16th – Sunday 5 pm – The Phoenix Reading Series (w/Yerra Sugarman)
65 West Broadway (@ Bengal Curry) 212-571-1122
Dec 18th – Tuesday – Perch Reading Series (Bklyn) (w/Yerra Sugarman)
Perch Cafe/ 365 5th Avenue, Park Slope/ Brooklyn F/R Train to 4th Avenue/9th Street (between 5th and 6th Streets)
Dec 20th - Thursday - 6:30 pm - Bowery Poetry Club - 308 Bowery @ Bleecker
(w/Big City Lit Contributing Editors: Nicholas Johnson, Barry Wallenstein, George Wallace)
Thursday, November 29 6pm -7.30pm

Philoctetes Center
The Multidisciplinary Study of Imagination
247 East 82nd Street
New York, NY 10028
646-422-0544
http://www.philoctetes.org/calendar/
Free admission to the public.
The Cornelia Street Café
29 Cornelia Street
b/t Bleecker & West 4th)
Monday, December 3rd, 6:00 pm
J. Mae Barizo and others

Sunday, December 9th, 6:00 pm
Margo Berdeshevsky

Saturday, December 22nd , 6:00 to 8:00 pm
Barry Wallenstein (poetry) with the Eric Plaks Trio
The Hudson Valley Writers' Center
Philipse Manor railroad station
300 Riverside Drive, Sleepy Hollow, New York 10591
Tel: (914) 332-5953 Fax: (914) 332-4825
E-mail: info@writerscenter.org
(Check schedule and admissions prices on calendar)
SoloNOVA Arts Festival
at Performance Space 122 ~ 150 First Ave at the corner of E. 9th Street.
Subway: N/R to 8th St., 6 to Astor Place, L to 1st Ave., F/V to 2nd Ave.

Visit soloNOVA festival's website
Home Planet News
Fundraisers/Readings
The Writers' Voice Visiting Authors Series

West Side YMCA — The George Washington Lounge
5 West 63rd Street (between Central Park West & Broadway)
Admission Free and Open to the Public
Books from Mobile Libris
Wine from 67 Wine
Poetry Wales & Big City Lit Reading
Featuring Robert Minhinnick, Iwan Llwyd, D. Nurkse and Nick Johnson
Friday, November 30, 2007
8:00 PM
Peter Conners ("Of Whiskey and Winter")
and Sean Thomas Dougherty ("Broken Hallelujahs")
Friday, December 7, 2007
8:00 PM
Reading/Book Release/Book Signing
Of Whiskey and Winter marks the first full-length prose poetry collection by one of the form's most promising poets.
In Broken Hallelujahs, Dougherty uses a variety of experimental and traditional forms including canzone, prose poem, metered and elliptical poems. These aesthetic devices structure his themes of personal and historical fissure and the reconnection of such fissures.
An Evening of New York Stories & Lore
Co-Hosted by Elaine Edelman
with Ben Gibberd ("New York Waters"), Kevin Walsh (editor, "Forgotten New York") and Steven Schrader ("What We Deserved: Stories from a New York Life")
Friday, December 14, 2007
8:00 PM
Reading/Discussion/Book Signing
New York Waters: Profiles from the Edge is the first book to examine and record, in text and photographs, the lives of the men and women who live, work, or play in and along the rivers and coastal waterfronts that surround New York City.
Forgotten New York is your passport to more than 300 years of history, architecture, and memories hidden in plain sight.
"In some sixty or seventy vignettes, few of which exceed two pages, and many that finish with room to spare at the bottom of one, [What We Deserved: Stories From a New York Life] covers a wide swath of human experience ranging from his first cigarette and his first removal of a girl's brassiere to the hollow experience of a Yom Kippur service in Washington Heights, and the agony and the very infrequent ecstasy of trying to find a partner in life."—Bookslut
For detailed information on all Writer's Voice events, contact Glenn Raucher
at graucher@ymcanyc.org or call 212-875-4124.