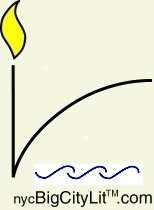 Reviews
When Pop Gets Culture: A Review of
Ripple Effect: New and Selected Poems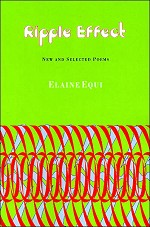 Elaine Equi's Ripple Effect: New and Selected Poems
Coffee House Press 2007; 272 pages; $18
ISBN #978-156689-197-4 paper

http://www.coffeehousepress.org
by Larissa Shmailo
Anyone who knows Elaine Equi's work will not be surprised by the breadth of subject matter this "expansive minimalist" presents in this volume. Her poems are, after all, Zen koans for our time, and Equi covers it all, from "the Grecian urn/to Grecian formula 44" ("Voice Over"). Equi's work is where pop truly gets culture, understands it, loves it, buys it a drink, and takes it home at night. But reading this retrospective with its framing sections of new and old work, I nonetheless am still surprised and delighted by these poems, and their sly, wry, and fundamentally kind point of view.
The book begins with her new work, jumps to selections from her first Coffee House publication Surface Tension, moves through work from Decoy, Voice Over, The Cloud of Unknowable Things, and then rounds back to early work from books such as the landmark Federal Woman. It is a curving motion through repeated themes and forms which works well, showing the growth of the body of work and then its roots.
In the clean aphoristic lines of Ripple Effect live multitudes: cannibals, monsters, dinosaurs, ghosts, clowns, Einstein, The Munsters, Jackson Mac Low, Victor Mature, Elvis, Robbe-Grillet, Edgar Allen Poe, David Hockney, the nuclear family, Wittgenstein, Kawabata, Joe Brainard, H.D., and the poet's hero, Frank O'Hara. By the artist's pop brush, these icons often are found in unusual settings and moods. "Self Portrait with You" finds Equi
dreaming of a conversation
where voices don't match faces—
Heidegger's words
in Marilyn Monroe's mouth
"Decoy" challenges the reader to
see Artaud in the role
of game show host
or Let's Make a Deal
as theater of cruelty.
Equi's titles are catchy and often quotidian. Her tone is that of an erudite Erma Bombeck, an oracle with office hours. Her poems are replete with succinct wisdom, often hilariously put. From "Decoy":
Historically, the doppelganger
is not a nice person
From "Aleister Crowley Slept Here":
There is something banal about evil
but the reverse is also true.
And from "Second Thoughts," a poem for Rae Armantrout:
20. Confidence comes from knowing you can always get
back what you lose.
Like her objectivist forbears, Equi emphasizes clarity, sincerity, and intelligence in her art. Equi adds humor and magic to this mix. Her philosophy of language and poetry is often delivered tongue-in-cheek and with sleight of hand. From "Return of the Sensuous Reader":
Turning Down the Sound
Remove all the words from a poem;
keep only the punctuation.
Can You Recognize This Famous Poem?
,
.
.
A sublime treat for purists
or good exercise to cleanse the palate.
More seriously, she defines a poem by "whatever cannot be killed by the translator" ("Found in Translation"). From "Martha Graham":
poetry
is not about words
nor math about numbers
And from "A Poetics of Optics":
Perhaps the poet is moved to write
by what Todorov calls
"the visual poverty of letters"
(as compared to painting)
We are poor; we must imagine....
The poem may be an object, but objects are essential. From "The Banal":
...Thus any object can
bring us back with the fast-acting power of
aspirin. Any object shines.
From "Art about Fear":
Some objects
are like a sieve
that language
passes through
while others
repel the alphabet
with a harsh
clanging skin
Even if poetry is not merely about its words, Equi's are sensuous, visually beautiful, palpable, and delectable. From the assonance of "A Lemon":
In the lemon
we find a fire
that cools, coos
to the beautiful word play of "Voice Over":
How like
an ear
the earth
listens,
lies down
to listen—
a spoonful
of sounds
dissolving
In this collection, Equi tosses off writing exercises from list poems ("Things to Do in the Bible" includes "Build an Ark/Interpret dreams/Kill your brother/Don't Look Back") and other workshop staples with elegance and humor, as in "Etudes," which she professorially begins in the fall:
Autumn is a solitude
Winter is a fortitude
Spring is an altitude
Summer is an attitude
Throughout Ripple Effect, the poet generously homages her influences. Some the poet takes by her own "Prescription," reading Robert Herrick for melancholy, Lorine Niedecker for clarity, and Frank O'Hara's for nerve. Equi also demonstrates Herrick's carpe diem: The first poem in this collection is entitled "Today Is the First Day of the Rest of Your Life." The poet recognizes the gift and burden of the now:
The present
is a gift we give to ourselves, its ribbon tied in a Gordian knot...
Yet there is not much anguished flailing about with knotty dilemmas here. Like shadows, AIDS and illness, depression, and family pain find their way to Equi's canvas. However, Equi's poetry is circumspect and follows the dictum of the Comte de Lautremont, who cautioned writers to show their readers only the experience born of pain, and not to cry in public. Overall, Equi gives the impression that, whatever may happen—and much can happen in this multidimensional, shifting universe—she trusts the world. As one denizen of her poems tells the poet:
"it doesn't take a genie
to see you're destined
for fun
and as awful as it sounds
you must learn to make the best of it."
—""You Go to My Head"
As the poet herself says in "I Interview Elaine Equi on the Four Elements":
A: The earth has always supported me in all my endeavors. I trust it.
So the reader of Ripple Effect, guided by the poet through imagination, improvisation, and the avant, also trusts enough to willingly follow Equi's edgy lead.
Larissa Shmailo is a poet and a translator. Her poetry CD The No-Net World may be heard at http://www.
myspace.com/thenonetworld. She recently contributed translations to the anthology Contemporary Russian Poetry forthcoming from Dalkey Archive Press.