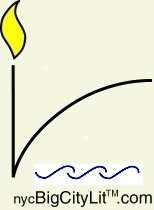 Contributor Notes


Fall 2008
Kate Bernadette Benedict is the author of the full-length poetry collection Here from Away and the editor of Umbrella: A Journal of Poetry and Kindred Prose.
Marion Brown writes stories and poems. Born on Long Island, she has lived with her husband and children in New York City and Brussels, Belgium. Now she divides her time between the Adirondack Mountains and Westchester County, New York, where she volunteers as a Master Gardener. She studied English literature at Mount Holyoke College and Columbia University and has taught composition and worked on Wall Street.
Gary Corseri served as Arts Coordinator and co-organizer of the "Building a New World Conference" in Radford, Virginia this year. He has performed his work at the Carter Presidential Library and Museum in Atlanta. His dramas have been published, and performed on Atlanta-PBS and in five states. His articles, poems, stories and plays have appeared in/at The New York Times, Village Voice, CounterPunch, Redbook Magazine, The Philadelphia Inquirer, City Lights Review, CommonDreams, ThomasPaine'sCorner, DissidentVoice, Georgia Review, WorldProutAssembly, The Miami Herald and hundreds of other periodicals and websites. He has published two poetry collections (including Random Descent, Anhinga Press) and two novels, and edited the Manifestations anthology (including work by Jimmy Carter). Born and raised in New York City, Dr. Corseri has taught in prisons and public schools in the U.S. and in universities in the U.S. and Japan. He has received awards, grants and fellowships--as well as rejections, lost love, ignominy and hopes dashed. He has worked as a busboy in Miami and Atlanta, furniture-mover and grape-picker in Australia, gas station attendant in Atlanta, journalist, speech coach and editor. He currently resides in the D.C. area. His work has been translated and published in Japanese, Spanish, Italian, Portuguese and Icelandic.
Gregory Crosby, a recovering art critc and journalist, holds an MFA from the City College of New York, where he won the Marie Ponsot Poetry Prize. His work has appeared in numerous journals, including Court Green, Jacket, Pearl, Poem, and The South Carolina Review.
Kristina Marie Darling , is a graduate of Washington University in St. Louis. She is the author of five chapbooks, which include Fevers and Clocks (March Street Press, 2006) and The Traffic in Women (Dancing Girl Press, 2006). A Pushcart Prize nominee in 2006, her poems, reviews, and essays have appeared or are forthcoming in many journals, which include Janus Head, Rattle, The Mid-America Poetry Review, Rain Taxi, The Adirondack Review, The Main Street Rag, Tarpaulin Sky, CutBank, The Mid-American Review, Jacket, Redactions: Poetry and Poetics and others. Recent awards include residencies from the Centrum Foundation and the Mary Anderson Center for the Arts.
George Dickerson's poetry has been published in The New Yorker, Mademoiselle, Nadada, Pivot, Medicinal Purposes Literary Review, Rattapallax, Penthouse, and other publications, and are collected in George Dickerson: Selected Poems 1959-1999, (Rattapallax Press, New York, 2000). He won first prize in the 1999 Lyric Recovery Award contest, second prize in the 2001 Marilyn K. Prescott Awards, and first prize in the 2001 Medicinal Purposes Literary Review poetry contest. He has written novels, screenplays and plays, including his one-man drama, "A Few Useless Mementos for Sale" which has been produced on stage in New York and Hollywood. George is founding editor-in-chief of the literary journal, Rattapallax, and has been on the staff of The New Yorker, and was Managing Editor of Cavalier, and Contributing Editor of Time, in which he published more than 200 articles and reviews. George became a professional actor in 1977 and, since then, has been on the New York stage and was featured in, or co-starred in, 20 feature films, including "Blue Velvet" as Detective Williams and "After Dark, My Sweet" as Doc Goldman. He is a member of the Academy of Motion Picture Arts and Sciences and nominates for and votes on the Oscars.
Richard Garcia is the author of The Persistence of Objects, from BOA Editions. His poems have appeared in The Georgia Review, Crazyhorse, Ploughshares, Pushcart Prize XXI and Best American Poetry. www.richardgarcia.info.
Patrick Henry: Born 1938, Yorkshire, England, Irish parentage. Customs Officer London, Royal Airforce Draftee, Cyprus, 1957-59. Wrote poetry in London, Paris, Cornwall; worked construction, farming, factory, café, bookshop jobs. Published On the Track, Peterloo Poets 1971. Published translations of Fruits of Winter, Prix Goncourt, 1970 and Women of The Celts, Cremonesi, 1975. Adult student at University of Wales, University of East Anglia, Trinity College, Hartford Connecticut during 1980s. Painting exhibition Paris, 1998. Poetry Reading Tour in New York 2001 arranged by Big City Lit. Painting Exhibition, Australia, 2003. Poetry Reading and Painting Exhibition tour New York State, 2004, arranged by The Author's Watermark and Poets & Writers. Poetry and prose featured in BigCityLit and in www.thisisull.com (UK website), 2001-2007. He is a contributing editor of the magazine.
R. Nemo Hill is the author of an illustrated novel published in collaboration with painter Jeanne Hedstrom (Pilgrim's Feather, Quantuck Lane Press/Norton, 2002), a book length poem based upon a story by H. P. Lovecraft (The Strange Music of Erich Zann, Hippocampus Press, 2004), and a chapbook (Prolegomena To An Essay On Satire, Modern Metrics, 2006). In addition his work has appeared in various journals including Poetry, Sulfur, Iambs & Trochees, Ambit (UK), The Lyric, online at the Hypertexts, and is forthcoming in Measure and Smartish Pace. He has performed at various venues around New York City including The Public Theatre, Cornelia Street Cafe, and The Stone—and is co-editor of Moderns Metrics Press, www.modern-metric.com. He lives in Manhattan, but travels frequently to Southest Asia.
Jill Hoffman is the Founding Editor of Mudfish and Mudfish Individual Poet Series. She has a PhD in Literature from Cornell University, an MA from Columbia and a BA from Bennington. Her first book of poems, Mink Coat, was published by Holt, Rinehart & Winston in 1973. Her first novel, Jilted, was published by Simon & Schuster in 1993. She was awarded a Guggenheim Fellowship for Poetry in 1974-1975. She published Black Diaries, poems, with Box Turtle Press in 1990; and The Gates of Pearl, a book-length poem, is forthcoming in 2008/09. She is presently at work on two novels. She lives in New York, and teaches fiction and poetry writing in her home.
Gerry LaFemina is the author of several collections of poems and prose poems including Figures from The Big Time Circus Book/The Book of Clown Baby (prose poems) and The Parakeets of Brooklyn (poems—winner of the Bordighera Prize). He directs the Center for Creative Writing at Frostburg State University where he also teaches.
Richard Levine is the author of A Language Full of Wars and Songs and Snapshots from a Battler.
Brant Lyon is a poet and composer of music who often conflates both, as in his peripatetic/sporadic 'jazzoetry' reading series, Hydrogen Jukebox in NYC, and in his newly released poemusic CD, Beauty Keeps Laying Its Sharp Knife Against Me (Logochrysalis 2008), reviewed in this issue. Other recent publications include his chapbook, Your Infidel Eyes (Poets Wear Prada 2006), now in its second printing; and poems and photographs anthologized in A Cautionary Tale: Peer into the Lives of Seven New York Poets (Uphook 2008).
JoAnne McFarland is an artist and writer living in Brooklyn, NY. She is the author of six poetry collections including Fossil Fuel and The Glassblower's Tale. Her artwork is part of The Library of Congress and the Columbus Museum of Art collections, as well as many others, public and private.
Keith Melton is a transportation planner and economic and community developer in Atlanta, Georgia. He is married with two children and his poetry has been published in numerous publications including The Miscellany, Mississippi Review, Kansas Quarterly, Confrontation, Community Review, Poets, Artists & Madmen and others.
Philip Miller's recent poetry has or will appear in many magazines and journals including The Cape Rock, The Seventh Quarry (Wales), Poetry Midwest, Birmingham Poetry Review, Gargoyle, and Seam (UK). His chapbook, Fathers' Day, won Ledge Press' 1995 chapbook award. Of his five collections, the most recent is Branches Snapping (Helicon Nine Editions). His sixth book, The Casablanca Fan, is due this year from Unholy Day Press. He lives in Mount Union, PA where he edits The Same and is a contributing editor of Big City Lit.
Martin Mitchell, former editor of Rattapallax (2001-06) and of Pivot (1983-98), reviewed films for several publications, including After Dark for the length of its existence (1968-81). He is a contributing editor of the magazine.
Michael Morical is a retired tester of hay fever medication. Sharing Solitaire: Haiku and Related Poems, is his first chapbook.
Frank Murphy has been writing poetry for many years and has had 4 small press books published: Time Capsule, 1969, Theo Press; A Christmas Poem, 1977, Theo Press; A Candle In His Head, 1982, Wild Thistle Press; Paper Clip, Historian, Coathanger,1990, Blue Star Press (Brooklyn Poets Series). He has been published in Hanging Loose, Free Lunch, Star*Line Journal, The Leading Edge, Woodstock Review, The World, Center, Home Planet News, and other magazines. Anthologies include Hang Together, Editor's Choice (1992) and Poets For Peace. He studied poetry with Paul Blackburn, Carol Bergé, and, Jean Valentine. He was also co-editor of The NYC Poetry Calendar for 16 years as well as a small press publisher. He is presently working on a memoir about growing up in the Bronx and a new book of poetry to be called Ox House.
Mark Nickels lives in New York City. His book Cicada was published by Rattapallax Press in 2000. He has won the Milton Dorfman Prize (1996), the Ann Stafford Prize from USC (2002) and been a finalist and semi-finalist at Lyric Recovery Festival (Carnegie Hall). He is a 2006 New York State Arts Foundation Fellow in fiction. His work has appeared in Barrow Street, Literal Latte, Asylum, Rattapallax, Big City Lit, The Same, USC Review and other publications. He blogs regularly at I AM EVEN IN ARCADIA.
Born on the south coast of England, Jane Ormerod moved to New York City in 2004. Jane's work appears in many US and UK publications including 21 Stars Review, Arsenic Lobster, eratio postmodern poetry, failbetter, Ginosko, Night Train, Whatever Literary Journal and the anthology A Cautionary Tale: Seven New York Performing Poets (Uphook Press). A spoken word CD, Nashville Invades Manhattan was released in 2007. Her website is www.janeormerod.com.
Ellen Peckham has read, published and exhibited in the U.S., Europe and Latin America. She frequently uses both art forms in a single work, the text decorating and explicating and the image illuminating. Her archives of drafts, edits and art are collected at the Harry Ransom Center For The Humanities and a 7 minute visual biography, Parallel Vocabularies, is available on DVD and via her web site, www.ellenpeckham.com.
John Marcus Powell is a poet performer and has worked as an actor, appearing in many Off Broadway and dozens of Off-Off plays as well as in TV and films. His short stories have been published in The Transatlantic Review and a number of online publications. Though Welsh, he has lived in many countries and feels more a part of New York than anywhere else. Much of his poetry is about being an ex-patriot. He has read all over the city and is a host at ABC No Rio.
Bertha Rogers' poems and translations have been published in magazines and literary journals and in several collections. Her translation of the riddle-poems from the 10th-century Anglo-Saxon Exeter Book will be published in 2009 by Birch Brook Press, publisher of her translation of Beowulf (2000). Her forthcoming poetry collection, Heart Turned Back, will be published by Salmon Poetry (Ireland) in 2009. She is founding director of Bright Hill Literary Press and Literary Center in Treadwell, NY.
Phyllis Rutigliano has had 14 one-woman shows in the NY Metro area and a one-woman show in PR where she once lived and taught art at the San Juan Art Students League. She has been in over 30 nationally juried shows and won numerous awards including the Edgar A. Whitney Award from the American Watercolor Society. The artist has illustrated several books of poetry and now teaches art at the Silvermine School of Art in Connecticut. She can be reached through her web site: www.phyllisrutigliano.com.
Sarah Sarai's poems have appeared in The Columbia Review, The Minnesota Review, The Threepenny Review, Terrain.org, Main Street Rag and others. Her fiction in Tampa Review, Weber Studies, South Dakota Review and others. She herself has appeared — for long stretches of time — in Port Washington, Los Angeles, San Francisco, Santa Fe, Seattle and Manhattan. Visit her at www.myspace.com/sarahsarai where she appears 24/7.
Peter Schwartz is a painter, poet and writer. He's also an associate art editor for Mad Hatters' Review. His artwork can be seen all over the Internet but specifically at: www.sitrahahra.com. He's had hundreds of paintings, poems, and stories published both online and in print and is constantly submitting new work as if his very life depended on it. His last show was at the Amsterdam Whitney Gallery in Chelsea NYC and went well enough for them to invite him back.
Larissa Shmailo has been published in Barrow Street, Fulcrum, Rattapallax, Big Bridge, Drunken Boat, Naropa's We, and many other publications. Her new chapbook is A Cure for Suicide (Cervena Barva Press 2008). Larissa translated the Russian Futurist opera Victory over the Sun by A. Kruchenych; a DVD of the original English-language production is part of the collection of the New York Museum of Modern Art. She also contributed translations to the new anthology Contemporary Russian Poetry published by Dalkey Archive Press. Her poetry CDs, The No-Net World (SongCrew 2006) and Exorcism (2008) are frequently heard on radio and Internet broadcasts. She is a contributing editor of the magazine.
Hilary Sideris' work has recently appeared in Barrow Street, Green Mountains Review, Natural Bridge, Salamander, and Pomegranate Seeds: An Anthology of Greek-American Poetry, edited by Dean Kostos. She is the author of The Orange Juice is Over, forthcoming from Finishing Line Press.
Anna Soo-Hoo has enjoyed translating poems written by high school students from poetry workshops that were taught by Barry Wallenstein in Menton, France and Nice, France. The poems and translations appear in Poetry in Performance #36. She also has poetry appearing in this summer's issue of House Organ, issue 63.
Melinda Thomsen has poetry published or forthcoming in Alimentum, Heliotrope, Poetry East, New York Quarterly, Home Planet News, Elysian Fields Quarterly, The Same, Big City Lit and the anthology Blues for Bill: A Tribute to William Matthews. She was a semi-finalist in the 2004 "Discovery"/ The Nation poetry contest. Her chapbook of baseball poems Naming Rights was published by Finishing Line Press in June 2008.
Angelo Verga is the author of 5 collections of poetry and has been published widely here & abroad. He has noted Sarah Palin's emergence as the lipsticked Radical Post Apocalypse Christian non-virgin Mary. Verga resides in lower Manhattan.
New York-based George Wallace is editor of Polarity (www.poembeat.com), Poetrybay (www.poetrybay.com), Poetryvlog (www.poetryvlog.com) and author of sixteen chapbooks, published in the US, UK and Italy, and two CDs. A leading practitioner of the "Post-Beat" genre, his work has been praised for its Whitmanian breadth, its fresco-like freshness, and its merging of bop prosody with surreal commentary. A frequent performer not only on the NYC scene but nationally and internationally, he has performed at such venues as the Beat Museum, Woody Guthrie Festival, Lowell Celebrates Kerouac, Rexroth Festival, Insomniacathon, Howlfest, Shakespeare & Co and the Dylan Thomas Centre. He is a contributing editor of the magazine.
Barry Wallenstein is the author of five collections of poetry, Beast Is a Wolf With Brown Fire, (BOA Editions, 1977), Roller Coaster Kid (T.Y. Crowell, 1982), Love and Crush (Persea Books, 1991), The Short Life of the Five Minute Dancer (Ridgeway Press, 1993), A Measure of Conduct (Ridgeway Press, 1999). His poetry has appeared in over 100 journals in the U.S. and abroad, in such places as Transatlantic Review, The Nation, Centennial Review, and American Poetry Review. His 1971 book Visions & Revisions: The Poets' Practice [T.Y. Crowell] was reissued in a new and expanded edition by Broadview Press [2002] (co-editor, Bob Burr).
A special interest is his performance of poetry with jazz collaboration. He has made six recordings of his poetry with jazz, the most recent being Euphoria Ripens [Cadence Jazz Records], 2008. He is an Emeritus Professor of literature and creative writing at the City University of New York and is also an editor of the journal, American Book Review. Since June 2002, he has been a featured guest poet at the annual Bear River Writers' Conference in upper Michigan. He has been a resident fellow at the McDowell Colony, the castle at Hawthornden, Scotland, and for the past 5 years at the monastery in Saorge, France. He is a contributing of the magazine.
Thom Ward is Editor/Production Director for BOA Editions, Ltd., an independent publishing house of American poetry, fiction and poetry in translation. He is author of several poetry collections, including Various Orbits (Carnegie Mellon University Press, 2004) and The Matter of the Casket (CustomWords 2007). He lives in Upstate New York. Ward's vices include golf, martinis, and reading.
Martin Willitts, Jr. is a Senior Librarian in New York. He is a visual artist of Victorian and Chinese paper cutouts. He is the winner of the 2007 Individual Artist Award. His recent publications in Pebble Lake Review, Hurricane Blues (anthology), Hotmetalpress.net, Haigaonline, Bent Pin, 5th Gear, Slow Trains, and others. He has a print chapbook Falling In and Out of Love (Pudding House Publications, 2005), an online chapbook Farewell—the journey now begins on www.languageandculture.net (archives), a full length book of poems with his art The Secret Language of the Universe (March Street Press, 2006), print chapbook Lowering Nets of Light (Pudding House Publications, 2007), online chapbook News from the Front (www.slowtrains.com, 2007), edited a poetry anthology about cancer, Alternatives to Surrender (Plain View Press, 2007), and he is scheduled for an online chapbook of haiku with his artwork, Fragile as Paper Cranes (www.threelights.com, 2008).