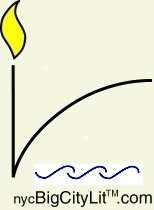 Essays
Prague Springs Gates Open
An extract from Facing the Music

by Patrick Henry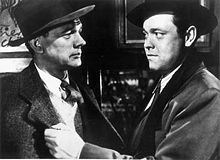 Joseph Cotten as writer Holly Martins (left)
and Orson Welles (right) as Harry Lime
in
The Third Man
(1949).
Wikipedia:
http://en.wikipedia.org/
wiki/Orson_Welles
From the rail terminus my tram crossed an old bridge across the shining Vltava River, above where the great castle opposite on the hillside, dominated the Czech capital where Kafka and Rilke had lived, but wrote in German. My new area would be found near this stop by the riverbank at the State Opera House, very convenient!
In a narrow, steep street, I found the house number and waited outside. Ten minutes later, my contact walked down the street at the time of the rendezvous. He shook hands: Karl Weiss, an agent for property lets. He showed me to the third floor. A bureau at the rail station had suggested this apartment, better value than hotels.
After quickly settling in, I went out, across the narrow street, to the booking office at the rear of the Opera House, so handy for my plans; La Traviata was full tonight, but they sold me a ticket for tomorrow. I circled the block to the expected fine façade of the building, almost as grand as the stately Vienna Opera. Inside the main foyer I found the tall poster for Verdi's opera, and penned in my ticket details after my name: Victor. Then I glanced around guiltily, as if a schoolboy scrawling graffiti in the playground. My game seemed undetected. Back at my narrow street, I found a small supermarket and stocked up on food and wine. Four days and nights here lay ahead.
Outside again, the narrow street I found useful once more. Diagonally it wove a short cut behind main city thoroughfares, reaching a small place near the central square, in which a tourist office provided useful directions and sold me a ticket for a symphony concert this evening. The day was too far advanced to see a lot, but the Museum of Communism near here was open another hour, time for a visit.
In Prague's old main street, the building held two organisations. In the entrance hall, one turned left for McDonald's Restaurant, but turned right for the Red Museum. It seemed a perverse reversal, but when inside, looking out, the roles would be correct. More surprising was that two such phenomena shared premises: A grim Prague joke? I dislike McDonald's for its glib values. Communism and its uneven record of hope and destruction, needs longer to assess. I visited Moscow and Beijing in the 1990s, Perestroika or the Tianneman Massacre being huge controversies then, McDonald's had just opened branches in these cities, "We got there before you," a smart USA acquaintance had taunted me. To my claim that Big Mac's outfit breeds stereotyped behaviour and taste, he retorted: "And State Socialism does not? Come on, Mac!"
Outposts of both these enterprises seemed shame-faced, seedy and out of place in the middle of Prague, of proud imperial pasts, Hapsburg or Soviet, now in the present bourgeois capitalist alliance of the EU. Skipping the burger café, I found the dusty, banal, domestic, naïve, schoolroom-style museum, oddly appropriate. It showed truths about the Czechs, under years of Russian domination, not so much by facts, dates, paraphernalia, most of which I already knew about, but in the ambivalent attitudes of the resident people, from times being liberated from aristocratic rule, into the arms of first Nazi, then Stalinist control. Fatalism, complacency, irony, hate, hope: all mingled in these small rooms, as if strewn remnants fallen from the cart of Mother Courage trekking from one conflict to the next.
Leaving the exhibition, I was spoken to by a young woman visitor, and replied, "I do not speak local languages."
She said in English, "German? You think that is local? Do you know where you are? Are you American?"
"From England. I know that Prague has been dominated by German, then Russian over the years, but the tongue is Czech. Are you from here?" I asked.
She retorted, "Certainly not. I am Polish, from Warsaw. Can you not tell? Are you going there?"
"I might go to Cracow, not sure about Warsaw," I said.
"A lot of people are unsure about it. Never work us out. All the tourists go to Cracow. What is wrong with Warsaw?" she demanded.
"If I ever get there, I will find out. Maybe nothing is wrong," I said.
"They will find you out first. Maybe you are best not going. Why are you in Prague? What do you think of this wretched museum?" she snapped.
"I can see you want me to despise it, but I find it interesting," I replied.
She said, "The English always say 'interesting', meaning that they think nothing at all. You come to Prague soon as it gets in the EU: see the sights. How could you understand?"
"Maybe I could just like it, not try to understand. It is what women say of themselves, how men should treat them, only love them, not try to work them out," I said.
"Do they? Odd women who you know, if you know any at all," she thought.
"I only hear what they say." I answered.
She replied: "Then you obey, or if you cannot do that, then slink away like a scared dog."
"I came to Prague in order to see this museum," I lied, never hearing of it until an hour ago. She kept probing the reasons for my visit. The liaison at La Traviata, I kept quiet.
"This display could be deeper and more vital than one might suspect," I went on. "Suspect?" It was the wrong word, she seized upon it.
"You imagine cities like this are still packed in intrigue and danger? You have been reading detective thrillers, thinking you are daring, to penetrate Eastern Europe. Where else have you been?"
"That is not the East," she snapped on my mention of Vienna. "A fat bourgeois trough of contented swine. What trouble do they ever know?"
"I cannot imagine," I replied ironically. I was not going to tell her of the Romanian robbery, or the underworld at Hotel Eberbrau, nor its seamy local police. Why tell her anything? Attractive in a robust, edgy way, but not my kind of woman. Few are that.
"You are evasive. Think I am a hooker, or something?" she accused. I knew she was not. Ones I had seen at the Eberbrau, and at other times before, never wasted time in word games and semi-political innuendos, as she did, but got straight down to business. I shook my head to deny this, and now outside, walked off down the street
"Go search for pickings in your miserable way. There is much in Prague you know nothing about," she shouted after me. I certainly believed her there.
Next morning I made breakfast in my own new apartment, looking out on the narrow street, at the Opera booking office, the supermarket and those blank grey walls East Europe seems to need for Harry Lime's escape routes, or where Red regimes can build urban zone frontiers. I went out and turned the other way, across the river. On the Karluv Most, the oldest bridge, artists, craft-vendors, buskers, plied their trade.
At the west side of the bridge, one found The Kafka Museum: nowhere he lived, but a site chosen recently to locate this exhibition. Its metallic, gloomy labyrinth reflected his character, taking through dark passages of mystery, guilt and terror, readers he never expected to exist, after ordering his unpublished work be burned at his death. The act of writing is sufficient. I say that myself, for reasons would-be authors need.
A tram took me back across the river, only two minutes remaining before a vital moment would strike. Crowds jammed one part of Old Town Square. The great Astronomical Clock Tower drew everyone's gaze. At twelve noon, among its carved figures, a skeleton swung into position and struck the great bell. Young Kafka had lived near here, in an apartment in the building behind where we all watched. In view on our right stood the corner haberdashery store owned by Erich Kafka, the father.
Now a bookshop, it sold me a copy of The Castle, in English. The Trial I had enjoyed, if that is the word, many times. This other novel proved harder to fathom. Now I could try again. I also bought Rilke's stories, in English, and his poems in German. Years before I had translated some, and published a couple in journals. The poet had also lived in this city, before moving to Paris and Andalucia. Both writers born around 1880 and dying in the 1920s, could have crossed paths here in their youth.
A matinee, the misnamed afternoon show, took place at The Opera. "The Kiss" by Bedrich Smetana, more famous for "The Bartered Bride"; setting the betrothed in this case to meet problems on a more local scale. The composer native of this city, a museum in his old house I had visited, close to the Opera where I was heading. The poster in the foyer, for La Traviata, now made me start guiltily: my message intrusive as graffiti, still not removed, its hour and scene not yet arrived.
"The Kiss" opened with an embrace: an Austrian village girl falling in love, looking forward to a fine life, though humbler than La Traviata or the fateful heroines of Wagner. Basic problems for herself and her family, within a fresh forest atmosphere, gave a welcome sense of reality upon this calm, Prague afternoon: Smetana's music full of the presence felt in his house moments ago. After a meal and wine back in my apartment nearby, I faced the next performance.
La Traviata, as in most operas, has a heartbreaking theme, too pathetic for many people, but appealing to lingering romantics of my kind. The scene opens on a beautiful, well-off young singer, among her admiring friends, as she performs the key aria, on the joy of anticipating a life of talent, pleasure, love and fame. Soon, she will fall to a deadly illness, and die amid tragic mourning by her friends.
By the intermission, no one had approached. From the message on the poster my seat placing and appearance could be known. From the bar I took a glass of wine onto the terrace, overlooking a café opposite, Rilke had frequented. In a Dueno Elegy he says: "If I should cry out, who would hear me amongst the angelic powers?"
"Excuse me. I see you have Steiner's 'Gems of the Opera'," a voice spoke nearby. "Do you agree with what he says about 'Lohengrin'?" The lady speaking was young and finely dressed, a picture to match that of La Traviata herself, fated to disaster.
"I liked the villains better than the Princess and her lover when I saw it in Vienna. Would you like to see the Steiner comments?" I offered, handing her the book I carried. Many other questions stayed unanswered, mysteries not yet revealed.
"I must return it to you," she said, opening the book. "In this bar after the show," I said.
"No, I must leave when the performance ends. Tomorrow, lunchtime, we could meet. Two o'clock Do you know the restaurant in The House at The Black Madonna?"
"I will find it," I promised. "I shall be hungry by that time": meaning food, basically.
That night in my apartment, bedside reading meant Kafka's The Castle. Tomorrow I would head up to where its actual building loomed over the city. But now I sank into dreams full of menace and arrest, of enigmatic females elusive as riverside mist.
The building hardly matched the fearsome image in Kafka's book, unfathomable in the years I had tried reading it, including last night. Regal apartments and throne rooms drew hordes of visitors, but I preferred visiting the adjoining cathedral of St Vitus, patron of all mad dancers. Church areas can yield more insight than royal premises. A Renaissance Art Museum nearby drew few visitors. Faces in the icons and portraits staring out, make two-dimensional space seem deep and endless by their possessed expression of human persistence. Picasso, Rouault, Munch, carried that on.
The next face to stand out, stark as any in the collection, seemed very familiar, and moving, literally: no two-dimensional icon. No target for a bold daylight art robbery. The face of a person, the girl from the Red Museum, I called Varsovia, stared at me.
"What are you really looking for? Are you Christian or Communist, or a bourgeois of the West, who collects glances of everything, and ends up doing nothing?"
"None of that," I replied. "You can call me an art-loving traveller, too broke to be bourgeois, searching for the spirit of Kafka." Disdainfully she retorted: "Not here! The Kafka Museum is down the hill, by the river, his real house and background area near Old Town Square, not up at this castle, not among this old art."
"I've been to where you say, but some part of him could be up here as well," I said.
"No, there is nothing he thought up here, only power of the church and the throne who ruled from the clouds. But look here at these faces of need, want and desperation, life means that, not the religion put over on them. I am here to see all that. You see nothing. You like what is old, safe, dead, precious and sacred," she accused.
An attendant grew concerned about her agitated behaviour. She went on, asking about my favourite painters. Bomberg and Ben Shahn? She had not heard of them. I said: "Bomberg lived in London, died in 1957. Shahn, in New York, died 1969. Both Jews." "Jewish? What difference does that make? Think it must mean genius, so bound to suffer torment? You like victims, as in these paintings of crucifixion. You cannot see the real basic terror and insight which are pagan images stolen by the Church, as everything else. Look, look", she cried, almost touching one icon. The attendant advanced, shouting in Czech, then in English, ordering out the pair of us.
"To hell with that nobody who guards their stolen pictures," she said, outside. "Now we will go into The Castle itself." I already had done, and found no traces of Kafka.
"Your interests are all shallow and misdirected. You should go to Poland, to Warsaw, to learn real things. Cracow is only for show by comparison," she said.
I had seen films about Warsaw and Poland by Andrzej Wajda, in his trilogy, and other pieces. But his best work is 'Land of Promise' on nineteenth century upheavals. "Among the ten best films I've ever seen," I enthused.
"Ten best? You are counting? A bourgeois pursuit! Wajda is nothing. He got it wrong. All that is history, safe and dead now. We need reality of today," she said. It was not history to me. I had been alive in the 1940s, during air raids. The Wajda Trilogy I saw in London, when aged twenty-two. The Art Cinema of Europe opened my eyes anew.
"You are a romantic, pleased by heroics of people overcoming menace and injustice. But they never really do so, only on your cinema screen, the little picture in your head, safely tucked away. You should join us. You are ready for us, and we are ready for anything," she announced. So who were they, whom she valued and followed?
"We are in a group, from Warsaw, but we go all over. People call us names: anarchist, dissident, terrorist: the usual labels. We need no name, except reality, which we shall make happen. Follow me now into the Castle. We have the right," she said. But I held back as she strode through the gateway. Uniformed guards stepped out and seized her, warned by the Art Gallery, as I had feared. She argued loudly. A black van appeared, from around the corner, stopped, and took her away.
Had I been cowardly to hang back and let the inevitable fate descend on the unfortunate girl? She was more experienced in these parts than myself, and I had too a vital role to play in the plots unfolding from Vienna to risk involvement in protests, even of imaginary kinds on her part. Kafka wrote that The Castle, hard to penetrate, is harder yet to understand, and impossible to escape from, once falling into its grasp. I had slid in there earlier, and skipped out quickly, unnoticed, as when I passed through The Academy in Vienna, which had confounded Hitler, spelling disaster for many.
Now I turned my back on The Castle, the way I had put down the Kafka volume last night, reading few pages and reaching no enlightenment. Varsovia would have cast me as bourgeois, eager only for this lunch date with the lady from La Traviata.
I would call her Nikela, a feminine counterpart of Victor. She never cared any way.
Patrick Henry: Born 1938, Yorkshire, England, Irish parentage. Customs Officer London, Royal Airforce Draftee, Cyprus, 1957-59. Wrote poetry in London, Paris, Cornwall; worked construction, farming, factory, café, bookshop jobs. Published On the Track, Peterloo Poets 1971. Published translations of Fruits of Winter, Prix Goncourt, 1970 and Women of The Celts, Cremonesi, 1975. Adult student at University of Wales, University of East Anglia, Trinity College, Hartford, Connecticut during 1980s. Painting exhibition Paris, 1998. Poetry Reading Tour in New York 2001 arranged by Big City Lit. Painting Exhibition, Australia, 2003. Poetry Reading and Painting Exhibition tour New York State, 2004, arranged by The Author's Watermark and Poets & Writers. Poetry and prose featured in BigCityLit and in www.thisisull.com (UK website), 2001-2007. He is a contributing editor of the magazine.