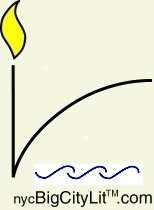 Contributor Notes


Fall 2012
Austin Alexis has published in Barrow Street, The Journal (Ohio State University Press), The Pedestal Magazine, Danse Macabre and other journals, as well as in several anthologies, including Off the Cuffs (Soft Skull Press). He received a Bread Loaf Writers' Conference Scholarship and a residency fellowship from the Vermont Studio Center. He has taught at Long Island University (Brooklyn campus), Empire State College and elsewhere.
Holly R. Appling lives in Canada. Her poems have appeared in QWERTY, Carousel, Leaf Press, Aphelion, Jabberwocky, The River Journal and another will be upcoming in Ideomancer. More of her writing is at www.hollyappling.wordpress.com.
Robert Balun has done his best to travel and become a well-rounded person. He writes with the perspective of the post-9/11 student-loan generation, and tries to do as much as possible. Robert has been a reader for the Earshot NYC reading series, and his writing has appeared in the journals O Sweet Flowery Roses and Promethean. He lives in lower New York while he pursues his MFA at City College. Robert is an adjunct instructor in the English department at City, and is a curator for the City College Master's Reading Series.
Jan Beatty's books include Red Sugar (2008), Boneshaker (2002), and Mad River (1994 Agnes Lynch Starrett Prize), published by the University of Pittsburgh Press. Beatty hosts and produces Prosody, a public radio show on NPR affiliate WYEP-FM featuring national writers. She worked as a welfare caseworker, an abortion counselor, in maximum security prisons, and as a waitress for fifteen years. Beatty has read her work widely, at venues such as the Geraldine R. Dodge Festival, Los Angeles Times Festival of Books, Split This Rock. She directs the creative writing program at Carlow University, where she teaches in the MFA program.
S.E. Black is originally from West Texas (San Angelo), moved to Oklahoma in the late seventies, and has lived in Tulsa, Oklahoma for thirty years. She received her Master of Arts in English Literature from the University of Tulsa in 2006. She has been a teacher and creative writer for many years, finally obtaining a formal English degree while working as an Adjunct Professor of English at Tulsa Community College. She writes prose poems, experimental poetry, and narrative poems for a number of journals which include: Midland Review, The Texas Observer, BigCityLit, Big Bridge, Sawbuck E-Zine Journal, Halloo and Haggard Online, Austin, TX, and RE-ADICAL, a chapbook anthology published by Living Arts in Tulsa. She also advocates on her blogspot, Cultural Blanket (www.culturalblanket.wordpress.com), for experimental poetry, schizophrenia/mental illness, and the use of various art forms as a unique way of healing and self-expression.
Patricia Brody's first poetry collection, American Desire, was selected by Finishing Line Books for a 2009 New Women's Voices Award. Her second collection, Dangerous to Know, is due out from Salmon Poetry (Ireland) in 2012. Her work has appeared in BigCityLit, Western Humanities Review, Barrow Street, The Paris Review, and on Poetry Daily. Poems also appear in the anthology Chance of a Ghost (co-edited by Philip Miller) and in Psychoanalytic Perspectives and International Journal of Feminist Politics. Brody works as a family therapist in NYC and teaches "Seeking Your Voice: a Poetry Workshop" at Barnard College Center for Women. She taught English comp and American Literature for many years at Boricua College in Harlem. Her awards include two Pushcart nominations; English Speaking Union of New York, 1st Prize for a poem; and two Academy of American Poets prizes.
Christopher Cappelluti is a writer with an interdisciplinary master's from NYU and research interests including James Joyce, Dante, and Rod Serling. He has worked as a travel writer, editor, teacher, carpenter, and organic farmer. Christopher's fiction and non-fiction has appeared in Anamesa, American Book Review, and berfrois.
Michael Cappelluti is an illustrator with interests in the traditional media of cartooning and 2D animation. As a freelance artist, this is his first collaboration with his brother. Michael currently resides in the city of his birth; Brooklyn, New York.
George Drew was born in Mississippi and raised there and in New York State, where he currently lives. He is the author of four collections of poetry, Toads in a Poisoned Tank, from Tamarack Editions, and, most recently, The Horse's Name Was Physics, from Turning Point Press; a third, American Cool, was released by Tamarack in 2009; and a fourth, The Hand that Rounded Peter's Dome, by Turning Point in 2010. Drew was the winner of the 2003 Paumanok Poetry Prize, the 2007 Baltimore Review Poetry Prize, the 2008 South Carolina Review Poetry Prize, and was runner-up for the 2009 Chautauqua Literary Journal Poetry Contest, which also nominated him for a Pushcart Prize. American Cool won the 2009 Adirondack Literary Award for best poetry book of the year. A fifth collection, The View from Jackass Hill, is the 2010 winner of the X. J. Kennedy Poetry Prize, Texas Review Press, 2011.
Geordie Edel grew up in Fairfield County, Connecticut with lots of horses and now lives in East Harlem, New York. He is a poet and decorative painter and has been previously published in Chronogram Magazine.
David Francis has produced three albums of songs and one of poems. In 2008 BigCityLit published his article "Utterance and Hum: The Difference Between Poem and Song." His stories and poems have appeared in a number of US and UK magazines. www.davidfrancismusic.com
Patrick Henry: Born 1938, Yorkshire, England, Irish parentage. Customs Officer London, Royal Airforce Draftee, Cyprus, 1957-59. Wrote poetry in London, Paris, Cornwall; worked construction, farming, factory, café, bookshop jobs. Published On the Track, Peterloo Poets 1971. Published translations of Fruits of Winter, Prix Goncourt, 1970 and Women of The Celts, Cremonesi, 1975. Adult student at University of Wales, University of East Anglia, Trinity College, Hartford, Connecticut during 1980s. Painting exhibition Paris, 1998. Poetry Reading Tour in New York 2001 arranged by BigCityLit. Painting Exhibition, Australia, 2003. Poetry Reading and Painting Exhibition tour New York State, 2004, arranged by The Author's Watermark and Poets & Writers. Poetry and prose featured in BigCityLit and in www.thisisull.com (UK website), 2001-2007. He is a contributing editor of the magazine.
Adrienne Hernandez's poems have appeared in The Mid-America Poetry Review, The Westchester Review, The Teacher's Voice, Cyclamens and Swords, Lilliput Review, Wisconsin Review and various journals. She has facilitated inter-generational poetry writing workshops and has been a featured poet at the Cornelia Street Café, the Hudson Valley Writer's Center and the Ridgefield Theater Barn.
Preston Hollow was found in a basket, floating down Kaaterskill Creek, in upstate New York. But this is not where his legend begins. In fact, this happened only last week. He was charged FYI (Floating Yet Intoxicated) and released on his own recognizance, though he admitted he hadn't seen a mirror in years.
There's not much depth to Hollow's past. Some say he was born on the bio. By one account, he's an environmental lawyer who never met a tree he didn't like, and has passed the bar to practice in over a dozen states. By other accounts, he's incapable of passing a bar. Several years ago, someone identified him as Preston Hollowman, a charismatic rebbe known for his kleizmer fiddling and philatilism. Hollowman eloped with the shikza chanteuse Rebeaucca Sunnyface, and they were never heard from again, where they worked as public service employees and raised two children.
Kate Irving's poems have previously appeared in BigCityLit, Press 1 and qaartsiluni. She's a native NY'er, a serious cook and sings a cappella chamber music.
Ted Jonathan is a poet and short story writer. Born and raised in the Bronx, he now lives in New Jersey. His work has appeared in New York Quarterly, Web Del Sol Review, Pedestal, Hiram Poetry Review, and many other magazines. Translations of his poetry have appeared in Russian magazines. His first collection Spiked Libido was published by Neukeia Press. Bones & Jokes, his most recent full-length collection of poems and short stories, has been published by NYQ Books (2009). His website is http://www.nyqpoets.net/poet/tedjonathan.
Laurel Kallen is a poet and fiction writer who teaches at the City University of New York. She is the recipient of the 2009 Stark Short Fiction Award and the Teacher/Writer Award. Her work has appeared or is forthcoming in Global City Review, Legal Studies Forum, The One Three Eight, La Petite Zine, and Atlanta Review. Her collection, The Forms of Discomfort, will be published by Finishing Line Press in July 2012. Laurel has been a featured reader at Perch Café, Cornelia Street Café and The CUNY Graduate Center. She was a speechwriter for former New York City Mayor David Dinkins. Laurel holds an MFA in Creative Writing from the City College of New York and an MA in French from UC Berkeley. She is an attorney admitted to practice in New York and New Jersey. Her daughters, Maia and Chloe, are strongly opposed to their mother's presence on Facebook.
Pamela L. Laskin is a lecturer in the English Department, where she directs the Poetry Outreach Center. Ms. Laskin started out as a poet; consequently, hundreds of her poems have been published as well as four poetry chapbooks. Grand Central Station, a full-length collection, was published in 2003, and since that time Remembering Fireflies (Plain View Press); Secrets of Sheets (Plain View Press); Ghosts, Goblins, Gods and Geodes (World Audience); Van Gogh's Ear; (Cervena Barva Press) and Daring Daughters/Defiant Dreams ( A Gathering of Tribes) have been published. Publish America recently published a book of children's poetry that she co-authored with Ms. Jeanette Adams, a well-known African American children's poet, and also Ms. Elise Buchman, Animal Crackers and Their Friends. Tudor Press published Getting to Know You, a YA novel, in 2003, and Diversion Press published Visitation Rites, an expansion of a young adult story originally published in Sassy magazine.Her published children's books include A Wish Upon a Star (Magination Press); Historical Heroic Horses (McGraw-Hill); Music From the Heart (Bantam) and The Buried Treasure (McGraw-Hill). Dozens of her short stories have been published, too, including two YA stories, one in Young Miss and the other in SASSYSassy. She edited two collections: The Heroic Young Woman (2006), a collection of original feminist fairy tales, and Life on the Moon: My Best Friend's Secrets (Linus Publication), a collection of young adult fiction.
Richard Levine, is author of the forthcoming A Tide of a Hundred Mountains (Bright Hill Press, 2012), as well as That Country's Soul, A Language Full of Wars and Songs, and Snapshots from a Battle. His poem "Believe This" was featured in former Poet Laureate Ted Kosser's column, "American Life in Poetry". In 2010, Mr. Levine was runner-up for the William Stafford Award for Poetry. A retired teacher, he spends most days working to block hydro-fracking in New York State.
Marc Levy served as an infantry medic in Vietnam with the First Cavalry Division in Vietnam/Cambodia in 1970. He was decorated three times for valor. Marc has studied writing at the William Joiner Center at U Mass, Boston. His war related prose and poetry have been published in various print and online journals including CounterPunch, New Millennium Writings, Slow Trains, and Slant. He is working on a manuscript of short stories, Medic in the Green Time .
Jennifer Litt teaches writing at Saint John Fisher and Monroe Community Colleges and is the sole proprietor of Jennifer Litt Writing Services (www.jenniferlitt.com). Her poetry has appeared in Bigger Than They Appear: Anthology of Very Short Poems, HazMat Review, Jet Fuel Review, Lake Affect magazine and Mixed Fruit. She lives in Rochester, New York.
Brant Lyon was a poet, fiction writer, and musician. He was senior editor for Uphook Press and producer and host for Hydrogen Jukebox, a reading series in NYC where poets recite with an improvisational band. A collection of his poetry, You Are White Inside, published Fall 2011 by Three Rooms Press is reviewed in the Fall 2011 issue of BigCityLit. He was a contributing editor of the magazine.
Quitman Marshall grew up in South Carolina, moved to Barcelona, then D.C., Amherst, New York City, and Paris. For most of the 1990's, he coordinated literary events at Charleston's Spoleto Festival. In 1996, he won P&W's Writers' Exchange Award. He was then already assembling notes and doing research for his long narrative work, Swampspirit, from which the essay in this issue of BigCityLit is taken. The book, while centered on a specific terrain around and within the Congaree National Park in central South Carolina, is a celebration of all swamps, undervalued, indeterminate, and often forbidding inland places, and the "swampness" that, despite all our efforts, pulls history and individuals into itself. His chapbooks include The Birth Gift, 14th Street, and The Slow Comet. Others of his manuscripts-in-process are What Made Us (poems) and The Bloody Point (novel). Since 2001, teaching in public schools and the local university, he has lived in Beaufort, SC, with his wife, Martine, and their children.
Peter Martin teaches social work and coaches arts organizations who apply arts to social intervention. His poems have been published in Frigate, Outloud and Home Planet News.
Philip Miller, taught at Kansas City (KS) Community College and directed the Riverfront Reading Series in Kansas City. He lived in Mount Union, PA, where he edited The Same and co-directed the Aughwick Poet and Writers Reading Series. His poems have appeared or are forthcoming in Coal City Review, Cottonwood, Gargoyle, Home Planet News, the I-70 Review, Kansas Quarterly, Literary Magazine Review, the Mid-American Review, New Letters, Poetry, Poetry Wales, Rattapallax, and Thorny Locust. His sixth book of poems, The Casablanca Fan, was published in 2008 by Spartan Press. He co-edited the ghost-poem anthology Chance of a Ghost, from Helicon Nine Editions. His forthcoming collection, The Ghost of Everyday and Other Poems, will be published by Spartan Press, Kansas City, MO this spring. A tribute to Phil Miller can be found on The Sunday Best Reading Series blog: http://sundaybestreadingseries.wordpress.com. He was a contributing editor of the magazine.
Lynn McGee's poems appear in current or forthcoming issues of Hawai'i Review, American Poetry Review, 2 Bridges Review, Bluestem, Literary Mama and The Same. Her work is also in recent issues of Big City Lit, The New Guard (one poem a and one a semi-finalist in the Knightville contest judged by Donald Hall), and Tilt-a-Whirl. Her chapbook, Bonanza, won the Slapering Hol contest and she earned an MFA in Poetry from Columbia University.
George Moore's fourth collection, Children's Drawings of the Universe(Salmon Poetry Ltd.) will be out next year, and his work has appeared in The Atlantic, Poetry, Northwest Review, Colorado Review and elsewhere. The poetry reflects recent time spent in artist residencies in Portugal, Spain, Iceland and Greece, and earlier years of travel in Asia and South America. Moore is married to the Canadian poet, Tammy Armstrong, and teaching at the University of Colorado, Boulder.
James B. Nicola has had over two hundred poems appear in publications including Tar River, the Texas Review, The Lyric, and Nimrod. A stage director by profession, his book Playing the Audience won a CHOICE Award. He also won the Dana Literary Award for poetry, was nominated for a Rhysling Award, and was a featured poet at the New Formalist in 2010.
B.Z. Niditch is a poet, playwright, fiction writer and teacher. His work is widely published in journals and magazines throughout the world, including: Columbia: A Magazine of Poetry and Art, The Literary Review, Denver Quarterly, Hawaii Review, Le Guepard (France), Kadmos (France), Prism International, Jejune (Czech Republic), Leopold Bloom (Budapest), Antioch Review, and Prairie Schooner, among others. He lives in Brookline, Massachusetts.
Stella Padnos-Shea's poetry has been published in various print and on-line journals, among them Chest medical journal, Lapetitezine.com, and Lyre Lyre, as well as having been nominated for a Pushcart Prize. Formerly employed as a college instructor, jewelry maker, and therapist, she now works crazy hours as ma to 9-month-old Mirabel. Stella can be reached at Stella.Padnos@gmail.com.
Andy Pawelczak teaches English at Passaic County College in Jersey and lives in Brooklyn. For a number of years he was a principal reviewer for Films in Review (now regrettably defunct as a print magazine) and continues to love movies for their poetry and stories. He has placed poems in a few small magazines. His other interests include evolutionary biology (an interest inherited from his daughter) and the contemporary novel.
Richard Pearse's Private Drives: Selected Poems 1969-2001 came out from Rattapallax Press. His poems and stories have appeared in over thirty magazines, including The Paris Review, New York Quarterly, Prairie Schooner, and Rattapallax. Recently he has been concentrating on microfiction, which has been published or accepted in Fiction, Carolina Quarterly, Many Mountains Moving, As Is, and QuickFiction, and anthologized in Sudden Stories. He lives in New York City.
Before joining The San Diego Union-Tribune in 1998 and after working for a half dozen newspapers around the country, Peggy Peattie spent two years at Ohio University on a Knight Journalism Fellowship, teaching and earning a Master's degree in Visual Communication Management. She won the first professional Alexia Foundation Grant for World Peace and Cultural Understanding in 1998, and has taught international photojournalism in Bulgaria and Hungary, workshops at Western Kentucky University, University of Missouri, San Jose State University and Ohio University, and photography for the Wounded Marine Career Foundation, an organization introducing careers in the film industry to wounded veterans of the Iraq and Afghanistan wars. Peattie was named Greater Los Angeles Press Photographer of the Year five times in a row, and was runner-up California Photographer of the Year twice. A judge for the Photographer of the Year international contest in 2000 and 2005, as well as for College Photographer of the Year twice, she also contributed images to the following books: America 24/7, California 24/7, Day in the Life of the American Woman, and America at Home. She has had assignments in Vietnam, the Middle East, and all over Mexico, but her concentration is on community journalism, telling the stories of those who traditionally have no voice. Her self-published book, Down in Dixie (2004), explores deeply rooted attitudes in South Carolina about the Confederate flag, and the fight to bring the banner off the State House dome.
Anne Elezabeth Pluto was born in the Bronx and grew up in Brooklyn. She is Professor of Literature and Theatre at Lesley University in Cambridge, MA where she is the one of the founders and artistic director of the Oxford Street Players. She was a member of the Boston small press scene in the late 1980s and the editor of Oak Square Magazine. She started Commonthought Magazine at Lesley 24 years ago. Her chapbook, The Frog Princess, was published by White Pine Press. She has been a participant at the Bread Loaf Writers' Conference in 2005 and 2006. Her most recent publication is Lubbock Electric, available from the U.K.'s Argotist Editions. She lives in Boston with her family.
Carolyn Raphael retired from the English Department at Queensborough Community College , CUNY, after more than thirty years of teaching. Her poems have appeared in journals including Cumberland Poetry Review, Measure, Orbis, The Lyric, and Rattapallax, and on the Newington-Cropsey Cultural Studies website for the American Arts Quarterly, where her poem, "Honorable Mention," was nominated for a Pushcart Prize. She was a finalist in the 2009 Howard Nemerov Sonnet Contest. Her chapbook, Diagrams of Bittersweet, was published by Somers Rocks Press in 1997, and her poetry collection, The Most Beautiful Room in the World, was published by David Robert Books in 2010.
Kryssa Schemmerling has recently published poems in in 2River View, Big City Lit and The Same. Her chapbook manuscript, Iris In, was a finalist in the 2010 Slaporing Hol Press and Black River chapbook competitions. In 2010 she also completed a documentary entitled Our Hawaii (www.ourhawaii.net). Kryssa holds an MFA in filmmaking from Columbia University. She teaches screenwriting at New York University's Tisch School of the Arts.
Claudia Serea is a Romanian-born poet who immigrated to the U.S. in 1995. Her poems and translations have appeared in 5 a.m., Meridian, Harpur Palate, Word Riot, Blood Orange Review, Cutthroat, Green Mountains Review, and many others. She was nominated two times for the 2011 Pushcart Prize and for 2011 Best of the Net. She is the author of To Part Is to Die a Little (Cervená Barva Press), Angels & Beasts (Phoenicia Publishing, Canada), and A Dirt Road Hangs from the Sky (8th House Publishing, Canada). She also published the chapbooks Eternity's Orthography (Finishing Line Press, 2007) and With the Strike of a Match (White Knuckles Press, 2011). She co-edited and co-translated The Vanishing Point That Whistles, an Anthology of Contemporary Romanian Poetry (Talisman Publishing, 2011).
Larissa Shmailowork has recently appeared or is forthcoming in Gargoyle, Barrow Street, Drunken Boat, Fulcrum, The Unbearables Big Book of Sex, Big Bridge, Mad Hatters Review, and the Penguin anthology Words for the Wedding. Her books of poetry are In Paran (BlazeVOX [books]), the chapbook A Cure for Suicide (Cervena Barva Press), and the e-book Fib Sequence (Argotist Ebooks); her poetry CDs are The No-Net World and Exorcism. Her original English-language translation of A. Kruchenych's Victory over the Sun may be read at The Brooklyn Rail's In Translation site: http://intranslation.brooklynrail.org/russian/victory-over-the-sun. She blogs at http://larissashmailo.blogspot.com.
Jared Smith has lived extensively in New York, Chicago, and Colorado. He has taught in academia and industry, served as a business executive, hosted numerous poetry venues in various cities, advised The White House on National Security, and released ten volumes of poetry, including his Collected Poems: 1971-2011 from NYQ Books. He earned his degrees in Literature and Poetry from New York University, where he studied under M.L. Rosenthal, William Packard, Chris Collins, and others.
Joseph Stanton's books of poems include A Field Guide to the Wildlife of Suburban Ohahu, Imaginary Museum: Poems on Art, Cardinal Points, and What the Kite Thinks. His poems have appeared in Poetry, Poetry East, Harvard Review, Ekphrasis, New York Quarterly, poetrybay, Cortland Review, and many other journals. His essays have come out in such places as Art Criticism, Journal of American Culture, Michigan Quarterly Review, and American Art. His other sorts of books include Looking for Edward Gorey, Stan Musial: A Biography, The Important Books, and A Hawai'i Anthology. He is a Professor of Art History and American Studies at University of Hawai'i at Manoa.
Mervyn Taylor is a Trinidad-born poet who divides his time between Brooklyn, New York and his island home. He has taught at Bronx Community College, The New School, and in the New York City public school system. His work has appeared in such journals as Poetry International, St. Ann's Review, Sulfur, Rattapallax, in BigCityLit, the online journal, and in the anthology, Chance of A Ghost. He is the author of four volumes of poetry, An Island of His Own, The Goat, and Gone Away, all from Junction Press, and No Back Door, from Shearsman Books, which latest received the Paterson award for Sustained Literary Achievement. He can be heard reading his poetry on the cd Road Clear, accompanied by bassist David Williams. Currently, he serves on the board at Hudson Valley Writers.
Melinda Thomsen's poetry and book reviews have been published in journals such as Poetry East, New York Quarterly, Home Planet News, Elysian Fields Quarterly, and The Same. Anthologies include Blues for Bill: A Tribute to William Matthews and Spring from Gatehouse Press Ltd., Great Britain. Finishing Line Press published her chapbook Naming Rights in June 2008 and her new collection from them, Field Rations, was published in December 2011. She received her MFA at Vermont College of Fine Arts in January 2011.
Bonnie Walker is a writer and photographer who lives and works in New York City. She holds an A.B. in English and French from Bryn Mawr College, an M.Phil in English Literature from the City University Graduate Center, and a J.D. from the University of Michigan Law School.
George Wallace is author of nineteen chapbooks of poetry, including Poppin' Johnny (Three Rooms Press, 2009). He is editor of Poetrybay, Poetryvlog and other publications.
Barry Wallenstein is the author of seven collections of poetry, the most recent being Drastic Dislocations: New and Selected Poems [New York Quarterly Books, February 2012]. His poetry has appeared in over 100 journals, including Ploughshares, The Nation, Centennial Review, and American Poetry Review. His 1971 analytical text Visions & Revisions: The Poets' Practice [T.Y. Crowell], was reissued in a new and expanded edition by Broadview Press [2002].
Among his awards are the Poetry Society of America's Lyric Poetry Prize, (l985), and Pushcart Poetry Prize Nominations, 2010, 2011. He has had resident fellowships at The Macdowell Colony (1995), Hawthornden Castle in Scotland (1999), Fundación Valparaiso in Spain (2008) and Casa Zia Lina on Elba, Italy. Between June 2002 — June 2008, he was part of the poetry faculty at the Bear River Writers' Conference in Upper Michigan.
A special interest is the presentation of poetry readings in collaboration with jazz. He has made seven recordings of his poetry with jazz, the most recent being Lucky These Days, to be released by Cadence Jazz Records in April 2012. A previous CD, Euphoria Ripens, was listed among the "Best New Releases" in the journal, All About Jazz (December 2008).
Barry is an Emeritus Professor of Literature and Creative Writing at the City University of New York and an editor of the journal, American Book Review. In his capacity as Professor of English at City College he founded and directed the Poetry Outreach Center, and for 35 years coordinated the all-inclusive citywide Annual Spring Poetry Festival. He remains an active advisor and participant in the program. www.barrywallenstein.com
Abigail Welhouseis an MFA candidate at the City College of New York, focusing on poetry and literary translation. Her writing has appeared in such places as Frostwriting and the Fox Cry Review. She works as a book publicist and ghostwriter, and you can find her on twitter here.
Terry Wolverton is the author of nine books of fiction, poetry and creative non-fiction. Her most recent, Wounded World, a collection of lyric essays, is being published serially as a blog before the print edition appears in late 2012 (http://woundedworldproject.wordpress.com). She serves as Affiliate Faculty in the MFA Writing Program of Antioch University Los Angeles and the director of Writers At Work, a creative writing center in Los Angeles.
Michael T. Young has published three collections of poetry: Transcriptions of Daylight, Because the Wind Has Questions and, most recently, Living in the Counterpoint. His next full-length collection, The Beautiful Moment of Being Lost, will be published in 2013 by Eight Ball Press, an imprint of Black Coffee Press. He received a fellowship from the New Jersey State Council on the Arts and was twice nominated for a Pushcart Prize. He received a William Stafford Award and the Chaffin Poetry Award. His work has appeared or is forthcoming in numerous print and online journals including Fogged Clarity, Iodine Poetry Journal, The Potomac Review, The Raintown Review, and The Same. His work is also in the anthologies Phoenix Rising and Chance of a Ghost and forthcoming in The Bug Book, and In the Black/In the Red. He lives with his wife and children in Jersey City, New Jersey.