nyc

BigCityL

i

t

.com

the rivers of it, abridged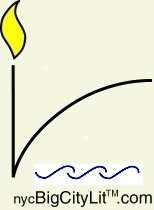 Poetry:
Like a Movie: Among Those Named: This fall's collection includes work by Austin Alexis, Holly R. Appling, Robert Balun, Jan Beatty, S. E. Black, Patricia Brody, Geordie Edel, Patrick Henry, Adrienne Hernandez, Ted Jonathan, Pamela L. Laskin, Richard Levine, Jennifer Litt, Peter Martin, Philip Miller, George Moore, James B. Nicola, B. Z. Niditch, Stella Padnos-Shea, Andy Pawelczak, Anne Elezabeth Pluto, Carolyn Raphael, Claudia Serea, Larissa Shmailo, Jared Smith, Joseph Stanton, Mervyn Taylor, Melinda Thomsen, Barry Wallenstein, Abigail Welhouse, Terry Wolverton and Michael T. Young.
Twelve:
Big City, Little:
Kate Irving: When Sleep Won't Come, Among the Named
Fiction:
Richard Pearse, Living In Grace
David Francis, What I Owe The Thief
Christopher Cappelluti, The Grey Dog
Articles:
Preston Hollow's 'singing' article: Talkin' Frackin' Blues
A man steps up knocks on my door,
says, "Hey! How'd y'like more … cash?"
"More cash?" says I, "Why, sure."
…holds up a piece of paper…
Essays:
Patrick Henry, Deep Water Dividing Budapest
Quitman Marshall, "Lost" from his unpublished collection of essays, Swampspirit.
Reviews:
George Drew on The Collected Poems of Jared Smith, 1971 - 2011
Shira Dentz's black seeds on a white dish, reviewed by Laurel Kallen
Gil Fagiani's Serfs of Psychiatry, reviewed by Lynn McGee
Colette Inez, Horseplay, reviewed by Kryssa Schemmerling
Melinda Thomsen on Philip Miller's The Ghost of Every Day
George Wallace on Thom Ward's Etcetera's Mistress
Bookshelf:
Richard Levine, A Tide of a Hundred Mountains
Ron Price, A True Account of the Failure of Bodies to Adequately Burn
Ronnie Norpel, Baseball Karma and the Constitution Blues
Margo Berdeshevsky, Between Soul and Stone
Mary Noonan, The Fado House
Dean Kostos, Rivering
Hilary Sideris, Sweet Flag
CDs:
David Francis: On A Shingle Near Yapton
Events:
Saturday, June 8th, 1:00 pm
BigCityLit Reading
Contributors to the 2012 Fall Issue
Host: Nick Johnson
The Bloomingdale branch
of the NYPL
150 West 100th Street
(b/t Amsterdam & Columbus)
Free admission

Featuring work by Allen C. Fischer, Austin Alexis, Robert Balun, Patricia Brody,
Geordie Edel, Kate Irving, Ted Jonathan, Richard Levine, Jennifer Litt, Brant
Lyon (Larissa Shmailo), Peter Martin, Philip Miller, James B. Nicola, Anne
Elezabeth Pluto, Stella Padnos-Shea, Larissa Shmailo, Mervyn Taylor, Melinda
Thomsen, Barry Wallenstein and Abigail Welhouse
Thursday, April 18th, 6:00 pm
Patricia Brody, Joseph Spece, and Nick Johnson
The Cornelia Street Café
29 Cornelia Street
(b/t Bleecker & West 4th)
$8 admission includes one drink
Tract 187 Culture Clatch
Where: Sasa's Lounge NYC (New Location!)
924 Columbus Avenue
@ 105th St. (#1/B/C Trains)
Price: FREE!
When: Open mic sign-up at 6:30 - Fun starts at 7:00!
http://www.facebook.com/events/361248940569100
Letters:
Big City Lit welcomes letters from its readers. Address correspondence to Editors@nycBigCityLit.com
Print Series:
All Print Series Suspended
Contests:
For the present, all Contests suspended.
Masthead Notes:
We welcome Melinda Thomsen as a Contributing Editor of the magazine.
Contributing Editors:
Martin Mitchell, Barry Wallenstein, James Ragan, Patrick Henry (UK), Diana Manister, Margo Berdeshevsky, George Wallace, Larissa Shmailo, Brant Lyon, Melinda Thomsen