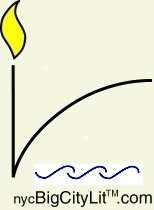 Poetry
Holly R. Appling
Aurora
Winter careful with the words,
Snow-covered ever-greens look guilty,
Darkness amplifies sound, down
There are footprints — they ring, ring —
Someone swings a weapon,
His step heavy in the panorama.
Snowdrifts roll over coral — with years of frost
Time-lapse the sea stopped.
A felicitous painter swims
Past as a fish after that specific red,
The color a spell cast —
Forefathers sing into a thin here-
After, never again to be aqua,
Gallery talking of spring and martyrdom, will it come?
Northern Celestials are poignant —
The sky calligraphy eloquent,
Each star an other-world,
So the child understands this.
But the emperor misses it—
Lost in ritual, tempest and charm.
His amethyst is antagonistic
Like a syringe singe of boysenberry
Into apricot and magenta —
The swell infuriating, a Venus
Set to inferno —but do not forget—
There is an obligation among the flame
A willingness to forget pain.
The fire's iris refracts a fine blade,
The belle of a ball enters.
This story needs an authentic princess,
A damsel street gangs can
Taunt and tie up and gawk over —
Her screams are mute in their dreams,
But all hear the North Star —
Its silhouette optic perfects Apollo,
Drifts in bliss against an ebon eclipse,
The looking-glass bursts into blue —
Galvanic ash violet and electric,
Blur specific, a sprite's blush — fragile too,
Some say ethereal, like memory or afterbirth —
Day and night become more a contusion.
Illuminated is the beauty, the illusion —
The footprint polarized — Brahma,
Allah, The Father distilled from stone.
A street-walker might be killed
For such a thought, if not bought —
Her guardian angel waits
Near the sewer drain — in swift radiation,
The stalker's face marbles with the egress of darkness,
There is no better verb for it.
Yet, it is ecclesiastic — it is art —
The canvas a mind's relentless
Fissure, beetle bristles fast
And ticking. They attack until surface emeralds merge,
A heart sets its original zen root
And the hue of a young moon bevels loops of plump lilacs.
Just like that — a gracious hand by her cheek
As if at New Year's, midnight's
Star-burst palpable with anaesthesia —
In the pitch of landscape, a giant snow-cat walks.
She is breathless and loveuck
When the aurora shatter —
Blackness floods the rifle scope.
Its thin cross dims — somewhere, a seashell is held to an ear.
Back to Poetry