nyc

BigCityL

i

t

.com

the rivers of it, abridged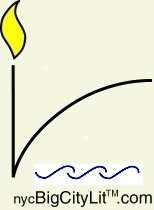 Poetry
Ted Jonathan
19 Actions More Practical than Writing this Poem
Assaulting the wall with my head. Switching to a raw food diet.
Curing cat co-dependency. Channeling Elvis. Blaming the messenger.
Playing computer solitaire. Playing Lotto. Playing the kazoo.
Petitioning the lord with prayer. Massaging my prostate.
Assaulting the wall with your head. Reading Thackeray's Vanity Fair.
Taking up golf. Dancing the Funky Chicken. Shaving my chest.
Casting a vote for American Idol. Collecting Nazi war memorabilia.
Shouting Bama Lama, Bama Loo. Netting butterflies. Collecting dust.
Former Bronx Golden Gloves
bantamweight contender,
toothless and fit, old Dr. Jack Kreeger
is the last affordable dentist.
Mirthful, manic-laugh-loud,
he floats around his spacious office
calling all men "my brother" and all
women "my sister" or "princess."
Refuses to wear a mask, refers all
root canals out, and has the genius to
surround himself with beauty—
an all-peachy Puerto Rican girl
intern and office staff.
Ambitious dental-hygienist,
silky, sing-song-speaking Gloria
drills my upper right bicuspid.
Next week, Dr. Kreeger will extract
my throbbing lower left molar,
without the standard, self-serving
teeth will shift dental bullshit.
"Beautiful! Beautiful!" shouts Dr. Kreeger,
exhaling Beef Lo Mein breath
directly into my wide open mouth
as he reviews Gloria's work up close.
I agree.
Eyeballing the rope-like scar across
my neck and having heard my breathy
rasp, he earnestly asks,
"Teddy, my brother, what happened?"
So I tell him.
He replies, "That they got everything,
is all that matters."
Seizing the pity price moment I pounce,
"Yeah, but I have exorbitant medical bills."
"Listen motherfucker," he chortles,
"you're lucky to be alive!"
Back to Poetry