nyc

BigCityL

i

t

.com

the rivers of it, abridged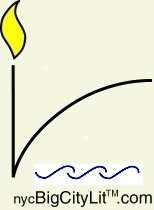 Poetry
Anne Elezabeth Pluto
Cinco de Mayo
Oleander
pretty poison
and bougainvillea
palms
and aloe cactus
the smell of cattle in the morning
home grown
homemade
3000 miles away
from home
another border
checkpoints
from London the BBC
reports in Nuevo Laredo
another drug cartel murder
severed heads packed
in ice — a cooler sent to the mayor
the terror — a message
in the flesh — we who kill
the most — must have
the most control.
Pretty poison
Bougainvillea
Oleander
let the dogs eat it
and they will die.
Dove gray farm weather
Inside the house wearing
A sweater — summer solstice
Now over — the days no longer
Rain in the forecast — horses stamp
In the barn later — lead out
To be saddled — my hair in my eyes
Fog in the morning — rolls over
By the kitchen window holding
The luminous cups — waiting
For my father — asleep upstairs
With my mother — the house
The house — its own silent entity
Grandfather in the big garden
Turning over the earth — grandmother
Whispering to the icons — I am
Dreaming , standing — parting the
Curtains to see the dove gray fog lift
Praying for sun — and the world
To roll over.
Back to Poetry