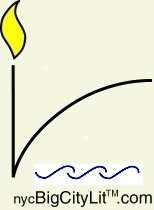 Contributor Notes


Spring 2009
Margo Berdeshevsky's poetry collection "But a Passage in Wilderness," was published by Sheep Meadow Press in December 2007. Her "Beautiful Soon Enough," a collection of illustrated tales, received the Ronald Sukenick/American Book Review Innovative Fiction Prize, and is forthcoming from Fiction Collective 2, in September 2009. It contains her black and white montages of her own photographs. Other honors include the Robert H. Winner Award from the Poetry Society of America, The Chelsea Poetry Award, Kalliope's Sue Saniel Elkind, places in the Pablo Neruda and Ann Stanford Awards, 5 Pushcart Prize nominations and "special mention citations" in 2008 amd 2009, for works in leading literary journals including Agni, New Letters, Pleiades, The Southern Review, The Kenyon Review, Poetry Daily, Poetry International, Pool, Nimrod, Women's Studies Quarterly. Her Tsunami Notebook of poems and photographs was made during and following a journey to Sumatra in Spring 2005—to work in a survivors' clinic in Aceh. A "visual poem" series, The Ghosts of Versailles was seen at the Parisian Galerie Benchaieb. A poetic novel, Vagrant, is also forthcoming, from Red Hen Press. Berdeshevsky currently lives in Paris, and is often on the road in the US, reading for her new books.
Poetz.com, Rogue Scholars, Poets Wear Prada, Mobius Magazine, The Toronto Quarterly, CLWN WR, Chantarelle's Notebook, Clockwise Cat, 6S, Luciole Press, Eviscerator Heaven 4, Flutter, Up the Staircase, Battered Suitcase, Kritya, Inscribed, Live Magazine, Tamarind and more have published Patricia Carragon's work. She is the author of Journey to the Center of My Mind (Rogue Scholars Press). Patricia hosts and curates the Brooklyn-based Brownstone Poets and is the editor of its annual anthology.
Susan Erony is an artist and art historian who has exhibited extensively in Europe and the US. She can be reached at erony1@verizon.net.
Allen C. Fischer, former director of marketing for a corporation, brings to poetry a background in business. His poems have been published in Atlanta Review, Indiana Review, The Laurel Review, Poetry, Prairie Schooner, Rattapallax, and previously in BigCityLit.
Deborah Flanagan's work has appeared or is forthcoming in journals including The Gettysburg Review, Poet Lore, Diagram, PANK, and J Journal. At City Parks Foundation she is creating the reading series CityParks Poetry, and at the Academy of American Poets she helped create the Online Poetry Classroom. A Reiki Master, she has a private practice and also works with patients at Beth Israel Medical Center. Deborah lives in the East Village in New York City.
John Grey: Australian born poet, US resident since late seventies. Works as financial systems analyst. Recently published in Slant, Briar Cliff Review and Albatross with work upcoming in Poetry East, Cape Rock and REAL.
Joanne Grumet teaches writing at the City University of New York and has taught Linguistics and worked as a lexicographer. Her songs can be heard at www.myspace.com/joannegrumet.
Patrick Henry: Born 1938, Yorkshire, England, Irish parentage. Customs Officer London, Royal Airforce Draftee, Cyprus, 1957-59. Wrote poetry in London, Paris, Cornwall; worked construction, farming, factory, café, bookshop jobs. Published On the Track, Peterloo Poets 1971. Published translations of Fruits of Winter, Prix Goncourt, 1970 and Women of The Celts, Cremonesi, 1975. Adult student at University of Wales, University of East Anglia, Trinity College, Hartford Connecticut during 1980s. Painting exhibition Paris, 1998. Poetry Reading Tour in New York 2001 arranged by Big City Lit. Painting Exhibition, Australia, 2003. Poetry Reading and Painting Exhibition tour New York State, 2004, arranged by The Author's Watermark and Poets & Writers. Poetry and prose featured in BigCityLit and in www.thisisull.com (UK website), 2001-2007. He is a contributing editor of the magazine.
Jill Hoffman is the Founding Editor of Mudfish and Mudfish Individual Poet Series. She has a PhD in Literature from Cornell University, an MA from Columbia and a BA from Bennington. Her first book of poems, Mink Coat, was published by Holt, Rinehart & Winston in 1973. Her first novel, Jilted, was published by Simon & Schuster in 1993. She was awarded a Guggenheim Fellowship for Poetry in 1974-1975. She published Black Diaries, poems, with Box Turtle Press in 1990; and The Gates of Pearl, a book-length poem, is forthcoming in 2008/09. She is presently at work on two novels. She lives in New York, and teaches fiction and poetry writing in her home.
Ann Lauinger's book, Persuasions of Fall (University of Utah, 2004), won the Agha Shahid Ali Prize in Poetry. Her work has appeared in publications such as The Christian Science Monitor, The Cincinnati Review, Measure, Parnassus: Poetry in Review, Smartish Pace, and Zone 3, and on Poetry Daily and Verse Daily. She is a member of the literature faculty at Sarah Lawrence College.
Linda Lerner: A new collection, Something Is Burning in Brooklyn, will be published in the spring, 2009, by Iniquity Press / Vendetta books. Previously, Living in Dangerous Times was published by Pressa Press(2007) and City Woman by March Street Press (2006)—both were Small Press Picks). Recently, her poems have appeared in or were accepted by the following journals: The New York Quarterly, Home Planet News, New versenews, Chiron Review, Rubber Side Down (The Biker Poet Anthology) , Rockhurst Review and Nomad's Choir. Her essay, "A funky Blues riff" — on Hayden Carruth appeared in Small Press Review in the Nov/Dec issue.
Richard Levine, who appears here as Richard Levine, is the author of A Language Full of Wars and Songs (Pollack Press) and Snapshots from a Battle (Headwaters Press). Books and literary magazines aside, his work has of late and early appeared in a storefront window on Smith Street in Brooklyn, and carved or painted on trees on a densely wooded mountain where he was last seen walking off pack-less with a tree or poem under each arm, his ambitions erasing the distinction between the two.
Marc Levy was an infantry medic with Delta 1/7 First Cavalry in Vietnam and Cambodia in 1970. He can be reached at silverspartan@gmail.com
Natasha Lvovich is a linguist, language teacher, writer, and scholar of second language acquisition and bilingualism. She was born and raised in a Jewish family in Moscow, Russia, coming of age during the Brezhnev era. She became bilingual Russian/French in her early childhood and continued her linguistic training at the Moscow Linguistic University, where she majored in French linguistics and literature. English was her third language and Italian was her fourth.
In 1988 Natasha and her family emigrated to the U.S.A. where she began teaching English as a second language, complementing it by teaching Russian and French. In 1995 she graduated from a non-traditional inter-disciplinary doctoral program at the Union Institute and University, as a PhD in applied linguistics. Her book of autobiographical narratives on language and culture learning, The Multilingual Self, was published by Lawrence Erlbaum Associates Publishers in 1997.
As Professor in the Department of English at Kingsborough Community College, CUNY, Natasha Lvovich teaches ESL, composition, and literature courses. She is an established scholar with a number of publications in the area of second language and cultural identity, bilingualism and emotions, and language and acculturation. But it is in creative writing and in personal narrative, rich with conceptual, metaphoric, and psychologically loaded possibilities, that she found her voice and her own form of intellectual inquiry about the complexities, ambiguities, and splits of a bilingual-bicultural individual, an immigrant, and a "trans-lingual" writer. Renamed and Deleted is a selected essay from her new unpublished manuscript of creative nonfiction inspired by her recent visit to Moscow.
Charlotte Mandel's seventh book of poetry, Rock Vein Sky, was recently published by Midmarch Arts Press. As an independent scholar, she has published a series of articles on the role of cinema in the life and work of poet H. D. For several years, she taught poetry writing at Barnard College Center for Research on Women.
Diana Manister is New York City poet who has performed at such venues as the late lamented punk rock club CBGB's, St. Mark's Church Poetry Project, The Living Theater, Bowery Poetry Club, the Lyric Recovery Festival at Carnegie Hall, as well as at colleges and universities.
A Contributing Editor of Big City Lit, she is also an elected member of the American Branch of the International Critics Association (AICA). Her poetry reviews appear regularly in The Modern Review and online at BigCityLit, about.com, small press exchange and artezine. Her poems have been published and exhibited in print and web publications including PoetryRevolt, Autumn Sky, Salonika, Big Bridge, Waterworks, The Cleave, snarke.com and others.
Her poetry has been anthologized in Compilations 1, The Best of 2008 Online Poetry published by Poetry Blog Rankings, and in an upcoming anthology of experimental poetry from Wordpress titled The Cleave Anthology 2008/9 for which one of her visual poems provides the cover art.
Katya Mezhibovskaya is a New York based graphic designer. Born in Moscow, Russia and raised in Brooklyn New York. Katya studied Painting and Gender Studies at the Maryland Institute College of Art and completed her Bachelor of Fine Arts degree in the Graphic Design and Advertising program at the School of Visual Arts in New York. She considers her work to be driven by stewardship, the safeguarding of knowledge and the practice of graphic design as a way of writing love letters to ideas.
Philip Miller's recent poetry has or will appear in many magazines and journals including The Cape Rock, The Seventh Quarry (Wales), Poetry Midwest, Birmingham Poetry Review, Gargoyle, and Seam (UK). His chapbook, Fathers' Day, won Ledge Press' 1995 chapbook award. Of his six collections, the most recent is The Casablanca Fan (Unholy Day Press). He lives in Mount Union, PA where he edits The Same and is a contributing editor of Big City Lit.
Martin Mitchell, former editor of Rattapallax (2001-06) and of Pivot (1983-98), reviewed films for several publications, including After Dark for the length of its existence (1968-81). He is a contributing editor of the magazine.
Susan Moger is an award-winning author and freelance editor and writing instructor. Her novel Grace at War, about the impact a returning Vietnam veteran has on his younger sister, won first place in the 2008 Maryland Writer's Association Novel Contest (Mainstream/Literary category). It is based on extensive interviews and correspondence with Vietnam veterans, including women veterans. Susan is currently querying agents for representation.
Two of her short stories about the Vietnam War were published on the OpEd page of The New York Times in 1973 and 1974. More recently she has published a short story in the Bellevue Literary Review. In 2006 her book, A Poem for Every Day!, a poetry anthology, was published by Scholastic Teaching Resources. She has published four other books with Scholastic, including Teaching the Diary of Anne Frank (EdPress Award 1999), which will be reprinted in September 2009.
Michael Morical works as a freelance editor in Taipei. His poetry has appeared in The Pedestal Magazine, LanguageandLiterature.net, The New York Quarterly and other journals. Sharing Solitaire (Finishing Line Press) is his first chapbook.
Mark Nickels is the author of Cicada which appeared in 2000 from Rattapallax Press. He lives and works in New York and is writing verse, fiction and catching up on Psychology and Biology at CUNY Hunter College.
D. Nurkse's latest book is The Border Kingdom (Knopf, 2008). He was recently elected to the board of Amnesty International USA.
eve packer: bronx-born poet-performer, has just released fourth poetry/jazz cd w/saxophonist noah howard, now playing…. their three previous cds are west frm 42nd, that look, cruisin' w/moxie all available frm ncdsales.com or cdbaby.com. She has two books from Fly By Night Press, skulls head samba, and playland poems 1994-2004.
Of that book, Donald Hall (Ploughshares, spring '05) wrote "…I salute her as the Weegee poet…" She lives downtown, swims daily.
Ron Price works at the Juilliard School for the Performing Arts. He has also taught as a Poet in the Parks, in the Schools and in the Prisons in Tennessee and Pennsylvania — these in addition to an endless string of useless jobs that include mailroom gopher, assembly line worker, forklift driver, leather craftsman, house organ editor, parking lot attendant and bookstore clerk. He has published in, among others, The American Poetry Review, The Hindu (India), Leviathan Quarterly (U.K.), The Painted Bride Quarterly, Poetry, Revista Forum (Mexico,) and Zone3. He is a past U.S.I.A. Visiting Poet to Belgium; has read and lectured throughout India as part of a response titled "Artists Reply to Terror" for the Bureau of Cultural and Educational Affairs; and has twice given a similar series of talks and readings in Israel for the American Center. He is the author of Surviving Brothers, A Crucible for the Left Hand, and A Small Song Called Ash from the Fire.
Jacob Scheier is a Toronto born poet and journalist living in New York City. His debut poetry collection More to Keep us Warm, (ECW Press) won the 2008 Governor General's Award. His poems have appeared in several literary journals across Canada, and been aired on CBC radio. This is his first American poetry publication. Scheier is also a regular contributor of articles to Toronto's NOW magazine, and NYC's The Indypendent.
Kryssa Schemmerling was born and raised in California but has made her home in New York City for many years, where she received an MFA in film from Columbia University. An award-winning writer and director of short films, she is currently working on a feature-length screenplay to be produced by Danny Glover's production company, Louverture Films. She is also finishing a documentary about surfers in Rockaway Beach, Queens.
After years of writing and painting, Peter Schwartz has moved to another medium: photography. In the past his work's been featured in many prestigious print and online journals including: Existere, Failbetter, Hobart, International Poetry Review, Red Wheelbarrow, Reed, and Willard & Maple. Doing interviews, collaborating with other artists, and pushing the borders of creativity, his mission is to broaden the ways the world sees art. Visit his online gallery at: www.sitrahahra.com.
Maggie Schwed's poems have appeared or are forthcoming in Western Humanities Review, Raritan, Nimrod, Commonweal, Pleiades, Barrow Street, and other magazines, on-line publications, and anthologies. She was a finalist for the 2006 Morton Marr Poetry Prize and for the 2008 Erskine J. Poetry Prize. Her chapbook, Out of Season, was published in 2008 by Finishing Line Press. She reviews for Pleiades and Smartish Pace. Her master's degree is from the University of Chicago's Committee on Social Thought. She lives with her husband in New York City, where she taught high-school English and adult literacy while her children were growing up. For the past four years, she has been learning to farm, first with Bobolink Dairy and now with the Stone Barns Center for Food and Agriculture.
Hugh Seidman's last collection Somebody Stand Up and Sing (New Issues, 2005) won the Green Rose prize. An Ebook, New Poems, is currently downloadable from Ahadada Books (http://www.ahadadabooks.com/content/view/51/31/).
Jared Smith is the author of seven published books of poetry, and his Selected Longer Poems: 1984-2008 is forthcoming out from Tamarack Editions. His poems, essays, and literary commentary have appeared regularly in such journals as New York Quarterly, The Smith, Home Planet News, Kenyon Review, Small Press Review, Rhino, Spoon River Poetry Review, Change, Bitter Oleander, Confrontation, Poet Lore, and many others over the past 30 years. He has served on the editorial committees of The New York Quarterly, Home Planet News, and The Pedestal.
Kristen Spears lives in Petoskey, MI, with her husband Craig and six-year old son Esmond, and besides working full time manages to read a lot of poetry and practices the craft as frequently as her full life allows. She frequently visits New York State and New York City.
Angelo Verga is a poet, teacher, and editor, who curates the most influential series of readings in New York City, the 325 or more a year literary events at the Cornelia Street Cafe. He has published six collections of poetry to date, including 33 NYC Poems (Booklyn, 2005). He lives at the southern tip of Manhattan where he keeps one eye on Wall Street and the other on The Statue of Liberty.
Barry Wallenstein is the author of five collections of poetry. A new book, Tony's World, is due out early 2010. A special interest of his is presenting poetry readings in collaboration with jazz. He is an Emeritus Professor of literature and creative writing at the City University of New York and an editor of the journal, American Book Review. He has traveled widely giving poetry readings with musicians in London, Dublin, Cape Town, Prague, and Paris. His latest recording, Euphoria Ripens [Cadence Jazz] was listed among the "Best Jazz Recordings of 2008" in AllAboutJazz magazine.
Alison Woods is a poet and lyricist who has published poems in BigCityLit.com, Poetry East, Rattallapax, Rattle, The Kean Review, The National Poetry Review, The Paris Review, and The Western Humanities Review. Nominated twice for a Pushcart Prize, she co-wrote several songs on God's House, a 2008 CD by singer/songwriter Marion LoGuidice featuring a duet with Cyndi Lauper and is currently collaborating on a new CD with Steve Addabbo (Suzanne Vega, Shawn Colvin). She received her MFA from Columbia University and has taught writing at Montclair State University, Kean University and Fashion Institute of Technology.
Rob Wright is a poet living and working in Philadelphia. He has been a regular contributor to Big City Lit since 2001. He was awarded Fellowships in Literature from the Pennsylvania Council on the Arts in 2005 and 2007 and twice been nominated for a Pushcart. His poetry has been published by Schuylkill Valley Journal of the Arts, Headwater Press, and in the magazines Big City Lit and Siren's Silence. He has read his poetry at the First Person Arts Festival in Philadelphia, the Philadelphia Fringe Festival, Studio 34 in Philadelphia, and at the Gotham Book Mart and the Cornelia Street Cafe in New York City.