nyc

BigCityL

i

t

.com

the rivers of it, abridged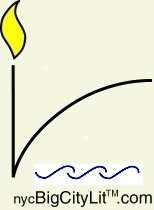 Poetry:
Living Off Balance: This Spring's collection, guest-edited by Martin Mitchell, includes work by Robin Becker, Mary Legato Brownell, Gretl Claggett, Tony Connor, Margot Farrington, Gerald Fleming, Lesleigh Forsyth, David M. Katz, Gerry LaFemina, Kim Lasky, Lynn McGee, Philip Miller, Robert Minhinnick, Mary Noonan, Chris O'Carroll, Charles Pierre, Lisa Rhoades, M. A. Schaffner, Maurice Riordan, Neil Rollinson, David Romtvedt, Wendy Sloan, Matthew Sweeney, Gordon Walmsley and Gary J. Whitehead
Twelve (selected by Martin Mitchell):
Big City, Little:
Patrick Henry, Song on Awaking
Interview:
Poet-to-Poet episodes are now on YouTube: Robert Dunn interviewing X. J. Kennedy
Fiction:
Ryan C. Christiansen, The Blower
Ann Bogle, Gerade rechts zum Volkszimmer
Mitch Levenberg, The Game Farm
Reviews:
Katie Phillips' Driving Montana, Alone, reviewed by Lynn McGee
Sarah White on Paul Oppenheimer's In Times of Danger
Estha Weiner's Transfiguration Begins at Home, reviewed by Susana H. Case
Fran Castan's Venice: City That Paints Itself, reviewed by Bonnie Walker
George Wallace on Veronica Golos' Vocabulary of Silence
Articles:
William Matthews: A Well Spoken, Worldly and Ironic Gentleman by Melinda Thomsen
Robert Klein Engler, Shirts of Flame: Poetry in the Space Age
Essays:
Bright Containers, by Quitman Marshall, from his unpublished collection of essays, Swampspirit.
Jared Smith, Seeking a Transrational Contemporary Postmoderism
Bookshelf:
Immersion, Michele Wolf
No Back Door, Mervyn Taylor
The music of Duo Fortuna: http://www.myspace.com/duofortuna
CDs:
Jeffrey Foucault: Horse Latitudes
Events:
Saturday, June 4th, 1:00 to 3:00 pm
BigCityLit Reading
Contributors to the 2011 Spring Issue
Host: Guest-Editor Martin Mitchell
The Bloomingdale branch
of the NYPL
150 West 100th Street
(b/t Amsterdam & Columbus)
Free admission

Featuring work by Mary Legato Brownell, Gretl Claggett, Margot Farrington,
Lesleigh Forsyth, David M. Katz, Gerry LaFemina, Lynn McGee, Charles Pierre,
M.A. Schaffner and Wendy Sloan
Tract 187 Culture Clatch
Reading and musical event series
Features & open mike
Host: Ronnie Norpel
Ding Dong Lounge, 929 Columbus Ave.
@ 106th St. (B/C/#1 to 103)
Price: FREE! Happy Hour til 8!
When: 6:30 pm-9:00 pm, 1st & 3rd Wednesdays
Tract187.com Live stream starts at 7:00 pm
Saturday, October 29th, 2011, 6:00 pm
Philip Miller Tribute
Cornelia Street Café
Host: Patricia Brody
29 Cornelia Street
b/t Bleecker & West 4th
Cover $7 (includes one house drink)
Letters:
Big City Lit welcomes letters from its readers. Address correspondence to Editors@nycBigCityLit.com
Print Series:
All Print Series Suspended
Contests:
For the present, all Contests suspended.
Masthead Notes:
We welcome Melinda Thomsen as a Contributing Editor of the magazine.
Contributing Editors:
Martin Mitchell, Barry Wallenstein, James Ragan, Patrick Henry (UK), Diana Manister, Margo Berdeshevsky, George Wallace, Larissa Shmailo, Brant Lyon, Melinda Thomsen