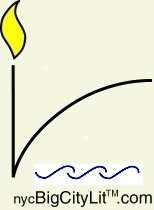 Contributor Notes


Spring 2010
Joel Allegretti is the author of two full-length books from The Poet's Press: The Plague Psalms and Father Silicon, which was selected by the Kansas City Star as one of 100 Noteworthy Books of 2006. His third collection, Thrum, a chapbook of poems, prose poems and brief poetic essays about musical instruments, appeared in 2010 from Poets Wear Prada Press.
His work has appeared in many national journals, including The New York Quarterly, Margie, Rattapallax, BigCityLit, Xcp Cross-Cultural Poetics and Confrontation. His poetry was the basis of a song cycle by composer Frank Ezra Levy that had its world premier in 2009 at Kean University in New Jersey.
Award-winning poet and editor Laurel Blossom is the author, most recently, of Degrees of Latitude, a book-length narrative poem published by Four Way Books in 2007, telling the geography of a woman's life from Pole to Pole. Previous books of lyric poetry include Wednesday: New and Selected Poems, The Papers Said, What's Wrong, and Any Minute. Blossom's awards include fellowships from Ohio Arts Council, New York Foundation for the Arts, and the National Endowment for the Arts. Her current project is a companion piece to Degrees of Latitude called The Longitude Problem. Blossom is co-founder of the esteemed writing workshop and residency program, The Writers Community, towards which George Plimpton extended his generosity and friendship.
Nadia Brunstein: translator, simultaneous interpreter, editor working in Romanian, Russian and English. Co-translated with Stefan Dimitriu the poetry of Evgheny Evtushenko from Russian into Romanian (Late Honey, CD Press, Bucharest, 2006) for which she also wrote the foreword. Revised the Romanian translations of several Philip Roth novels (Indignation, Exit Ghost, My Life as a Man, Operation Shylock, etc. Editura Polirom). Translated Anna Akhmatova's poem "By the Sea" from Russian into Romanian (published by Scrisul Romanesc, Craiova, 2010). Wrote a non-fiction volume The Road Seen in the Mirror in Romanian (Editura Meronia, 2004).
Philip Dacey's latest of ten books is Vertebrae Rosaries: Fifty Sonnets (Red Dragonfly Press, 2009). Winner of three Pushcart prizes, two NEA fellowships, and a Fulbright to Yugoslavia, he has written books of poems devoted entirely to Gerard Manley Hopkins, Thomas Eakins, and New York City. More at www.philipdacey.com.
Kristina Marie Darling is the author of a full-length poetry collection, Night Songs, which is available from Gold Wake Press. Her work has been published in The Gettysburg Review, The Boston Review, Shenandoah, The Colorado Review, New Letters, and other periodicals. Awards include residencies at the Vermont Studio Center, the Ragdale Foundation, and the Virginia Center for the Creative Arts, as well as scholarships from the Squaw Valley Community of Writers and the Colgate Writers Conference. She currently studies philosophy at the University of Missouri, St. Louis and hopes to pursue a doctorate in English literature.
Stephanie Dickinson was raised in rural Iowa and now lives in New York City. Her poetry and fiction appear in Cream City Review, Green Mountains Review, Chelsea, Nimrod, Iron Horse Review, Inkwell, Ontario Review, Water Stone, Columbia Journal, McGuffin, among others. Along with Rob Cook, she publishes and edits the literary journal Skidrow Penthouse. Her Half Girl won the Hackney Award (Birmingham-Southern) and is published by Spuyten Duyvil. Her story "A Lynching in Stereoscope" appears in Best American 2005 Nonrequired Reading edited by Dave Eggers. "Dalloway & Lucky Seven" and "Love City" are reprinted in New Stories from the South, The Year's Best 2008 and 2009. She recently finished a novel of Katrina entitled Memory & Bluejay.
Allen C. Fischer, former director of marketing for a nationwide corporation, brings to poetry a background in business. His poems have appeared in Atlanta Review, Indiana Review, The Laurel Review, Poetry, Prairie Schooner, Rattle, The Same and previously in Big City Lit.
Joanne Grumet teaches writing at the City University of New York and has taught linguistics and worked as a lexicographer. Her poetry has been published in BigCityLit and her songs can be heard at www.myspace.com/joannegrumet.
Pamela Hart is writer in residence at the Katonah Museum of Art where she coordinates a visual literacy program called Thinking Through Art. She also teaches writing at Long Island University's Graduate School of Education. Her chapbook, The End of the Body, was published in 2006 by Toadlily Press.
Patrick Henry: Born 1938, Yorkshire, England, Irish parentage. Customs Officer London, Royal Airforce Draftee, Cyprus, 1957-59. Wrote poetry in London, Paris, Cornwall; worked construction, farming, factory, café, bookshop jobs. Published On the Track, Peterloo Poets 1971. Published translations of Fruits of Winter, Prix Goncourt, 1970 and Women of The Celts, Cremonesi, 1975. Adult student at University of Wales, University of East Anglia, Trinity College, Hartford Connecticut during 1980s. Painting exhibition Paris, 1998. Poetry Reading Tour in New York 2001 arranged by Big City Lit. Painting Exhibition, Australia, 2003. Poetry Reading and Painting Exhibition tour New York State, 2004, arranged by The Author's Watermark and Poets & Writers. Poetry and prose featured in BigCityLit and in www.thisisull.com (UK website), 2001-2007. He is a contributing editor of the magazine.
Kate Irving started as a songwriter and studio singer — movie themes, tv & radio commercials and records. She has written and edited newsletters for educational and non-profit organizations promoting sustainable agriculture and organic farming, and lobbied for the reduction of pesticide use. Her poems have appeared in BigCityLit, Press 1, qaartsiluni, Tamarind, What Happens Next, White Rabbit, and can be heard on WBAI. In another life she was a three star chef.
Dean Kostos' poetry collections include: Last Supper of the Senses, The Sentence That Ends with a Comma, and Celestial Rust. He co-edited Mama's Boy (a Lambda Book Award finalist) and edited Pomegranate Seeds. A Pushcart Prize nominee, he has had poems appear in Boulevard, Chelsea, The Cimarron Review, The Cincinnati Review, Reading Brokeback Mountain, Southwest Review, Western Humanities Review, on Oprah Winfrey's Web site Oxygen.com, and elsewhere. His literary criticism has appeared on the Harvard UP Web site, in Talisman, and elsewhere. Having taught at Wesleyan, The Gallatin School of NYU, and The City University of New York, he has also served as judge for Columbia University's Gold Crown and Gold Circle Awards. He was recently appointed as the editor of Journal of the Hellenic Diaspora.
Richard Levine, a recently retired public school teacher, is learning to steward a forest. "I've introduced a greater diversity of trees and created more trails and habitat, but I'm most excited about the posting of poems in the wood — I call it the Poetree Antheology. There's so much to do — I still need to attract more worms to my garden soil, and find a harmony-singing fiddler." He is the author of That Country's Soul (Finishing Line Press, 2010), A Language Full of Wars and Songs (Pollack Press, 2004), and Snapshots from a Battle (Headwaters Press/BigCityLit 2001).
Nicole Martinez is a seventeen year old high school senior. She loves writing and she has participated in her school's literary magazine for three years. She lives in California's bay area.
Philip Miller has poems scheduled to appear in Barrow Street and The New Mexico Review. A new book, The Ghost of Every Day, is forthcoming from Spartan Press. He lives in Mount Union, PA and is a contributing editor of Big City Lit and edits The Same.
Michael Morical is a freelance editor in Taipei. His poetry has appeared in The Pedestal Magazine, The Hardy Review, Xavier Review and other journals. Sharing Solitaire is his first chapbook.
Valery Oisteanu is a writer and artist with an international background. Born in Russia in 1943 and educated in Romania, he adopted Dada and Surrealism as philosophies of art and life. Immigrating to New York City in 1972, he has been writing in English for the past 33 years. Oisteanu is the author of 10 books of poetry, a book of short fiction and a book of essays: The Avant-Gods.
For the past 10 years he has worked as a columnist at New York Arts Magazine and as an art critic for Brooklyn Rail and www.artnet.com. He is also a contributing editor at www.artscape.com and a contributing writer for French, Spanish and Romanian art and literary magazines including La Page Blanche, Art.es, Balkon, Dilema, and Romania Literara.
As a performer Valery Oisteanu is well known to downtown New York City audiences, performing every season with the exception of the summer, when he goes on tour abroad. He is always well-received in theaters and clubs specializing in poetry and music where he presents original Zen Dada multi-media shows in his unmistakable style of "Jazzoetry."
Richard Pearse's Private Drives: Selected Poems 1969-2001 came out from Rattapallax Press. His poems and stories have appeared in over thirty magazines, including The Paris Review, New York Quarterly, Prairie Schooner, Fiction, and Rattapallax. He is a professor emeritus at Brooklyn College, where he still teaches in the Masters Program in Poetry. He has also taught at Delaware, Dartmouth, and NYU. Recently he has been concentrating on short-short fiction, some of which has been published in Quick Fiction and anthologized in Sudden Stories.
Ellen Peckham has read, published and exhibited in the U.S., Europe and Latin America. As a result of an exhibition at IPCNA in Lima, Peru in 2009 and of readings of her work in Spanish she has a bi-lingual book coming out there. She frequently uses both art forms in a single work, the text decorating and explicating and the image illuminating. Her archives of drafts, edits and art are collected at the Harry Ransom Center For The Humanities and a 7 minute visual biography, Parallel Vocabularies, is available on DVD and via her website, www.ellenpeckham.com.
Bertha Rogers' poems have been published in literary magazines and journals and in several collections. Her latest collection, Heart Turned Back, was published by Salmon Poetry Publishing, Ireland in 2010; her translation of the Anglo-Saxon epic, Beowulf, was published in 2000; her translation of the Anglo-Saxon riddle poems from the Exeter Book, Uncommon Creatures, Singing Things, will be published in 2010.
Carl Rosenstock was born in Albany, New York, and grew up on a farm near there. He received a BA in Asian History from Union College, and an MFA in Creative Writing from Vermont College. His work has appeared in various magazines, and anthologies. He lives and works on the westernmost end of Long Island, in Brooklyn, New York, where he curated the Night–&–Day Reading Series.
Jared Smith's Selected Longer Poems was released this May by Tamarack Editions (PA,) and his 9th volume of poetry, Grassroots, will be released this August by Wind Publications (KY).
Anna Soo-Hoo will begin her MA in French at Hunter College CUNY in the Fall 2010 semester.
Matthew J. Spireng's book Out of Body won the 2004 Bluestem Poetry Award and was published in 2006 by Bluestem Press at Emporia State University. His chapbooks are: Young Farmer; Encounters; Inspiration Point, winner of the 2000 Bright Hill Press Poetry Chapbook Competition; and Just This. His book What Focus Is is forthcoming in 2011 from Word Press. Clear Cut, a signed and numbered limited edition chapbook of his poems and photographs by Austin Stracke on which the poems are based, is forthcoming from Hampden-Sydney College.
Susan Tepper is author of the poetry collection Blue Edge (Cervena Barva Press). Another collection will be released by the same press later this year. She's had poems in Salt Hill, The Cortland Review, Poetry Salzburg Review, Orbis, The Stony Thursday Book, LIPS, Ibbetson Street Press, New Millennium Writings and elsewhere.
Born in Chicago, Richard Thieme taught literature and writing at the University of Illinois, served as an Episcopal priest for sixteen years, and has since 1993 traveled the world as a professional speaker, enlightening audiences from Berlin to Brisbane, Amsterdam to Auckland, on the impacts of technology on human identity and organizations, spirituality/religion, and security and intelligence. He also speaks about creativity, reinventing ourselves, and biohacking (the porting of hacking skills to biotechnology). His pre-blog column,"Islands in the Clickstream," was distributed to thousands of subscribers in sixty countries before collection as a book by Syngress/Elsevier. His latest book is Mind Games from Duncan Long Publications, a collection of nineteen stories of brave new worlds and alternate realities. He can be reached at rthieme@thiemeworks.com or www.thiemeworks.com.
Melinda Thomsen's poetry and book reviews have been published or are forthcoming in journals such as Poetry East, Big City Lit, New York Quarterly, Home Planet News, Elysian Fields Quarterly, Alimentum, Heliotrope and the anthologies Blues for Bill: A Tribute to William Matthews, Spring from Gatehouse Press Ltd. in Great Britain, Token Entry —NYC Subway Poems and In the Black/ In the Red from Helicon Nine Editions. She was a semi-finalist in the 2004 "Discovery"/The Nation poetry contest. Finishing Line Press published her chapbook Naming Rights in June 2008, and she's currently working on her MFA in Writing at Vermont College of Fine Arts. She teaches English as a Second Language at LaGuardia Community College in Queens, NY.
George Wallace is author of nineteen chapbooks of poetry, including Poppin' Johnny (Three Rooms Press, 2009). He is editor of Poetrybay, Poetryvlog and other publications.
Barry Wallenstein is the author of six collections of poetry, the most recent being Tony's World, (Birch Brook Press 2010). His poetry has appeared in over 100 journals, including Ploughshares, The Nation, Centennial Review, and American Poetry Review.
Among his awards are the Poetry Society of America's Lyric Poetry Prize, (l985), a resident fellowship to The Macdowell Colony (1995), and to Hawthornden Castle in Scotland (1999). Since 2003 he has had an annual residencies at Le Monastère in Saorge, France, where he also presents workshops at local schools. Over these years he has given readings in London, Dublin, Cape Town, Prague, Paris and Nice.
A special interest of his is presenting poetry readings in collaboration with jazz. He has made six recordings of his poetry with jazz, the most recent being Euphoria Ripens [Cadence Jazz Records CJR 1210, May 2008]. The CD was listed one of the "Best New Releases" in the journal, All About Jazz (December 2008).
He is an Emeritus Professor of literature and creative writing at the City University of New York and an editor of the journal, American Book Review.
As a Professor of English at City College he founded and directed the Poetry Outreach Center, and for 35 years coordinated the city-wide Annual Spring Poetry Festival.
Chocolate Waters lives and writes in Manhattan (no, not the one in Kansas). Her latest collection, The Woman Who Wouldn't Shake Hands, will be published by Poets Wear Prada in 2010. Visit her on the web at www.chocolatewaters.com.
Estha Weiner is co-editor and contributor to Blues For Bill: A Tribute To William Matthews (Akron Poetry Series, 2005 ), and author of The Mistress Manuscript (Book Works, 2009) and Transfiguration Begins At Home (Tiger Bark Press, 2009). In the Weather of the World is forthcoming from Ireland's Salmon Press. Her poems have appeared in numerous anthologies and magazines, including The New Republic and Barrow Street. Nominated for a 2008 Pushcart Prize, she was a 2005 winner of a Paterson Poetry Prize, and a 2008 Visiting Scholar at The Shakespeare Institute, Stratford, England. Estha is founding director of The Sarah Lawrence College NY Writers Nights Series, Marymount Writers Nights, and a Speaker on Shakespeare for The New York Council For The Humanities. She is Adj. Assistant Professor of English at City College of NY, and serves or has served on the Poetry/Writing faculties of The Frost Place, The Hudson Valley Writers Center, Stonecoast Writers Conference, Poets and Writers, Poets House, and The Writers Voice. She also serves on the Advisory Board of Slapering Hol Press, Hudson Valley Writers Center. In her previous life, Estha was an actor and worked for BBC radio.
Michael Weston: Born in Endicott, NY. Self-taught artist. Oils, clay, wax and stone work. Currently in the city of Carrboro, NC. Living below the line. Looking for sanctuary to stuff my flesh and bones. Websites: http://home.mindspring.com/~darkglasses and www.absolutearts.com/portfolios/v/vougel/dart.fine-art.com.
Sarah White writes and paints in Manhattan. Her books are Cleopatra Haunts the Hudson (Spuyten Duyvil, 2007), Mrs. Bliss and the Paper Spouses (Pudding House, 2007), and The Poem Has Reasons: A Story of Far Love
(proempress.com).
Martin Willitts, Jr. was nominated for four Pushcart Awards. His second full length book of poetry is The Hummingbird (March Street Press, 2009). His eleventh chapbook is Baskets of Tomorrow (Flutter Press, 2009), and he has two forthcoming chapbooks True Simplicity (Poets Wear Prada Press, 2010) and The Girl Who Sang Forth Horses (Pudding House Publications, 2010).
Christopher Woods lives in Houston and Chappell Hill, Texas. He has published a prose collection, Under a Riverbed Sky, and a book of stage monologues for actors, Heart Speak. He shares a gallery with his wife Linda at Moonbird Hill Arts: www.moonbirdhill.exposuremanager.com.
Rob Wright has been a regular contributor to the magazine Big City Lit since 2001. He was awarded Fellowships in Literature from the Pennsylvania Council on the Arts in 2005 and 2007. His poetry has been published by Schuylkill Valley Journal of the Arts, and in the magazines Rattle, Big City Lit, and Siren's Silence. He has read his poetry at the First Person Arts Festival in Philadelphia, the Philadelphia Fringe Festival, and at Poets and Writers, the Gotham Book Mart, and the Cornelia Street Café in New York City.