nyc

BigCityL

i

t

.com

the rivers of it, abridged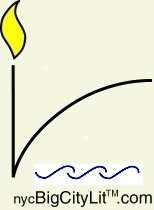 Poetry
Dean Kostos
Person Walking Through Enormous, Dark House
I swam through shadow, hair's dénouement
scrawling behind me.
Shifting figures of dust—
high, white sighs of it—dissembled,
disassembled.
When moon was milk, it flooded
tall windows, guided
my peregrinations. I never
arrived. Now, I dissolve, creak by
creak, into crevices,
devices. Voices
bleat accusations. I pad
polished floors to quiet the susurrus,
to quell the frightened "no"
of children who can't breathe between covers
of discarded books.
I try not to wake them, searching
teacups for rancid laughter
abandoned by mothers,
their bones thinner than light.
(Based on Carl Jung's The Red Book, plate 169)
The sun—lopsided
chrysanthemum—spawns larvae
of blue heads
from Akash: Einstein,
Pope Boniface, Picasso,
van Gogh, Rosa Parks,
Sophocles, Tagore,
Nefertiti, Shakespeare, King,
Michelangelo,
Hitler. As faces
surface from ghostly fluid—
images in some
primeval darkroom—
they breathe heft & flesh. But as
they pulse & expand,
tilt & orbit, they
fade to mimeograph shades,
paler, then appalled,
till flesh liquefies,
till death blossoms in the script
& scripture of bone.
Back to Poetry