nyc

BigCityL

i

t

.com

the rivers of it, abridged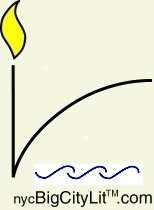 Poetry
eve packer
Ya Gotta Be Ready
4/19: mad tiny
they call you, and you like it
i tell them
i am at fashion industries h.s. & i am not in bklyn
a true statement
i am in the hippos paw or
i am blue a true
statement
i am in china a false closed statement
i am going to take a shower and
have dinner or not think
t for true
i am going to stop typing
or cry
a true disjunction
for n.j.h.
one minute youre
here
one minute
not
one minute blue sky
the next gone
you left me then
at summers end
i salute you aries
farewell
right now, this very sec,
we are up in the room
with a
view
summer, surly lover,
surely over, you are
not. winters in, my skin
quivers
cold
*
cupid, that was
a nasty trick—
shooting an arrow
laced w/arsenic & blood
thru my lovers heart,
brain—now what??
*
nothing is worse,
you said, at that first
halloween ball, as we turn
a corner downstairs, than
someone just leaving,
disappearing.
*
oh, says vincent,
helping me put
the newly clean oriental rug
on the bedroom floor,
you miss him
*
i can hear you,
on recorded tape, my cell, landline machine,
on lots of cd's old & new,
but never can you say, once more,
the way you did the last time
we talk: i just wanted
to hear your voice—
*
decide
on a treat, take a taxi
up 10th ave for a (short)
2nd swim—the driver
late—its after 5—
8.20 the fare—i give 10, say: hope you get
where you need to/go
Back to Poetry