nyc

BigCityL

i

t

.com

the rivers of it, abridged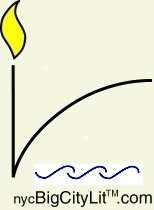 Poetry
Hilary Sideris
Oh What Would I Give
to be somewhere else—far from this house,
this couch, your dad, watching TV's deep
golden fries & pickup trucks—luxurious
but tough; to walk on a street where
humanity, the real thing, passes by,
high-heeled, made-up, trench-coated,
tied, accented, asking, Which way
to Broadway? Remember the Arabic
herb store on Bleecker, no doubt a chic
boutique by now, where I bought zatter
& ras el hanout, which they took from me
on the plane? What week do you think
I could come this spring? I'm there,
as soon as I can dump this cane.
Back to Poetry