nyc

BigCityL

i

t

.com

the rivers of it, abridged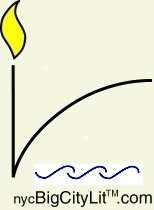 Poetry


Fall 2008
Angelo Verga
Intercultural
Baguette Donut, Donut Baguette
Skirted, thigh over thigh,
Knee over knee
The pert Chinese woman
Eats a spinach salad and quiche
In gleaming Parisian respectability
On a midday Broadway island bench
While a disordered street man
Explains himself to the traffic
I talks out loud now & then
I don't really want a match
I just wants to get laid
I gave up smoking months ago
Brick courtyard, night trees,
Points of sharp light on Hebraic text,
Cross-legged mourners on itchy bedspreads
The slight soloist, Israeli by her accent
Replicates one droning trope
Without end, she implores forever
The maidens have been degraded
The old men have ashes on their foreheads
Jerusalem has been entered and tainted
The ninth of Av, The Temple in flames
The all-powerful lets fall his irate hand
The tribe must never end this moan, this pray
The text blurs the stars far away, flesh sways
The grieving plead for mercy, and revenge
One large amorphous understanding
Or a myriad of small confessions.
I remember a red bedroom
Its cool sunlight in the morning.
The mahogany head stand, soft
Floral rug awaiting our sleepy feet.
You remember something I
Shouldn't have said, and even more
I should not have even thought of.
The few minutes we talk
Under the dark temporary trees,
We can believe anything we make up
I'm still sleeping under blankets in May
A year without a spring,
Wall Street is falling, falling
Why not work on sorrow today?
At my age, I'm apt not to have a baby
I'll just work on being unhappy today
Back to Poetry