nyc

BigCityL

i

t

.com

the rivers of it, abridged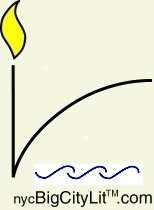 Poetry
Abigail Welhouse
Assembly Required
You opened my mouth,
but you never tried all my tongues.
Give me back the one that's sharp and red.
You buried it beneath the mattress
when you switched out my teeth
for soft ones you'd sanded.
How can you leave me out here,
when the garage shares a wall with your bedroom?
I can hear her.
Does she look like me?
Unlike me, her skin is warm to touch.
Unlike me, she always says yes.
In the mornings, eggs & bacon
and a throaty "I love you. Please stay."
I could've said that for you, too.
You could've even made me gasp and growl
if you'd recorded a voice
and pushed the button.
Now, I'm your flotsam.
Made silent, I wait for the tide.
Back to Poetry