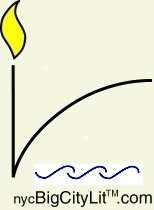 Contributor Notes


Fall 2014 / Spring 2015
Holly R. Appling lives in Canada. Her writing has appeared in publications such as QWERTY, Carousel, Leaf Press, The Round Magazine and previously in nycBigCityLit. A new poem,"blue-jay" is forthcoming in Prairie Fire Magazine.
Patricia Brody's American Desire won Finishing Line's 2009 New Women's Voices Award. Dangerous To Know was published by the Irish press Salmon Poetry in 2013. Brody's poems have appeared in various journals including Barrow Street, The Paris Review, Poetry Daily and BigCityLit, as well as the anthologies The International Journal of Feminist Politics and Chance of a Ghost.

Philip Dacey's latest of thirteen books of poems is Church of the Adagio (Rain Mountain Press, 2014), and his previous book, Gimme Five, won the 2012 Blue Light Press Book Award. Work of his appears in Scribner's Best American Poetry 2014. The winner of three Pushcart Prizes, Dacey is the author of complete volumes of poems about Gerard Manley Hopkins, Thomas Eakins, and New York City.
Paul Espel lives in rural upstate New York. He likes children (has two). And does not own a dog. His latest poetry collection is "Broken Ground." He also has a book of comic poetry, "Broken Wind."
Allen C. Fischer brings to poetry a background in international studies and business -- previously a director of marketing for a nationwide corporation. A past contributor to BigCityLit, his poems have appeared in Atlanta Review, Indiana Review, The Laurel Review, Poetry, Prairie Schooner and Rattle.
Patrick Henry was born in Scarborough, North Yorkshire, in 1938.
His maternal grandfather, Company Sergeant Major Will Birt, East Yorkshire Regiment, died at Abbeville from wounds sustained in the Second Battle of The Somme, 1918. His father, Private James Henry, Durham Light Infantry, survived the Battle of Loos, 1915, and then served in the Royal Navy Minesweepers, 1916-18. And then served in The Inniskillen Dragoons in Punjab, India. 1919-26. And then served in the RAF in Britain and Africa, 1939-45.
Patrick Henry served in the RAF in the Cyprus Emergency Campaign, 1957-59, and was awarded the General Service Medal, Cyprus. He has published poems in magazines, pamphlets and websites, in Yorkshire, Manchester, Cornwall, Cambridge (England), Cambridge, (Massachusetts), Paris, and New York. He has performed poetry reading tours throughout Britain, and in Ireland, Paris, New York City, New York State and Australia. In 1995 he visited the Anzac Cemetery at Gallipoli, Turkey. In the years 2000-2003, he attended Anzac Day tributes at the Australian towns of Broken Hill, Alice Springs, and Whyalla. He publishes travel essays in the New York website: nycBigCityLit.com He now lives in Scarborough, again.
Marc Jampole wrote Music from Words, published by Bellday Books (2007). His poetry has appeared in Evansville Review, Mississippi Review, Cortland Review, Vallum, Slant, Cutthroat, Ellipsis and other journals. Over the years, four of his poems have been nominated for the Pushcart Prize. More than 1,500 freelance articles he has written on various topics have been published in magazines and newspapers. Marc also writes the OpEdge blog, which appears on the websites of two national publications.
Katrina Kostro was born, raised, and educated on the upper-Upper West Side of New York City. She studied Art History and Psychology at Barnard College, then completed a 2-year position as a clinical research coordinator at New York Presbyterian's Columbia Center for Eating Disorders in the NY State Psychiatric Institute. She composes sonnets as she sings, swims, and downward-dogs, trying to figure out the next beats of her life. She has co-authored medical articles in scientific journals, and her poems have appeared in Letters to the World: Poems from the Wom-Po LISTSERV, Columbia University's literary/art journal, Tablet, and Mezzo Cammin. She is delighted to return to BigCityLit!
Pamela L. Laskin is a lecturer in the English Department, where she directs the Poetry Outreach Center. Poetry collections include: REMEMBERING FIREFLIES and SECRETS OF SHEETS (Plain View Press); THE BONSAI CURATOR and VAN GOGH'S EAR; (Cervena Barva Press), DARING DAUGHTERS/DEFIANT DREAMS (A Gathering of Tribes) and THE PLAGIARIST (Dos Madres Press). Several children's books have been published, too, VISITATION RITES (Diversion Press) and HOMER THE LITTLE STRAY CAT (Red Balloon Press) the most recent.
Gabrielle (Gaby) LeMay moved from the Upper West Side of Manhattan to a bougainvillea-choked yellow stucco cottage in Southern California in 2008. Her chapbook, Pandora's Barn, won the 2004 Tennessee Chapbook Prize from Middle Tennessee State University. Other work has appeared in previous issues of BigCityLit as well as in Askew Poetry Journal, Blue Mesa Review, Confrontation, The Ledge, Mudfish, Paterson Literary Review, Poems & Plays, Poetry East, Poetry London, Rattapallax, The Same and other journals, and in Ravishing DisUnities: Real Ghazals in English (Wesleyan University Press, 2000), Chance of a Ghost (Helicon Nine Editions, 2005), and Low Down and Coming On (Red Dragonfly Press, 2010).
Richard Levine is the author of The Cadence of Mercy, A Tide of a Hundred Mountains, That Country's Soul, A Language Full of Wars and Songs, and Snapshots from a Battle, which was published at the turn of the century by BCL's Headwaters Press. Coincidentally, all the poems in this issue were written, sent and accepted on days in which other things occurred, including wars.
Maggie Mae has been writing since childhood. It is her one favorite passion. She has one chapbook, Some Things Ache In The Dark, published through Writing Knights Press and is currently working on a second manuscript. Other work can be found in various literary journals, including: The Screech Owl, Requiem Magazine, Yes, Poetry!, Curio Poetry, and others. Maggie Mae keeps a poetry blog at http://maggiemaeijustsaythis.wordpress.com/ She can be contacted there and through Facebook.
Diana Manister writes literary criticism for The Modern Review; Forum, The College English Association Journal; BigCityLit and About Contemporary Literature.com. She is a member of the International Critics Association and the Association of Literary Scholars, Critics and writers. Her poetry has been published in Four and Twenty, Maintenant, a Dada Journal Vols. 5,6,7,8; Big Bridge, The Ozone Park Journal, The Sheepshead Review; The New Post-Literate; Ygdrasil and anthologies. Her poem "Hubble" was set to music by composer John Raeger and premiered in Oakland and San Francisco in 2013, performed by the Piedmont Choirs conducted by Robert Geary, and in Helskinki Finland in 2014.
Stephen Massimilla is a poet, critic, professor, and painter. His co-authored book, Cooking with the Muse, is forthcoming from Tupelo Press. His latest poetry collection, The Plague Doctor in His Hull-Shaped Hat, was selected in the SFASU Press Prize contest. He has received the Bordighera Prize for Forty Floors from Yesterday; the Grolier Prize for Later on Aiaia; a Van Rensselaer Award, selected by Kenneth Koch; several Pushcart Prize nominations; and other awards. Massimilla has recent poems in AGNI, Barrow Street, Chelsea, Colorado Review, Denver Quarterly, The Literary Review, Provincetown Arts, Quarterly West, The Southern Poetry Review, Tampa Review, and Verse Daily; and his work has appeared in hundreds of other journals and anthologies. He holds an MFA and PhD. from Columbia University and teaches at Columbia University and the New School.
Lynn McGee's manuscript Heirloom Bulldog, winner of the 2014 Bright Hill Press chapbook contest, is forthcoming Spring 2015. Her full-length manuscript, Sober Cooking, is forthcoming from Spuyten Duyvil Press in January 2016.
Alex Mouw currently lives and teaches in West Lafayette, Indiana where he is an MFA candidate in Poetry at Purdue University. His poems have appeared or are forthcoming in Glass Mountain Magazine and I-70 Review.
Actress and writer Ronnie Norpel is the host and producer of the eclectic variety show TRACT 187 CULTURE CLATCH, featuring poets, prosers, actors, comedians, singers, tap dancers, hula hoopers, and musicians, gigging bi-monthly on the Upper West Side since Feb. 2011.
D. Nurkse is the author of ten collections of poetry, most recently A Night in Brooklyn (Knopf). He's a recipient of the Literature Award from the American Academy of Arts and Letters.
M. Nasorri Pavone's poems have appeared in The Cortland Review, River Styx, New Letters, Harpur Palate, The Midwest Quarterly, DMQ Review, La Fovea, Quiddity and elsewhere. She also writes plays. Her latest, Feeding Time celebrated its world premiere at the 2012 Hollywood Fringe Festival. She is a graduate of the University of California at Los Angeles and lives in Venice, California.
Bertha Rogers has published poems in journals and anthologies and in several collections, the most recent Heart Turned Back (Salmon Poetry Publishing, Ireland). She lives in the Catskills where she co-founded and directs Bright Hill Press and Literary Center.
Carl Rosenstock was born in Albany, New York, and grew up on a farm near there. He received a BA in Asian History from Union College, and an MFA in Creative Writing from Vermont College. He lives and works on the westernmost end of Long Island, in Brooklyn, New York. His work has appeared in various magazines and anthologies; he helped curate the Village Reading Series, and then curated the Night-&-Day Reading Series; and he was the Poetry Editor of Memoir, nee Memoir (&), as well as being on their editorial board.
Neil Shepard's sixth book of poetry, Hominid Up, has just been published by Salmon Poetry Press of Ireland (January 2015). His five previous books include a chapbook, Vermont Exit Ramps (Big Table Publishing, 2012), and four full collections of poetry: (T)ravel/Un(t)ravel (Mid-List Press, 2011), This Far from the Source (Mid-List, 2006), I'm Here Because I Lost My Way (Mid-List, 1998), and Scavenging the Country for a Heartbeat (First Book Award, Mid-List Press, 1993). His poems appear online at Poetry Daily, Verse Daily, and Poem-A-Day (from the Academy of American Poets), as well as in several hundred literary magazines. He teaches in the low-residency MFA Writing Program at Wilkes University (PA) and is the Founding Editor of the literary magazine Green Mountains Review.
Hilary Sideris has poems in recent issues of Barrow Street, Qwerty, Southern Poetry Review, and The Same. She is the author of Most Likely to Die, poems in the voice of Keith Richards, published by Poets Wear Prada Press. She lives in Brooklyn and works for The City University of New York.
Jim Story is the author of the short story collection, Love and Other Terminal Diseases, and two novels, Wounded by History, which National Book Critics Circle Award Winner Ben Fountain called "swift, profound, and engaging," and, most recently, to be published in early in 2015, Problems of Translation: Charlie's Comic, Terrifying, Romantic, Loopy Round-the-World Journey in Search of Linguistic Happiness. Jim's writing has appeared in Confrontation, The Same, Karamu, Folio, Pindeldyboz, Helicon, Aspen Anthology, Berkeley Poetry Review, Steelhead Review, Now, Paper Boat, Hyn Poetry Anthology, Poets, Big City Lit, Long Island University Magazine, And Then, and Home Planet News.
Barry Wallenstein is the author of seven collections of poetry, the most recent being Drastic Dislocations: New and Selected Poems [New York Quarterly Books, 2012]. His poetry has appeared in over 100 journals, including Ploughshares, The Nation, Centennial Review, and American Poetry Review. His analytical text, Visions & Revisions: The Poets' Practice [T.Y. Crowell, 1971], was reissued in a new and expanded edition by Broadview Press [2002]. In November, 2014 a bilingual E-Book, Tony's Blues was published by Recours au Poème.
Among his awards are the Poetry Society of America's Lyric Poetry Prize, (1985), and Pushcart Poetry Prize Nominations, 2010, 2011, 2012. He has had resident fellowships at the MacDowell Colony (1995), Hawthornden Castle in Scotland (1999), Fundación Valparaiso in Spain (2008) and Casa Zia Lina on Elba, Italy. Between June 2002 – June 2008, he was part of the poetry faculty at the Bear River Writers' Conference in Upper Michigan.
A special interest is his presentation of poetry readings in collaboration with jazz. He has made seven recordings of his poetry with jazz, the most recent being Lucky These Days, to be released by Cadence Jazz Records in April 2013. A previous CD, Euphoria Ripens, was listed among the "Best New Releases" in the journal, All About Jazz (December 2008).
Barry is Emeritus Professor of Literature and Creative Writing at the City University of New York and an editor of the journal, American Book Review. In his capacity as Professor of English at City College he founded and directed the Poetry Outreach Center, and for 35 years coordinated the all-inclusive citywide Annual Spring Poetry Festival. He remains an active advisor and participant in this program. www.barrywallenstein.com
Poetry Coach Thom Ward is sole proprietor of Thom Ward's Poetry Editing Services -- thombward@gmail.com He is the author of six books of poetry, most recently ETCETERA'S MISTRESS (Accents Publishing, 2011). His vices include watching too many DVD movies and sitting around thinking too much. He lives in Western New York State.
Michael T. Young's fourth collection, The Beautiful Moment of Being Lost, was published by Poets Wear Prada. His chapbook, Living in the Counterpoint, received the 2014 Jean Pedrick Award from the New England Poetry Club. He received a Fellowship from the New Jersey State Council on the Arts and the Chaffin Poetry Award. His work has been nominated 4 times for a Pushcart Prize. His work has appeared in numerous journals including Edison Literary Review, The Louisville Review, Off the Coast, The Potomac Review, and The Raintown Review. His work is also in the anthologies Phoenix Rising and Chance of a Ghost and forthcoming in Rabbit Ears: TV Poems. He currently lives with his wife, children and cats in Jersey City, New Jersey.