nyc

BigCityL

i

t

.com

the rivers of it, abridged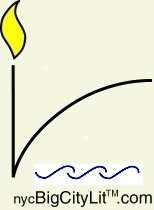 Poetry


Fall 2014 / Spring 2015
Patrick Henry
These Men in a Boat
Dawn mist shrouds streets up to the house we leave
Where my parents lodge tough guests: keen to fish
From a coble, booked down in the bay. We stride aboard.
The gruff skipper hardly speaks, under his sloped cap.
And hands out reeled lines and bait: when slowing, out at sea.
Our wide eyes cast to horizons over dense moods of waves:
That tell no more than sparse words spared round here.
These Inlanders: act as terse in their dour, dry remarks.
Tensed for a tug on their line if the odd catch bites.
Or quips from mates, stir their droll wit, or their fierce wrath.
Slurs cast on the last one failing to haul a catch:
As if lacking in departments, of work, wife, ale drinking: quick chat.
No one sees that I've caught none. A spare lad; ignored
Latched on their trip: any young hopeful might grab at.
The boat lilts in paused silent wide sea: that waits.
Lets go few fish. No sign of wrecks. Threats of storm surge, coiled beneath.
Depths to imagine. Monsters of dark dreams: once real:
These older men had faced. Fought through World War, to this calm.
When those boat hirers drove back to their wool-towns work:
The sea looked vast: impassive, here. Where raw lives might start.
A century of his aura: now known through time:
Seems strange, about a life that ended young.
An Enfant Terrible: aimed to burn out, loud, and soon.
Tousled in looks. Elegant in brilliant verse tone.
Starkly facing truths of birth, and death to come.
And wild resurgence, that taunts all risks, between.
Around his Swansea haunts: gleaning shadows of his ways,
I'd sensed his earthy, smoke-filled reek of presence.
A young dog, used to alleys at dusk: harsh regrets at dawn.
Deep need to pour out words lashed hard as drink's ripe tang.
Bitter, sad, cruel, loss: the edge of every theme
Stoic Wales, the first cradle to rock his raging dream.
One man, aged a hundred, dead in air-raids: urged his poem
Which set a thousand storks in sunlight: to mark this mad outcome.
Back to Poetry