nyc

BigCityL

i

t

.com

the rivers of it, abridged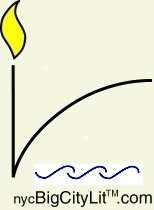 Poetry


Fall 2014 / Spring 2015
Jennifer Litt
Frank Lloyd Wright Cliff Dives in Jamaica
Near sunset he drifts from his vacation hotel box
and streams toward the platform at West-End Cliffs,
a cantilever that extends out into space at thirty-five feet.
He puddles on the free end above the natural pools and cove,
and then he spills away from the edge of the vertical, limestone core.
Coursing with velocity and the gravity of risk, he is
falling water and reflects the glassy surface —
maximum speed through zero — and disappears below.
He pushes through fescue and driftwood,
concealed among warehouses, wharves, and propels
his Oxbow Cruiser on the flat surface of the Genesee.
August dusk arrives thick and moist, and dark clouds,
phantom ships, sail close. We need the storm, he whispers
to the trees. The wind grows and he finds himself
navigating the river's weeds. First raindrops and he hears
the prayers of former slaves. It is not the gentle shower,
but thunder that we hail. A flash of lightning electrifies
the shore, followed by a rumble. Freedom, he shouts,
and raises his paddle toward the rising North Star.
She glides off Dakota Lift, brushes the crust
from her boots with a pole, skims
across a granita patch and carves her edges in granulated
snow. Surrounded by whipped drifts, she wipes
her defrosted goggles at the top of the black diamond run,
considers the danger, but then she remembers:
If you're afraid of butter, use cream. She knees
into the crystal layers like a stand mixer's hook,
a single long series of S's, stems the trail's steepness,
but pauses to rest on a mountain plateau. Her fingers
numb, she rubs them for warmth:
Every woman needs a blowtorch.
Shifting gears, she whisks through deep powder,
slaloms the bowl off the rim of the slope.
Back to Poetry