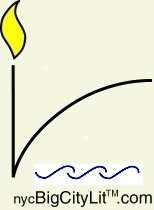 Contributor Notes


Fall 2011
Cynthia Atkins is the author of Psyche's Weathers. She has new poems forthcoming in Big City Lit, Eclipse, Inertia, North American Review and The Tampa Review. She is an adjunct professor of Creative Writing at Roanoke College and lives on the Maury River of Rockbridge County, VA with her family.
Emily E. Axelrod holds a BA and MA in English from Purchase College and City College of New York, respectively. She currently teaches composition at Seton Hall University and Union County College. Emily lives in New Jersey with her husband and son. She is the author of Spanking Viktoria, a novel soon to be in agency, and will have an essay published in the anthology: It's All in Her Head: Women Making Peace with Troubled Minds, forthcoming in 2013.
Tina Barr's awards include fellowships from the National Endowment for the Arts, the Tennessee Arts Commission, the Pennsylvania Council on the Arts, The MacDowell Colony, and the Ucross Foundation. Her reviews, poems and essays have appeared in journals such as The Harvard Review, Louisiana Literature, The Mississippi Review, Shenandoah, Witness, Crab Orchard Review, Notre Dame Review and elsewhere.
Rachel Bennett has a BA in English from Grinnell College, where she won two Whitcomb Poetry Prizes judged by Gerald Stern and James Galvin, and she is an alumna of the Iowa Writers' Workshop Irish Writing Program in Dublin. Her poetry, which has received two Pushcart Prize nominations, has appeared in Avocet, Big City Lit, Blood Lotus, Buffalo Carp, elimae, I-70 Review, New Madrid, Rhapsoidia, Smartish Pace, The Portland Review, and zafusy. She lives in Brooklyn, New York.
Philip Dacey is the author of eleven books of poetry, including entire collections about Gerard Manley Hopkins, Thomas Eakins, and New York City; his latest are Mosquito Operas: New and Selected Short Poems (Rain Mountain Press, 2010) and Vertebrae Rosaries: 50 Sonnets (Red Dragonfly Press, 2009).
Evan Eisman is a craftsman and poet. His craftwork is anonymously on display at The Metropolitan Museum of Art and at the American Museum of Natural History. His poems have appeared in Rattapallax and previously in BigCityLit. He writes poems out of his workshop in the Brooklyn Navy Yard. His poems and his studio are open to the public.
Donald Elder studied at the Pratt Institute, the Art Students League and the New York Academy of Art, with two residencies in Italy. His work is influenced by landscape and varies in style from literal to abstract. He paints from memory and imagination and applies oil paints by brush, palette knife and bare hands to create an atmosphere of ambiguity and fierce beauty of the almost seen. http://www.donaldelder.com
Allen C. Fischer, a former director of marketing for a corporation, is as likely to draw on the ambitions and conflicts of business as he is to describe the seasonal extremes of upstate New York where and he and his wife live. A graduate of Haverford College, he attended Johns Hopkins School of Advanced International Studies and served in the US Army in Italy. He came to poetry relatively late. For about 12 years, he worked closely with William Matthews. His poems have appeared in The Greensboro Review, Indiana Review, The Laurel Review, Poetry, Poetry Northwest, Prairie Schooner and River Styx.
Cheryl J. Fish has published fiction and poetry in a number of journals and anthologies, including Santa Monica Review, New American Writing, The Village Voice, Talisman, Between C&D, and Not Enough Night and has two poetry chapbooks. Her creative nonfiction essays about spirituality and parenting have appeared on BustedHalo.com. She is the author of two books on travel literature, A Stranger in the Village: Two Centuries of African American Travel Literature, and Black and White Women's Travel Narratives: Antebellum Explorations, and has published essays on environmental justice ecocriticism. She is a professor of writing and literature at Borough of Manhattan Community College, and has been a Fulbright Lecturer in Finland.
Davidson Garrett is a native of Shreveport, Louisiana. He trained for the theater at The American Academy of Dramatic Arts and graduated from The City College of New York with an M.S. in Education. A member of Screen Actor's Guild, AFTRA, and Actor's Equity, he has worked in theater, film, and television since 1973. His poetry, prose, and articles, have been published in The New York Times, The Episcopal New Yorker, Xavier Review (New Orleans), Sensations Magazine, Third Wednesday, Marco Polo Arts Mag, and the website of The Beat Museum in San Francisco. In 2006, he published his first collection of poetry and prose: King Lear of the Taxi, (Advent Purple Press). Two of the poems from his book were the subject of a short film, Taxi Driver, that was produced by Flashgun Films of Great Britain. The film was screened at the Portobello Film Festival in London in 2008. In the Fall 2007 Issue of Big City Lit, Davidson published an article about Molly Peacock, "The Poet's Decision: Aesthetic Choices in Wrting." His work has been represented in several anthologies, including: Beyond the Rift, published by The Poets Press, and The Red Wheelbarrow, published by the William Carlos Williams Poetry Cooperative of Rutherford, New Jersey. In 2009 and 2010, Davidson performed in Joel Allegretti's tribute to Leonard Cohen at the Cornelia Street Cafe: You Know Who I Am! Davidson has been a New York City taxi driver for over 30 years to help subsidize his art.
Karl D. Gluck is originally from Florida, but has been living in New York since 1990. He has worked as a job developer and program director at a non-profit for the last 15 years, but recently left that job to work independently and spend more time with his 7-year-old daughter, who has been the subject of a number of his poems that will hopefully evolve into a book. He speaks fluent Russian and Chinese and has used both to a great extent in his previous job. His daughter speaks Chinese (her mom is Chinese) and English equally well.
Joanne Grumet has always been fascinated with language and started her career as a dictionary editor at Funk and Wagnalls and continued at Random House. She served as editor of the Journal of the Gypsy Lore Society, North American Chapter. She taught linguistics at New York University and is now teaching writing at Baruch College, City University of New York. Her poetry has been published in BigCityLit and Jewish Women's Literary Annual and her songs can be heard at www.myspace.com/joannegrumet.
Charlie Guzman is an aspiring poet and founder of Burro Char magazine. His main focus is experimental writing, specifically writing exercises such as the surrealist games and the Oulipo exercises. He is currently an undergraduate student at Hunter College. Charlie Guzman is the recent recipient of the 2011 Award for Outstanding Achievements in Creative Writing at LaGuardia Community College. He is also published in Literary LaGuardia Magazine and Symmetry Pebbles; soon to be published in First Literary Review, Toe Good Poetry, and Underground Voices. He hopes to become a full-time poet.
Shelley Ann Hainer was the curator of Nexus Gallery Poetry Series, New York City, for its five-year duration. Her poetry has appeared in BigCityLit. In 2008 she created Bamboo Jacket® an interactive, educational theater event and received an Artward Bound Award in 2010. Currently, Shelley performs improvisation with Artistic New Direction.
Patrick Henry: Born 1938, Yorkshire, England, Irish parentage. Customs Officer London, Royal Airforce Draftee, Cyprus, 1957-59. Wrote poetry in London, Paris, Cornwall; worked construction, farming, factory, café, bookshop jobs. Published On the Track, Peterloo Poets 1971. Published translations of Fruits of Winter, Prix Goncourt, 1970 and Women of The Celts, Cremonesi, 1975. Adult student at University of Wales, University of East Anglia, Trinity College, Hartford Connecticut during 1980s. Painting exhibition Paris, 1998. Poetry Reading Tour in New York 2001 arranged by BigCityLit. Painting Exhibition, Australia, 2003. Poetry Reading and Painting Exhibition tour New York State, 2004, arranged by The Author's Watermark and Poets & Writers. Poetry and prose featured in BigCityLit and in www.thisisull.com (UK website), 2001-2007. He is a contributing editor of the magazine.
Roger Hitts is a two-time United Press International Columnist of the Year who currently works in network television. As a writer, Hitts's by-line appears in dozens of magazines in the U.S., Europe and beyond. He lives in Sunnyside, Queens with his wife Daphna and daughter Liana.
Caroline Holme is a Connecticut native who works as a copyeditor for a day job. This is the second time her work has appeared in BigCityLit.
Pamela A. Kavanaugh is a reader, poet, knitter, mother, wife, and document management consultant living in Huntingdon, Pennsylvania and working virtually in Redlands, California. Previous lives revolved around school librarianship, the teaching of math and science, and environmental education. She is a member of Aughwick Poets and Writers, has published poetry in Kvasir, The Same and In these Hills and Valleys: Discover the History of Huntingdon County. Her work will also be included in an upcoming anthology. She resides on Hemmabäst Farm with several Romney sheep and other animals and vegetables. She remains a biologist at heart.
Born in Iowa City, Iowa, Elena Kondracki arrived in New York City at the age of eight with parents and siblings. Graduated from High School of Performing Arts and followed a career in acting for several years, in NYC and Hollywood. Met Dylan Thomas at the White Horse in 1953 where he asked her to give him one of her poems. It was written on a napkin and passed down the table, through the hands of Tommy Makem and the Clancy Brothers. She has been writing ever since and is an associate editor of the magazine.
Dean Kostos' books include: Rivering (forthcoming), Last Supper of the Senses, The Sentence That Ends with a Comma, and Celestial Rust. He was commissioned to write the choral text Dialogue: Angel of Peace, Angel of War. He co-edited Mama's Boy and edited Pomegranate Seeds. His work has appeared in Western Humanities Review, Boulevard, Southwest Review, Chelsea, Stand Magazine, on Oprah Winfrey's Web site Oxygen.com, and elsewhere. His literary criticism has appeared on the Harvard UP Web site. He has taught at The City University of New York and The Gallatin School of NYU.
Linda Lerner was born and educated in New York City. She has published thirteen collections of poetry. Among them are Something Is Burning In Brooklyn (Iniquity Press/ Vendetta Books, 2009), Living In Dangerous Times (Presa Press, 2007) and City Woman (March Street Press, Fall, 2006), the last two both Small Press Reviews' Picks). Two previous collections also had that honor.
In 1995 she and Andrew Gettler began Poets on the Line, the first poetry anthology on the Net for which she received two grants.
Her poems have appeared in New York Quarterly, Onthebus, Louisiana Review, Paterson Literary Review, Ragged Lion Anthology, Chiron Review, Danse Mcabre, Tribes, Van Gogh's Ear, Home Planet News, New Verse News, Rusty Truck, et.al. She has read widely across the United States and has twice been nominated for a Pushcart Prize.
Her most recent collection, Takes Guts & Years Sometimes, (New and Selected Poems), was published by New York Quarterly Books (June 2011).
Richard Levine is the author of That Country's Soul, A Language Full of Wars and Songs, Snapshots from a Battle, and forthcoming from Bright Hill Press A Tide of a Hundred Mountains (2012). His poem "Believe This" was featured in former Poet Laureate Ted Kosser's column, "American Life in Poetry". In 2010, Mr. Levine was runner-up for the 2010 William Stafford Award for Poetry. A retired teacher, he is learning to steward a forest.
Brant Lyon is a poet, fiction writer, and musician. He is senior editor for Uphook Press and producer and host for Hydrogen Jukebox, a reading series in NYC where poets recite with an improvisational band. A collection of his poetry, You Are White Inside, will be published Fall 2011 by Three Rooms Press.
Lynn McGee's poems are forthcoming in The American Poetry Review, Tilt-a-Whirl, and Blue Stem. Two of her poems were just published in Big City Lit, and two recently appeared in The New Guard; one a finalist and one a semi-finalist in that magazine's contest judged by former U.S. Poet Laureate Donald Hall. Other poems of hers have appeared in The Ontario Review, Painted Bride Quarterly, Sun magazine, Phoebe, Pittsburgh Quarterly, The Southern Anthology, Laurel Review and other journals. Her poetry chapbook, Bonanza, won the Slapering Hol national manuscript contest; she also received a MacDowell fellowship, and earned an MFA in Poetry from Columbia University.
John McKernan is now a retired comma herder. He lives — mostly — in West Virginia where he edits ABZ Press. His most recent book is a selected poems, Resurrection of the Dust. He has published poems in The Atlantic Monthly, The Paris Review, The New Yorker, Virginia Quarterly Review and many other magazines.
Michael Morical is a freelance editor. His poems have appeared in The New York Quarterly, The Pedestal Magazine, The Hardy Review and other journals. Sharing Solitaire is his first chapbook.
Valery Oisteanu is a writer and artist with an international background. Born in Russia in 1943 and educated in Romania, he adopted Dada and Surrealism as philosophies of art and life. Immigrating to New York City in 1972, he has been writing in English for the past 33 years. Oisteanu is the author of 10 books of poetry, a book of short fiction and a book of essays: The Avant-Gods.
For the past 10 years he has worked as a columnist at New York Arts Magazine and as an art critic for Brooklyn Rail and www.artnet.com. He is also a contributing editor at www.artscape.com and a contributing writer for French, Spanish and Romanian art and literary magazines including La Page Blanche, Art.es, Balkon, Dilema, and Romania Literara.
As a performer Valery Oisteanu is well known to downtown New York City audiences, performing every season with the exception of the summer, when he goes on tour abroad. He is always well-received in theaters and clubs specializing in poetry and music where he presents original Zen Dada multi-media shows in his unmistakable style of "Jazzoetry."
Robin Puskas lives in Brooklyn and works as a consulting chef who makes recipes and sometimes sauce. She holds a Grand Diploma in Culinary Arts from the French Culinary Institute and a Master of Fine Arts from Pennsylvania State University. She was awarded a Francis Wood fellowship for her poetry manuscript in progress, Vigilant Curve. She loves a poached duck egg an unreasonable amount.
Mark Reep is an artist and writer whose work has appeared or is forthcoming in American Art Collector, Endicott Journal, Prick of the Spindle, Blue Fifth Review, Metazen, Moon Milk Review, Smash Cake, Gloom Cupboard, Fictionaut Selects, and Word Riot's 10th Anniversary Anthology. He is the editor of Ramshackle Review, and lives and works in New York's Finger Lakes region. Visit his website and blog.
Bertha Rogers' poems have been published in literary magazines and journals. In 1992 she founded, with Ernest M. Fishman, Bright Hill Press and Literary Center in the New York's Catskill Mountain Region. Her most recent poetry collection, Heart Turned Back, was published by Salmon Poetry, Ireland, in 2010. Her translation of the Anglo-Saxon epic Beowulf was published in 2000; and her translation of the Anglo-Saxon Riddle-Poems is forthcoming.
A retired college teacher, Carol Schoen began writing poetry seriously three years ago when she was 82 and has been working at it and enjoying ever since. This is her first acceptance.
Jared Smith's Complete Collected Poems: 1973-2011 is forthcoming this spring from NYQ Books.
Susan Tepper is author of the novel What May Have Been: Letters of Jackson Pollock & Dori G (with Gary Percesepe) just out from Cervena Barva Press, the collection Deer & Other Stories (Wilderness House Press, 2009) and the poetry chapbook Blue Edge. Tepper edited the 2011 flash and poetry anthology Valentine Day Massacre (Cervena Barva Press) with work from 25 writers of Fictionaut. She writes the MONDAY CHAT on the Fictionaut blog, and "Madame Tishka Advises on Love & Furniture" at Used Furniture Review.
Melinda Thomsen's poetry and book reviews have been published or are forthcoming in journals such as Poetry East, Big City Lit, New York Quarterly, Home Planet News, Elysian Fields Quarterly and The Same. Anthologies include Blues for Bill: A Tribute to William Matthews and Spring from Gatehouse Press Ltd., Great Britain. Finishing Line Press published her chapbook Naming Rights in June 2008 and her recent collection, Field Rations (2011). She received her MFA at Vermont College of Fine Arts in January 2011 and is a contributing editor of the magazine.
James Tolan is author of the chapbooks Red Walls (Dos Madres Press) and Whiskey and the Rake of Mourning (Deadly Chaps). His poems appear in such journals as American Literary Review, Atlanta Review, Connecticut Review, Fairy Tale Review, Fulcrum, Gargoyle, Indiana Review, Linebreak and Ploughshares as well as a number of anthologies, including the Autumn House Anthology of Contemporary Poetry. He is co-editor of the forthcoming New America, an anthology of contemporary literature (Autumn House Press).
George Wallace is author of nineteen chapbooks of poetry, including Poppin' Johnny (Three Rooms Press, 2009). He is editor of Poetrybay, Poetryvlog and other publications.
Barry Wallenstein is the author of six collections of poetry, the most recent being Tony's World [Birch Brook Press, 2010]. His poetry has appeared in over 100 journals, including Ploughshares, The Nation, Centennial Review, and American Poetry Review. His 1971 analytical text Visions & Revisions: The Poets' Practice [T.Y. Crowell], was reissued in a new and expanded edition by Broadview Press [2002]. In 2012 New York Quarterly Books will publish Drastic Dislocations: New and Selected Poems.
Among his awards are the Poetry Society of America's Lyric Poetry Prize, (1985), Pushcart Poetry Prize Nominations, 2010, 2011, resident fellowships to The Macdowell Colony (1995), Hawthornden Castle in Scotland (1999) and in 2008, he traveled to Spain for a residency at Fundación Valparaiso. In 2011 he was a resident at Casa Zia Lina on the island of Elba. Between June 2002 - June 2008, he was part of the poetry faculty at the Bear River Writers' Conference in upper Michigan.
A special interest of his is presenting poetry readings in collaboration with jazz. He has made six recordings of his poetry with jazz, the most recent being Euphoria Ripens, 2008]. The CD was listed one of the "Best New Releases" in the journal, All About Jazz (December 2008). In 2012 Cadence Jazz Records will release the CD Lucky These Days.
He is an Emeritus Professor of literature and creative writing at the City University of New York and an editor of the journal, American Book Review.
As a Professor of English at City College he founded and directed the Poetry Outreach Center, and for 35 years coordinated the city-wide Annual Spring Poetry Festival. He remains an active advisor and participant in the program.
Scott Ward, Professor of Literature and Creative Writing, M.A., University of South Carolina is a poet whose first book, Crucial Beauty (Scop Publications), won the 1990 Loiderman Poetry Prize. His most recent volume is Wayward Passages (2006, Black Bay Books). He has served as poetry editor of Southern Humanities Review and Shenandoah. His poems have appeared in anthologies such as American Poetry: The Next Generation (Carnegie Mellon) and Buck and Wing: Southern Poetry at 2000 (Washington and Lee) and journals, including America, Southern Humanities Review, Shenandoah, and The Christian Century. He teaches creative writing at Eckerd College in St. Petersburg, Florida.
Thom Ward is sole proprietor of Thom Ward's Poetry Editing and Proofreading Services (thombward@gmail.com. His latest poetry collection is Etcetera's Mistress published by Accents Publishing in 2011. He lives in western New York.
Bruce Weber grew up in the East Flatbush section of Brooklyn in the golden age of New York baseball. Over the past twenty odd years he has been active in the poetry scenes of New York and Florida. He has long been involved with the alternative space, ABC NO RIO, and is the editor of the broadside Stained Sheets. Since 1995, he has been the organizer of the Alternative New York's Day Spoken Word / Performance Extravaganza. Weber's work has appeared in numerous magazines and publications including the anthologies Up Is Up, But So Is Down: Downtown Writings, 1978-1992 (New York University, 2006) and Riverrine: An Anthology Of Hudson Valley Writers (Codhill Press, 2007). He has performed regularly in the tri-state area of New York, both alone and with his group, Bruce Weber's No Chance Ensemble, which incorporates poetry, theatre, music and dance, and has produced the CD, Let's Dine Like Jack Johnson Tonight.
Martin Willitts Jr. was nominated for two Best of The Net awards and his 5th Pushcart award. He has had eight poetry chapbooks accepted this year including True Simplicity (Poets Wear Prada Press, 2011), My Heart Is Seven Wild Swans Lifting (Slow Trains, 2011), Why Women Are A Ribbon Around A Bomb (Last Automat, 2011), Art Is Always an Impression of What an Artist Sees (Muse Café, 2011), Protest, Petition, Write, Speak: Matilda Joslyn Gage Poems (Matilda Joslyn Gage Foundation, 2011), How To Find Peace (Kattywumpus Press, 2011), Swimming In The Ladle Of Stars (Pudding House, 2011) and Secrets No One Wants To Talk About (Dos Madres Press, 2011).
Amelia B. Winkler was born in Manhattan and educated at Hunter College High School, Barnard College and Manhattanville College. Her articles and essays have appeared in Jewish Week, the Westchester section of The New York Times, North County News and Women's News. Her poems have appeared in Jewish Currents, Red Owl, The Westchester Review and other journals. She has a BA in French Literature from Barnard College and an MAT from Manhattanville.