nyc

BigCityL

i

t

.com

the rivers of it, abridged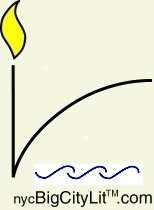 Poetry:
A Wild Surmise: This Fall's collection includes work by Cynthia Atkins, Emily Axelrod, Patricia Brody, Tina Chan, Philip Dacey, Evan Eisman, Cheryl J. Fish, Davidson Garrett, Karl D. Gluck, Joanne Grumet, Charlie Guzman, Shelley Hainer, Patrick Henry, Caroline Holme, Pamela A. Kavanaugh, Elena Kondracki, Dean Kostos, Richard Levine, John McKernan, Michael Morical, Ellen Peckham, Bertha Rogers, Carol Schoen, Jared Smith, Melinda Thomsen, Jim Tolan, George Wallace, Barry Wallenstein, Scott Ward, Thom Ward, Bruce Weber, Martin Willitts, Jr, and Amelia B. Winkler
Twelve:
Big City, Little:
Karl D. Gluck, Pardon Our Dust
Fiction:
Rob Bronstein, The Shop at the End of the Rainbow
Susan Tepper, Real Eyes
Roger Hitts, Rock Dude
Reviews:
Bertha Rogers' Heart Turned Back, reviewed by Melinda Thomsen
Lynn McGee on Pascal Petit's What the Water Gave Me, Poems After Frida Kahlo
Brant Lyon on Elizabeth Harrington's The Quick and the Dead
Tina Barr on Michele Wolf's Immersion
Patricia Carragon's URBAN HAIKU AND MORE: Haiku, Senruy, Hay(Na)Ku and other Unrhymed Tercet Poetry, reviewed by George Wallace
Christopher Locke, End of American Magic, reviewed by Rachel Bennett
Chocolate Waters, The Woman Who Wouldn't Shake Hands, reviewed by Linda Lerner
Brant Lyon's You Are White Inside, reviewed by Larissa Shmailo
Articles:
Richard Levine, Zuccotti Journal: Search and Witness
Valery Oisteanu, Letter from Europe
Essays:
Robin Puskas, Factory Made for You, and You, and You
Patrick Henry, Heavy Baggage Bound Eastwards
Bookshelf:
Philip Miller, The Ghost of Every Day
Thom Ward, Etcetera's Mistress, Accents Publishing, 2011
Michael T. Young, Living in the Counterpoint, Finishing Line Press, 2012
Melinda Thomsen, Field Rations, Finishing Line Press, 2011
CDs:
Timbila: Remembering the Future
Events:
Friday, April 13th, 7:00 pm
James Ragan, Christopher Merrill, Nathalie Handel and Meena Alexander
Theresa Lang Community & Student Center
Arnhold Hall
55 West 13th Street/ 2nd floor
The New School, NYC
FREE Admission
Saturday, April 14th, 1:00 pm
BigCityLit Reading
Flàvia Rocha and James Ragan
The Bloomingdale branch of The New York Public Library
150 West 100th Street b/t Amsterdam & Columbus
Host: Nick Johnson
Free Admission
Tract 187 Culture Clatch
Reading and musical event series
Features & open mike
Host: Ronnie Norpel
Ding Dong Lounge, 929 Columbus Ave.
@ 106th St. (B/C/#1 to 103)
Price: FREE! Happy Hour til 8!
When: 6:30 pm-9:00 pm, 1st & 3rd Wednesdays
Tract187.com Live stream starts at 7:00 pm
Sunday Best Reading Series
Performances by fiction writers, poets, dramatists, memoir writers and spoken-word composers
The Lounge at Hudson View Gardens
Pinehurst Avenue and 183rd Street, New York, NY
http://sundaybestreadingseries.wordpress.com/
Sunday Best Curator, Patrizia Eakins, 212-923-7800, x1342
Letters:
Big City Lit welcomes letters from its readers. Address correspondence to Editors@nycBigCityLit.com
Print Series:
All Print Series Suspended
Contests:
For the present, all Contests suspended.
Contributing Editors:
Martin Mitchell, Barry Wallenstein, James Ragan, Patrick Henry (UK), Diana Manister, Margo Berdeshevsky, George Wallace, Larissa Shmailo, Brant Lyon, Melinda Thomsen