nyc

BigCityL

i

t

.com

the rivers of it, abridged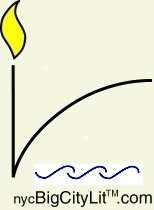 Reviews


Fall 2011
You Are White Inside
by B.R. Lyon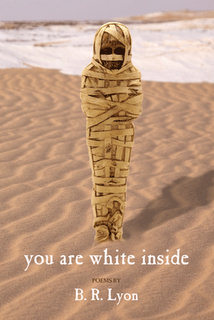 Three Rooms Press, 2011; 76 pages
ISBN: 978-0-9835813-2-1, paper
http://threeroomspress.com/
Reviewed by Larissa Shmailo
The Archer Hits His Target Partly by Pulling,
Partly by Letting Go: A Review of You Are White Inside
As epigram to the final poem of this witty and moving collection, B.R. Lyon quotes the Egyptian proverb, "The archer hits his target partly by pulling, partly by letting go." The proverb partly describes Lyon's modus operandi in this first book, which takes aim by pulling the reader's leg with humor and tugging at the reader's heartstrings with vulnerability and compassion.
You Are White Inside takes as its subject matter everything from contemporary Egyptian culture to tapioca pudding, the Buddha and the belly, the Maya to what-about-me? The collection abounds with Koan-like nonsequitors and puns, in stanzas often made by single sentences, with white space answering the questions raised by them.
Most of the poems address God, spirituality, ego, and mortality, some in a gentle colloquial mom-and-pop-store way, others with a sure and sometimes startling foray into cultures high and low, familiar and frightening. From the first poem in the collection, "Samadhi":
I want to be invisible.
I want to be enormous.
Not enormously invisible (that's God), just invisibly enormous.
(That may be God, too,
but) I just want to take it all in, not dish it out.
From "Oaths":
When a quantum takes a leap it winds up in two places at once or
either/or/ Is there anything at all
that keeps a commitment when each passing moment de-defines
the difference between impermanent and permafrost?
Like the quanta of "Oaths," Lyon's use of sight rhymes, white space, and line breaks de-define poetic places; devices such as parentheses which end on sentence fragments or do not close help to highlight the unusual in this unusual text.
Punning, reveling in the sublime and the silly both, Lyon the poet-archer does not lose sight of his target, a search for meaning and connection that pervades the book as it moves through all-too-human haunts of knives, dirty hands, stinking breath, and death. From the title poem:
You said it and I presumed you meant
a paragon…
a stark contrast to everything
you consider filth or in need of replacing…
the misery of litter all around
the grease from hands wiped onto
the skinny tree beside
the falafel stand…
I was blind to the blankness of white.
The white you say I am inside…
For what is white but what wants the assignment of color.
For blood and semen.
This beautiful collection, informed equally by mourning and laughter, offers the worldview of a keen artistic awareness. From the final poem, "Unfinished Business," in which the archer pulls and lets go with birth in the face of death:
Wherever you are, would you mind if I sang you a little
pirate's song?
You and the memory of you and me
and me and he and she
and whoever the little he or she will be,
buried somewhere in my adventurous sands,
but I'll find them.
And baby makes four. Perhaps five.
Everyone loves kissing babies.
Larissa Shmailo is a poet and translator. Her new e-book is Fib Sequence from Argotist Ebooks, available for free download at http://www.lulu.com/product/ebook/fib-sequence/16347718