nyc

BigCityL

i

t

.com

the rivers of it, abridged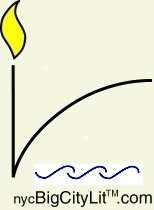 Reviews


Fall 2011
URBAN HAIKU AND MORE: Haiku, Senruy, Hay(Na)Ku
and other Unrhymed Tercet Poetry
by Patricia Carragon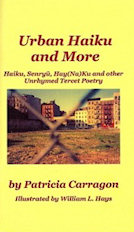 Fierce Grace Press, 2010; 52 pages; $7.00
http://flordelconcreto.blogspot.com/2010/06/new-from-fierce-grace-urban-haiku-by.html
Reviewed by George Wallace
It's been roughly a century that American poetry has had a dalliance with the Japanese Haiku, and during most of it, American practitioners wrestled mightily with a form that is at once elusive and tantalizing.
Through it, there've been those who adhered to a set of principles and practices — either traditional or of their own devising — syllabic strictures, concreteness of imagery, reference to the seasons, and the like.
Others have been more concerned with being true to the 'soul' of a haiku. Kerouac was one of those, saying he wanted to pack his haiku with what he called the 'Void of Whole' — a graceful elegance and dimensional resonance unlike Western rationalist 'pearls of wisdom' or opaque epithets.
In Urban Haiku and More, Patricia Carragon brings something else to the table. There's a kind of urbane wittiness to these works, by turns caustic, plaintive, engaging and abrupt — a kimono-clad harkening to Whitman's notion of the Barbaric Yawp.
This is poetry on the urban edge, haiku that attempts to straddle the wide gulf between New York City street smarts and the ineffable parlance of the zen moment. Often enough, it is compelling stuff.
Carragon is nothing if not in this world and of it, warts and all, delineating the painful truths as opposed to the transcendental. There are ample examples of her unflinching candor: Here's a couple "I douche my drain/With Drano/she/does hers/with Liquid-Plumr.' ' stained sheets/not from/your boyfriend's last visit.' Or this: 'love/decides to/take the subway//and gets screwed/in the/tunnel.'
There's also a quietude she's capable of, albeit that of an apartment dweller wistfully seeking refuge from the busy outside world: 'this violet/painted on porcelain/no scent.'
No doubtabout it —these are haiku that play well in the splashy world of New York City performance venues. But at their best, Carragon's foray into the world of haiku is more — she reaches toward the great 'aha moment' one seeks in memorable haiku.
The sense of place, moment and reflection present in such gems as 'the sound of drills/jack o lantern smiles/under construction,' and 'he throws out/the garbage/before Zen enters,' is palpable, and possesses an unmistakable urbane aptitude.
So does this:
Your
MetroCard is
not his E-Z Pass
That's almost an inside joke, but like many of the poems in Urban Haiku, it demonstrates Patricia Carragon is capable of taking us across distances, even across great miles of separation.
George Wallace is author of nineteen chapbooks of poetry, including Poppin' Johnny (Three Rooms Press, 2009). He is editor of Poetrybay, Poetryvlog and other publications.